This is such a simple way to cook muffins over a campfire in a pie iron! No need for any type of refrigerated ingredients either.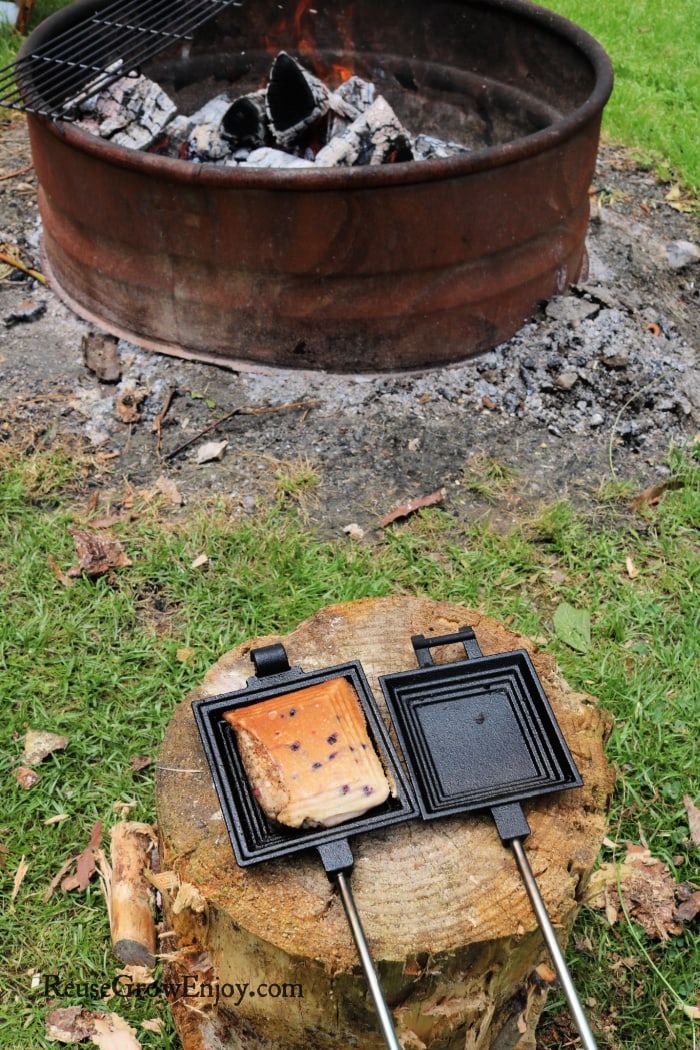 How To Cook Muffins Over Campfire In A Pie Iron
While I am showing you how to cook muffins over a campfire in a pie iron, I made these as berry muffins.
But because I used packaged muffin mix, you could use any flavor you like. Just be sure you get the mix you only have to add water to. I used this Triple Berry Muffin Mix.
To cook these muffins over a campfire, you will also need a good pie iron. This is the pie iron I used.
These only take eight minutes to cook/bake over the fire. You do however have to cook them one at a time unless you have a few pie irons then you could cook them all at the same time.
The muffin mix I used says it makes 6 muffins. But because the pie iron is larger than a muffin, I got 3 pie iron muffins from it.
If you are looking for other camping recipes, here are a few to check out.
Items Needed To Make These Muffins:
Non-Stick Spray (used canola)
1/2 Cup Water
1 (or more) Pie Irons
Board (or something else to set the iron on, as it will be really hot)
Measuring Cup or Bowl To Mix In
Fork (to stir the mix)
How To Make These Muffins:
To start you need to get a good fire going. That way it will have burned down a little by the time you are ready to cook.
After the fire is going well, mix muffin mix and water together in a bowl or cup. Cover and allow it to sit for 2-3 minutes.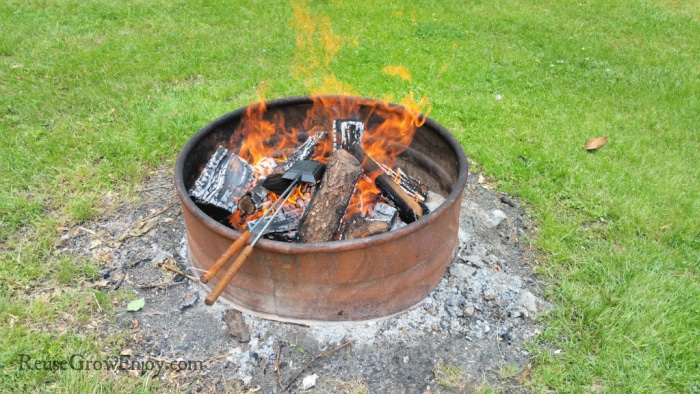 When you are ready to start cooking, heat the pie iron over the fire. You need to heat it for about 30-40 seconds on each side.
Then set the iron on something that is heat safe like a board. Open the iron and lightly spray the inside of both parts of the iron with non-stick spray.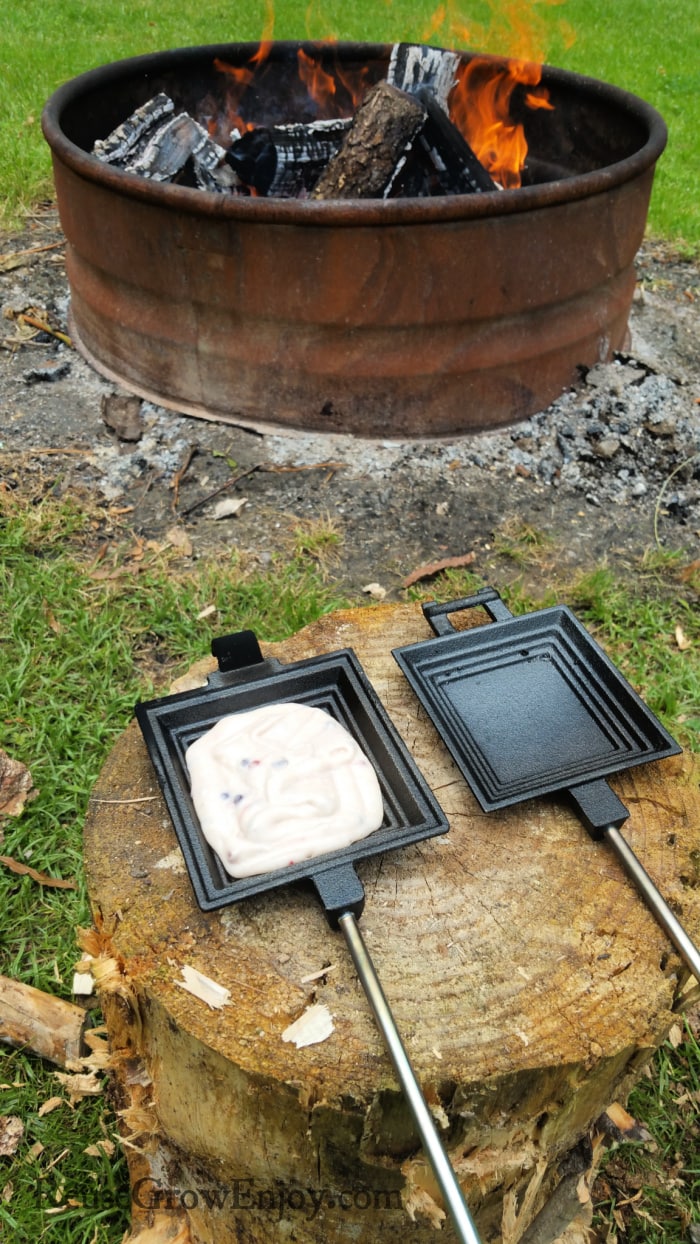 Carefully pour the mixed muffin batter in half the pie iron. Fill the iron about halfway using about 1/3 of the batter.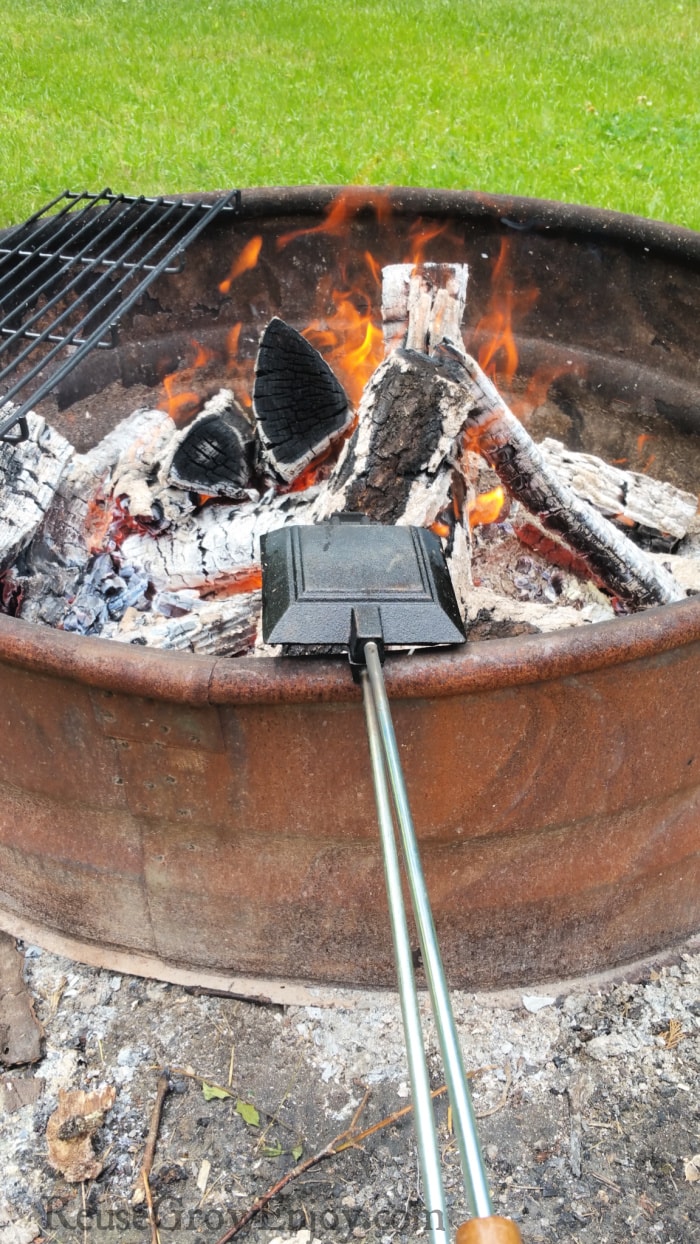 Put the iron back together and lock it in place. Hold the iron over the edge of the fire. Do not hold it right over the flames. You want to hold it off to the side or it will burn.
Cook for 3 minutes on the first side. Flip the iron over and cook for 3 minutes. Flip it again and cook for another 2 minutes.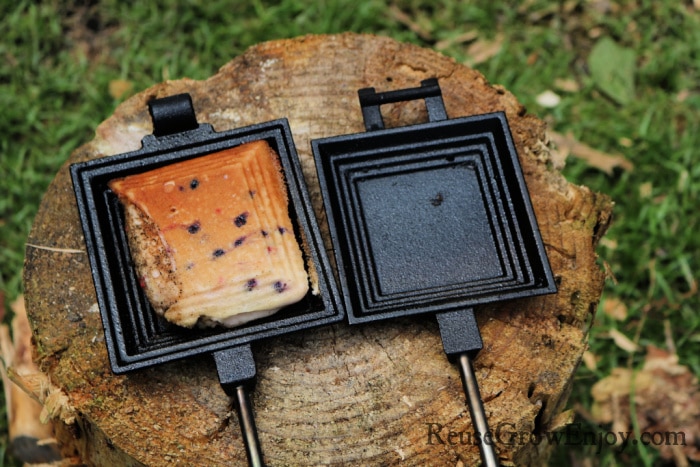 Remove the iron from the fire and lay it on a board to open. Be careful as it will be really hot. Flip the muffin out on a plate and serve!
Do You Have To Oil The Iron?
While this is a cast-iron cooker it should be non-stick after heating like most cast iron. However I have found with these little pie irons, that is not the case.
I tried these with and without spraying with cooking spray. The result is much better and the muffin pops right out when you spray it first.
With the batch I did not spray, it stuck like crazy even with preheating the iron and would not come out. So much of my muffin was wasted.