Do you know how to grow a pineapple plant? It is actually easier than you may think! You can even do it by reusing the top of a fresh pineapple you may have sliced up for a snack.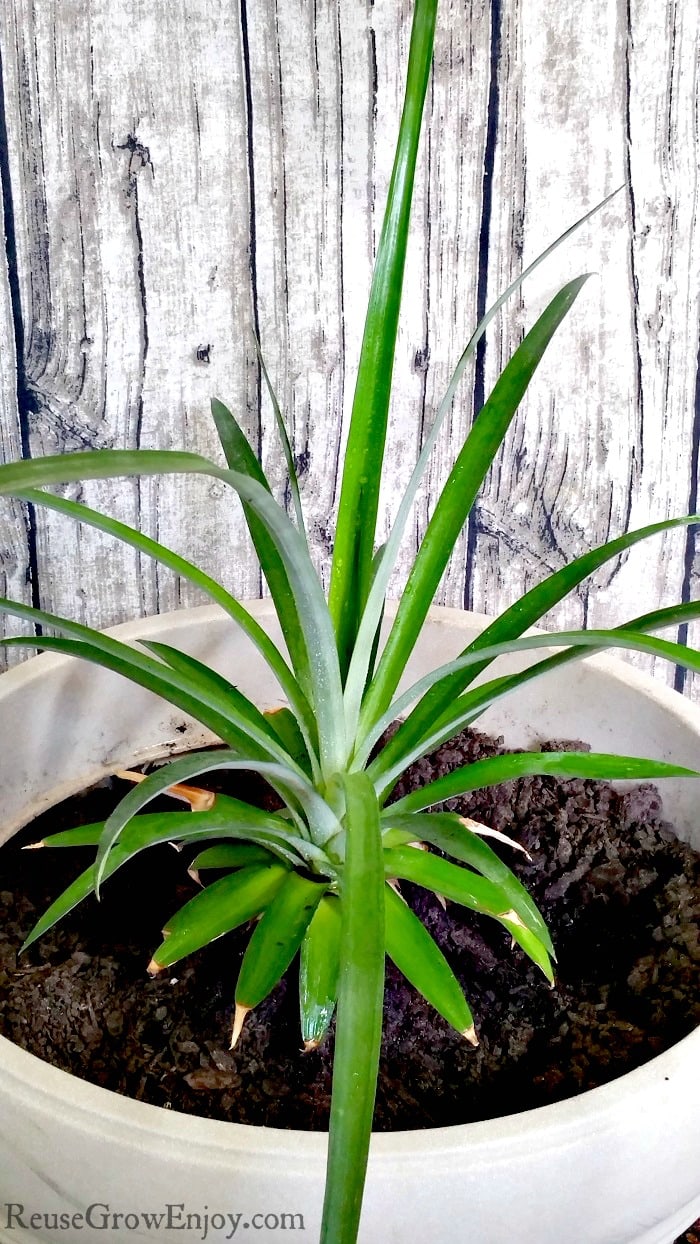 How To Grow A Pineapple Plant
How cool is it to learn how to grow a pineapple and have fresh fruit right in your own home??
Because pineapples are from tropical areas, if you live in a cooler area or one that has winters, you will need to grow it indoors. At least in a container that is so, you can move it indoors when cooler weather is on the way.
Picking The Right Pineapple:
When selecting a pineapple from the store it pretty much is the same for selecting the sweet and ripe fruit. You look for one that is slightly brown on the sides and not super green.
However, be sure to get one that still has a green top. Another thing to note is to make sure you do not get one that looks like it is starting to mold on the bottom.
You also want to stick with an organic pineapple as you will have the best success at regrowing it from one that has not been treated with chemicals.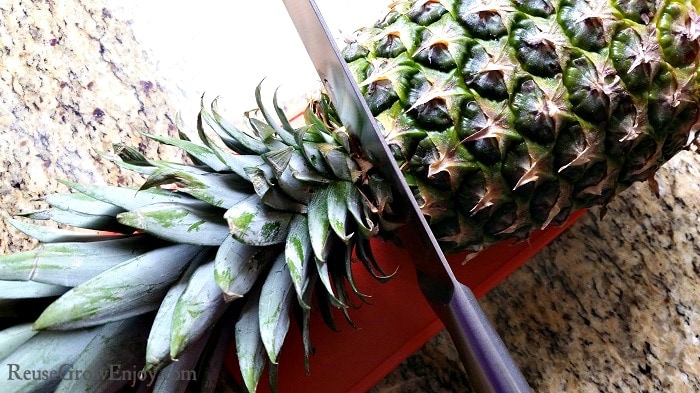 How To Grow The Roots:
When you get ready to use your pineapple, cut the green top off first. You do this with a sharp knife right where the green attaches to the pineapple.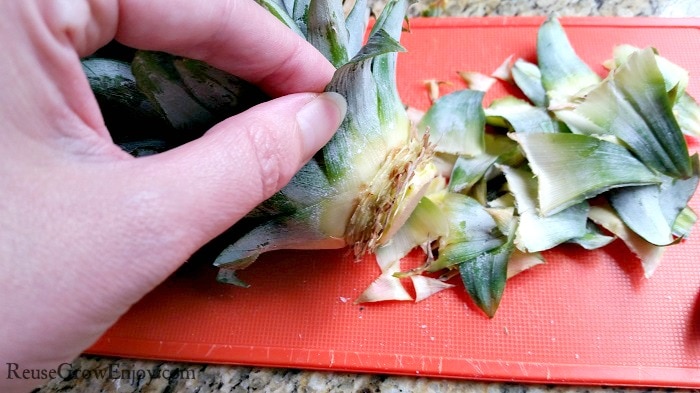 Then cut off any of the pineapple that may have been cut off with it. Next, you want to peel back a few of the green leaves so that you have about 1/4 inch of the core showing. You may even see some small roots starting under the leaves.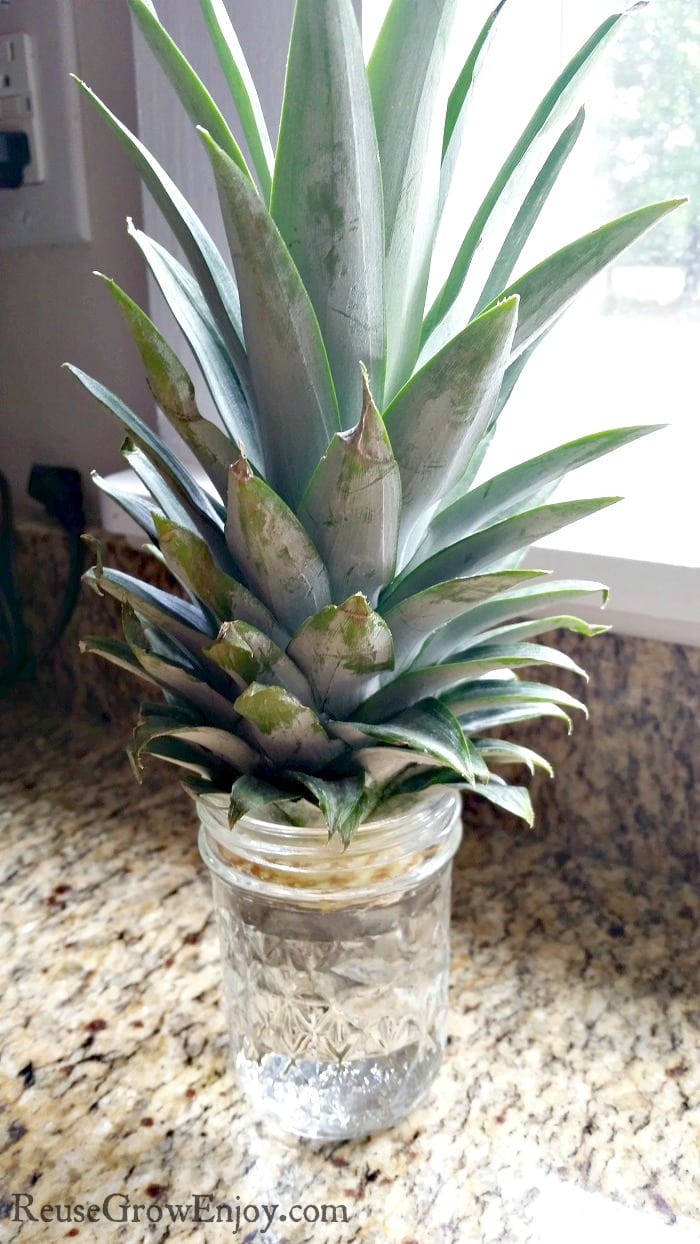 Get a small glass jar and fill it with water. Place the exposed core end of the pineapple top into the jar. You want it so that just that exposed core is touching the water and not the green leaves.
If you are using a small jar like a jelly jar you should have no issues as the green part kind hits the edges and holds it out of the water.
Leave it likes this for about 5-6 months to grow good strong roots. You will need to keep adding water to the jar as you want that core to stay in water at all times. You also need to keep it in a window where it can get sunlight.
If the water looks a little off you can change it every few weeks. Just rinse the jar out and replace it just like before.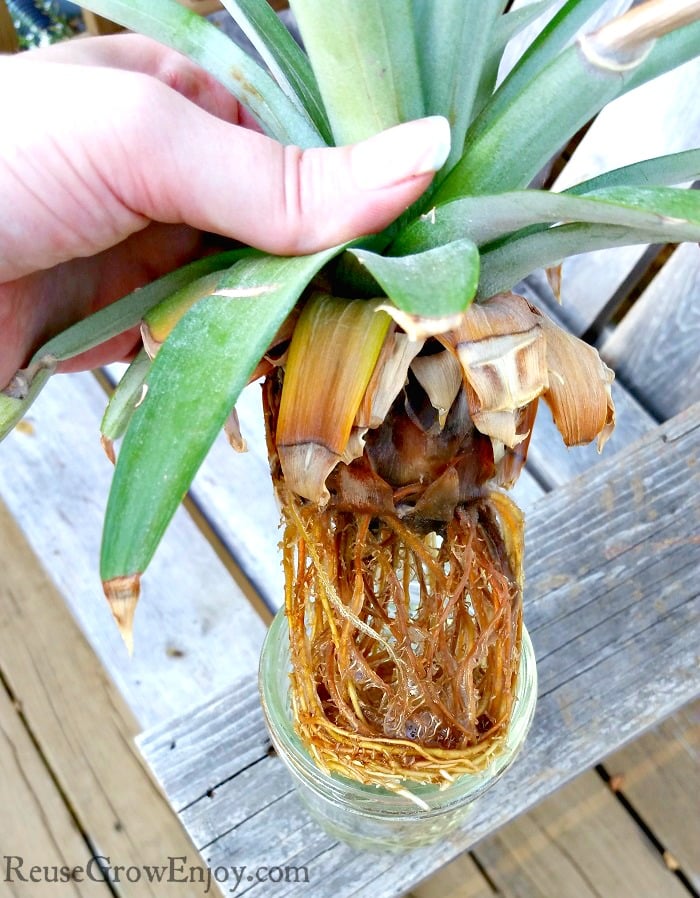 How To Plant:
The next step in learning how to grow a pineapple is to know how to plant it. After you have grown good strong roots that are at least a few inches long, your pineapple is ready to plant.
Get a large flower pot. I like to have one that sits on a plant dolly so I can move it around as needed. It makes it easier as the large pot can be very heavy.
In the bottom of the pot put either about an inch of rocks or to make it lighter, you can chop up foam and place in the bottom. Chopped up pool noodle works really well. This allows for drainage but the foam also helps to lighten the pot.
After you have that in place, you can fill it with a nice potting soil. Then in the center of the soil, you can dig a hole that is about 3 inches deep and about 2 inches wide.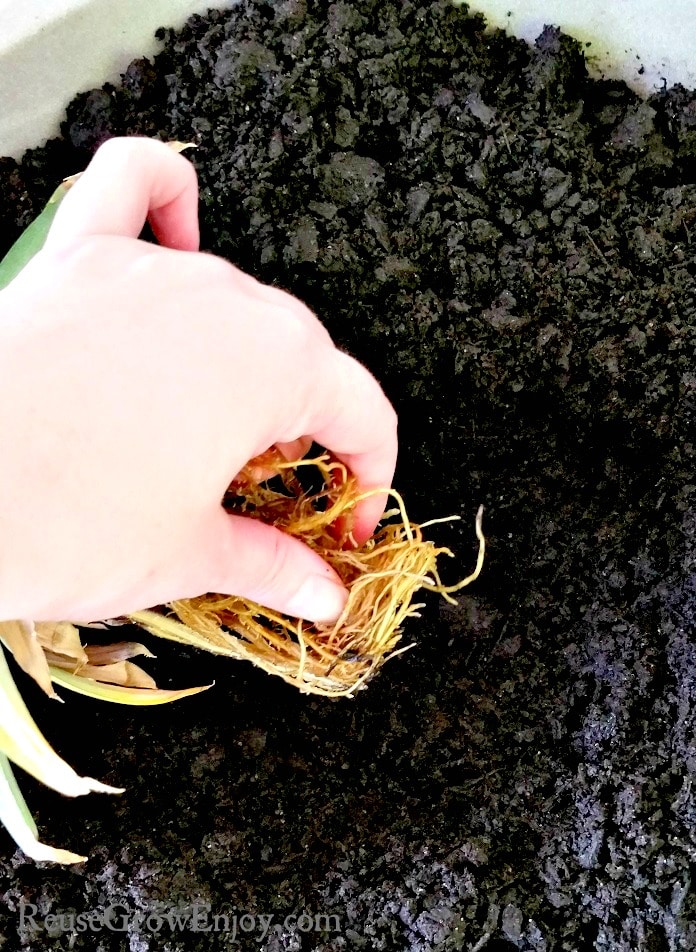 Place the root end of your pineapple plant in the hole and then fill the hole in with soil. If the roots have started to clump together in the jar, be sure to gently rub them to separate them some. Then lightly pack soil around the base of your plant.
Be sure to keep your plant in a warm area that gets a good amount of sunlight each day. For the winter months or areas that do not see a lot of sun, you can supplement sunlight with a nice grow light hanging above your plant.
Also, don't forget to water your plant. It does not need to be watered every day. I only water mine about one time per week and sometimes even a week and a half.
When watering, be careful not to over water. It only needs about 16 ounces or so to hold it for that length of time.
How Long To Produce Pineapples:
Now, I am sure you are wondering when you will see your first pineapple? One thing about when you grow a pineapple is you can not be in a hurry.
Much like many larger fruit trees and plants, they do not produce fruit super fast. In fact, the pineapple plant will not produce its first fruit for two to two and a half years!
Yes, you read that right, I said years. But when it does, it is well worth the wait! Plus you get to enjoy a nice pretty house plant as well.
The fruit will grow right up from the center of the plant. When it gets large enough to harvest, you will use a sharp knife to cut it off at the base of the pineapple.
If you liked this post on how to grow a pineapple, here are a few other gardening posts to check out.