Have a small greenhouse or larger greenhouses that do not have power and wondering if you can heat greenhouse in winter without electricity?
Even if you live in an area that experiences little or no snowfall, chances are good that at one time or another, you've had to scrape your driveway, sidewalk, parking lot, or any other hard-surfaced area that might be covered with ice and/or snow.
If you want to harness the power of nature and heat your greenhouse even when the weather outside is cold and snowy, but don't have power to it, you're going to need to know how to heat a greenhouse in winter without electricity.
I am about to reveal the most unknown (yet very simple) ways to heat a greenhouse in the winter… and… it doesn't require any electricity!
These methods were used by the early farmers and are still being used by many greenhouses today including mine.
There are many benefits to growing your plants inside a greenhouse. For one thing, it allows you to grow plants in the winter when you can no longer grow in a normal garden.
Secondly, it helps the plants grow faster because they are not restricted by the cold air.
So anyway, let's say you have a greenhouse and it gets really cold winter temperatures outside. What is your first instinct?
Many people wonder if it's possible to heat a greenhouse during the winter months without using any electricity so they can extend the growing season.
The good news, it's very possible. Here are six easy-to-do steps you can take to get your greenhouse up and growing before the last frost date.
Winterizing To Heat Greenhouse:
As soon as the temperature drops, there are certain things you need to think about doing to your greenhouse that will prep it for the long, cold winter ahead and cut down on the heat loss.
Some of these items include cleaning the structure of the house, caulking any gaps or cracks, and adding insulation.
It is a good idea to check all the joints and seams where the different pieces of your greenhouse meet each other. If they aren't sealed tightly, then it is likely that there is a fair amount of air leakage.
Sealing these joints and seams is very important. You don't want any drafts coming into or out of your greenhouse.
A draft is basically what causes the temperature in your greenhouse to fall. It is caused by the escape of cooled or warm air from one area to another.
When this happens, the temperature inside your greenhouse will be as low as the outside temperature.
As you may have noticed depending on where your greenhouse is, most if not all of the sunlight comes in on the south side in the winter.
That means all the other sides can be insulated to help hold in the heat longer. But how do you insulate a greenhouse?
Insulation comes in many different forms. You can use bubble wrap, plastic sheeting, cardboard, or styrofoam.
The best way I have found is to use is plastic cardboard because it holds much heat like cardboard but does not absorb moisture.
Whatever you use should be thick and not placed on the south-facing sides.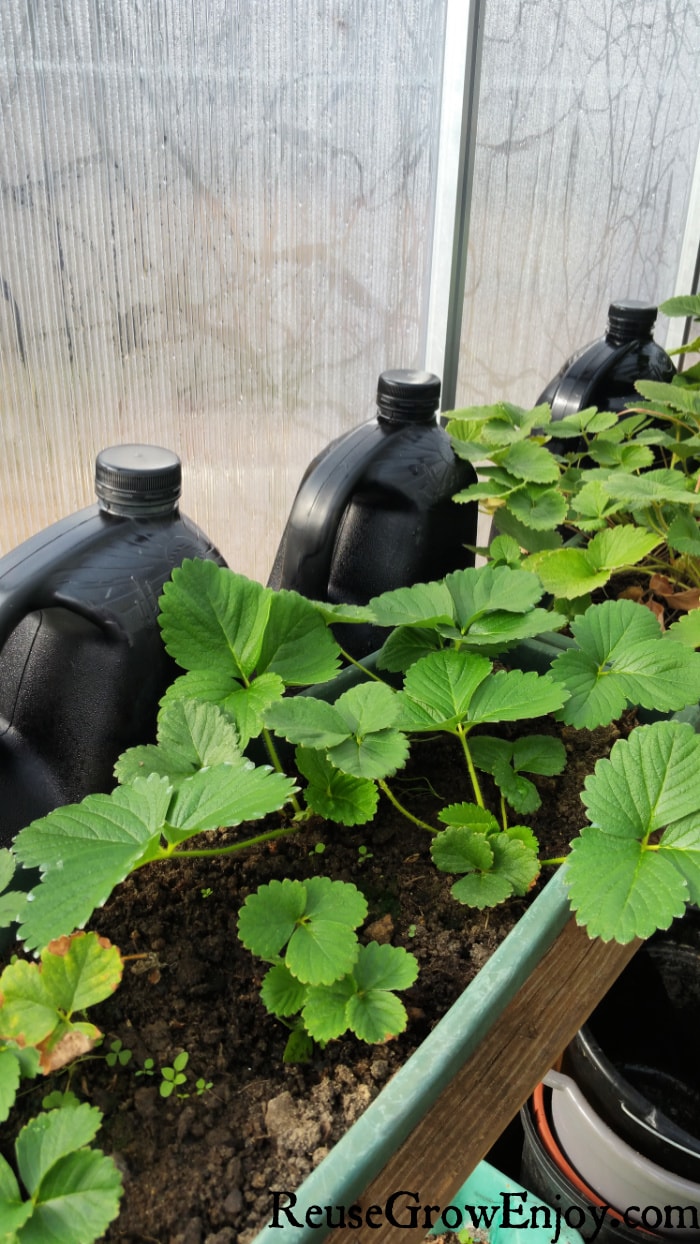 Heat Greenhouse With Water:
Did you know you can use water to heat a greenhouse? This is a common way to add a little heat. This is done by filling black jugs or black water barrels, or black tubing full of water.
They need to be black as black absorbs the heat from the sun in the day. That heats up the water and then at night as the water slowly cools he releases that heat into the greenhouse.
It is not a lot of heat that is released but enough to keep the greenhouse above freezing when temps dip down to around the freezing mark.
Other than only working when temps are right around the freezing mark outside, the other downside to this method does not work well if the greenhouse does not get much sunlight.
If there is no sunlight they can not absorb the solar energy and the water will not get heated.
Also, if you live in an area that has hard winters and the temperature drops way below zero a lot this will not be enough to keep the greenhouse heated.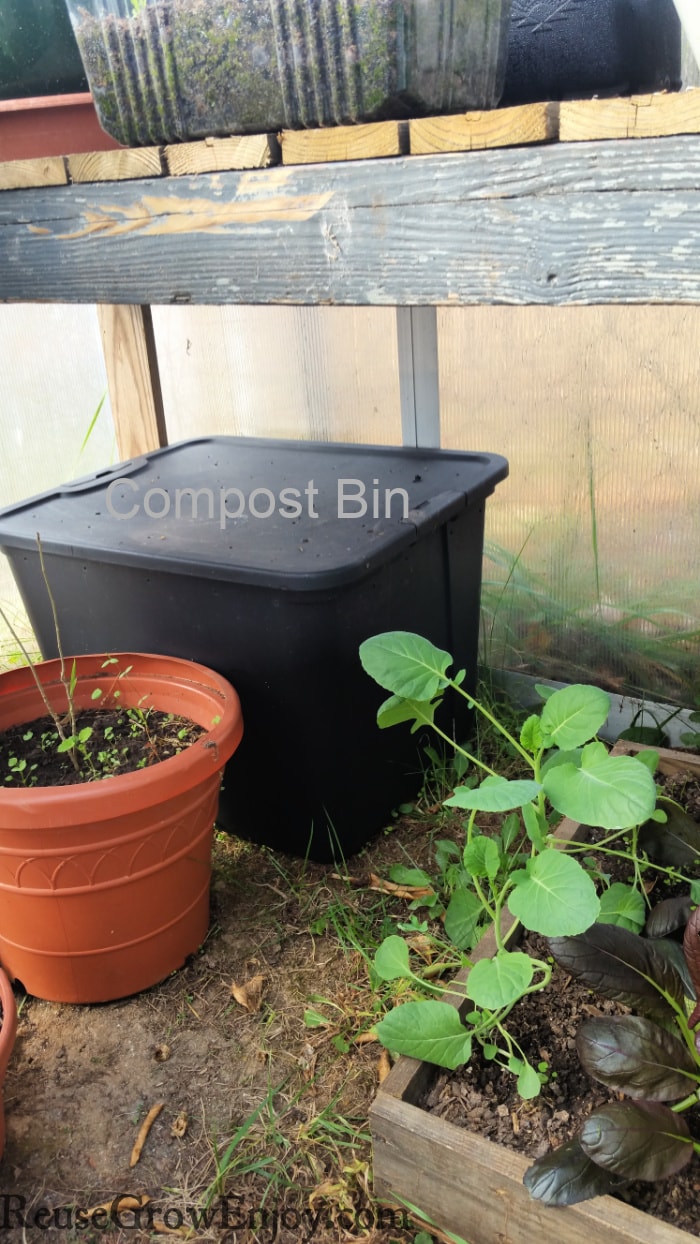 Compost Heating:
Adding a compost bin to the greenhouse is another great way to add a little heat to the greenhouse.
The heat generated from the decomposition process increases the temperature of the compost itself, which in turn radiates warmth and slightly raises the greenhouse temperature.
You can use just about anything as a compost bin. Just make sure it has a few holes in it to allow air in.
You also need to make sure that the compost is packed tightly or it will not decompose as well and in turn, not put off as much heat.
I like to use a small black (I use black so it helps it heat up in the day from the sun) plastic tote in the bottom of my greenhouse packed full of things you can compost.
If you have a larger greenhouse, you could also just have a large compost pile inside the greenhouse.
Candle Heating:
Depending on the size of your greenhouse, you can add a little heat with a simple candle. You just have to make sure to be safe and have it so that nothing touches the flam. The last thing you need is a fire in the greenhouse.
While just a candle adds a little heat, the best way to use is to heat a pot with it. So that it also holds the heat for a little while.
You can do that by placing small candles such as tea lights in a glass or fire-safe dish. You can use a wire roaster rack in the center then place clay or ceramic pots over it so that it is upside down over the candles.
Make sure you use a pot that has a hole in the bottom.
Thermal Mass Heating:
Thermal mass is the property of a substance that remains warm after it has absorbed heat. This property is important in a greenhouse because it helps retain heat for a long period of time and maintain a steady temperature.
A good way to use thermal mass in a greenhouse as a form of heat is to install some large stones. Place on them beneath the growing beds.
Stones absorb thermal energy and retain heat better than concrete. They will remain warm for a much longer period of time. If you want to step it up, you can also paint the rocks black to help speed up the heating when the sun comes out.
Another option would be to have large black containers full of soil. Or even a container of soil that is also covered by clear plastic or glass so that it helps absorb the heat of the sun and then retains that heat to release at night.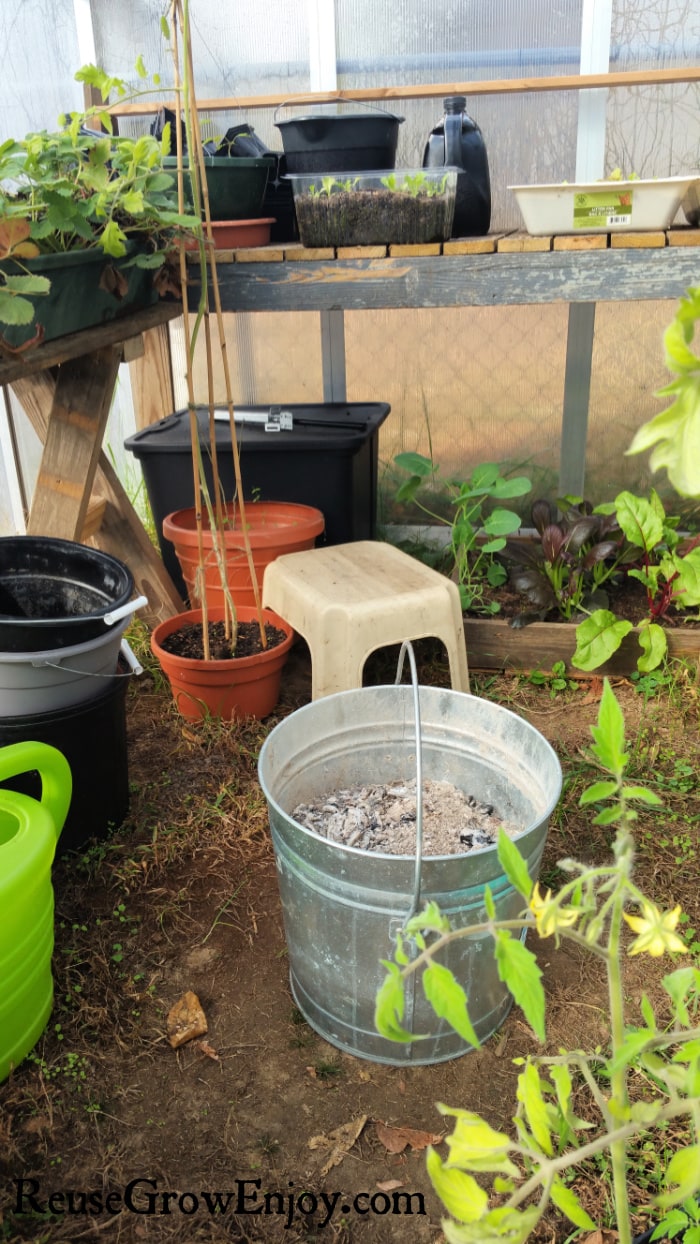 Heating With Hot Ashes:
Ok, so while I use most if not all the options I have talked about so far to heat my small greenhouse garden this is the method that is hands down my best greenhouse heater on those really cold nights.
Take a metal bucket and put hot ashes in the bucket and place it on the ground in the middle of the greenhouse. The most important thing to remember is you have to MAKE SURE there is nothing around it that could start a fire as the bucket will be hot.
We have a wood stove that we burn in the winter. So it doubles as cleaning out the stove and heating the greenhouse at the same time.
However, if you don't have a wood stove, you can take the ashes from a fire pit or barrel for your greenhouse heating too.
This will put off a considerable amount of heat for hours and then slowly cool. Depending on your area and the temperatures, you can put it in the greenhouse at night.
For me, I find having the other methods above will hold it above freezing in the greenhouse (when the temperatures dip in the '20s degrees Fahrenheit outside) until the early morning hours such as about 5 am.
So because I am an early riser anyway, I just take the bucket out and put it in the greenhouse at around 5 am.
Using The Earth To Heat:
You can use the earth to heat greenhouses but this method only works best when you have a large greenhouse.
There are two different ways to use the earth to keep the temperature of your greenhouse above freezing. The first is to sink the entire greenhouse into the ground.
Dig in the ground so that at least the bottom half part of the greenhouse is below ground level by a few feet. With this, you get the best results the deeper or the more of the greenhouse is below the ground.
The other idea is to dig down and place some PVC pipe underground below the first like. You want the PVC to be in a long U shape. Kinda like the top of a football goal.
That way the bottom part is underground and being heated by the earth's temperatures. Then that heat will rise out the open ends and heat the greenhouse.
Conclusion:
In conclusion, a greenhouse can provide year-round fresh food even in cooler temperatures. It also provides a safe haven for tender plants and flowers that would otherwise die in the winter weather.
We have shared several ideas on how to have a winter greenhouse and heat the greenhouse in winter without electricity.