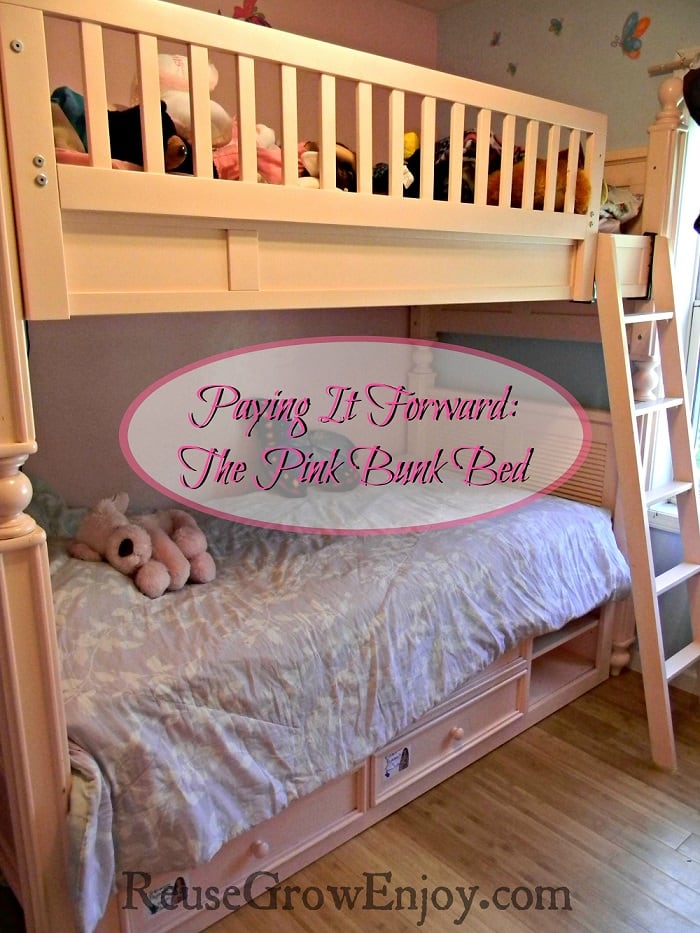 Paying It Forward: The Pink Bunk Bed
It is not often these days that people do caring things. However I have one story that will melt your heart! This is my parents story of the paying it forward pink bunk beds.
"I have heard it said that God works in mysterious ways or that it takes a village to raise a child. I'm not sure which of those sayings has more to do with the story of the Pink Bed, but I can say they both apply.
Having always been a lover of children, my husband and I became caregivers to three beautiful little girls. While most people our age had raised their families and were moving into the grandparent role, we found our self starting over. At first we wondered what on earth we were doing and how was it going to be possible.
Starting off all over was not going to be easy, children need so much and these children had so little. At first I wondered how their needs would be met, but we faced the challenge with prayer, and the prayers were answered in many ways.
For example: daily, I found myself searching Craig's List for a set of bunk beds for the two older girls. These children had come from a home where the very things many of us take for granted were things they had never owned. But each day ended in disappointment, everything seemed out of my price range, and those in my price range were always sold.
One day while I was searching with the girls at my side, we came across the most beautiful PINK set of bunk beds, complete with drawers! The girls screamed with excitement and exclaimed it was the most BEAUTIFUL thing they had ever seen. I didn't have the heart to tell them those beds were WAY OUT of our price range. A little voice in my head said; "E-mail them and tell them how much you can spend, after all it can't hurt."
Thinking I was crazy, I sent the email. I explained how much I had to spend, which was MUCH less than the asking price. I sent the email asking if they didn't get the price they were asking to, please let me know. I was certain the people would get a good laugh…and that I would hear nothing. I also told them how the girls thought it was the MOST BEAUTIFUL thing they had ever seen.
To my surprise, the people e-mailed back and excepted my offer! Needless to say I was shocked. 
We decided that we would pick up the bed and set it up while the girls were at school. My husband, my older daughter and her sons went to pick it up right after the girls got on the bus the next day. When they got to the house, they met the nicest people, and my husband told them how tickled the girls were going to be. When it came time to pay the gentleman, to my husbands surprise he would not accept the money, and said the bed was a gift. It turns out the man had grown up in a foster home and knew what it was like to go without. Tears filled my husbands eyes. This man's foster parents must have been very special to raise such a caring person.
When my husband came home and told me the story, I burst into tears to think that in this busy world we live in someone would show such kindness to a stranger. Because of the kindness of a stranger not only would the girls have beautiful beds, but we were able to buy them matching sheets and blankets.
Needless to say, the girls were so excited when they saw the bed, such joy you can not imagine. I will FOREVER be thankful to the man who brought such joy to two little girls….the day he gave them the pink bed.
Sometimes I hear that there is no humanity in today's world. But every time I make up the pink bed I'll know in my heart that that humanity is still alive and well in the heart of a man who grew up in a foster home. "
After reading this story, please remember the next time you have a chance to do a paying it forward kindness, it can bring a world of joy! Just the smallest caring act will be remembered forever by that person and those they share it with.