Print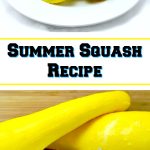 Summer Squash Recipe
This is a Weight Watchers friendly recipe. One serving is (1 cup) 0 Weight Watchers points. This is based off the old Weight Watchers points system.
Cut ends of the squash.

Then cut into about half inch thick slices.

Add all ingredients to deep frying pan.

Cover with lid and cook on low heat (number 3 on my stove) for 15 min.

Remove cover and stir, then recover and cook another 15 min on medium heat (number 6 for me).

Remove from heat and serve.