Need a special father gift idea? Here is one you can make by hand and customize it. I will show you How To Make A Washer Hand Stamped Keychain. You can make the text say what you want.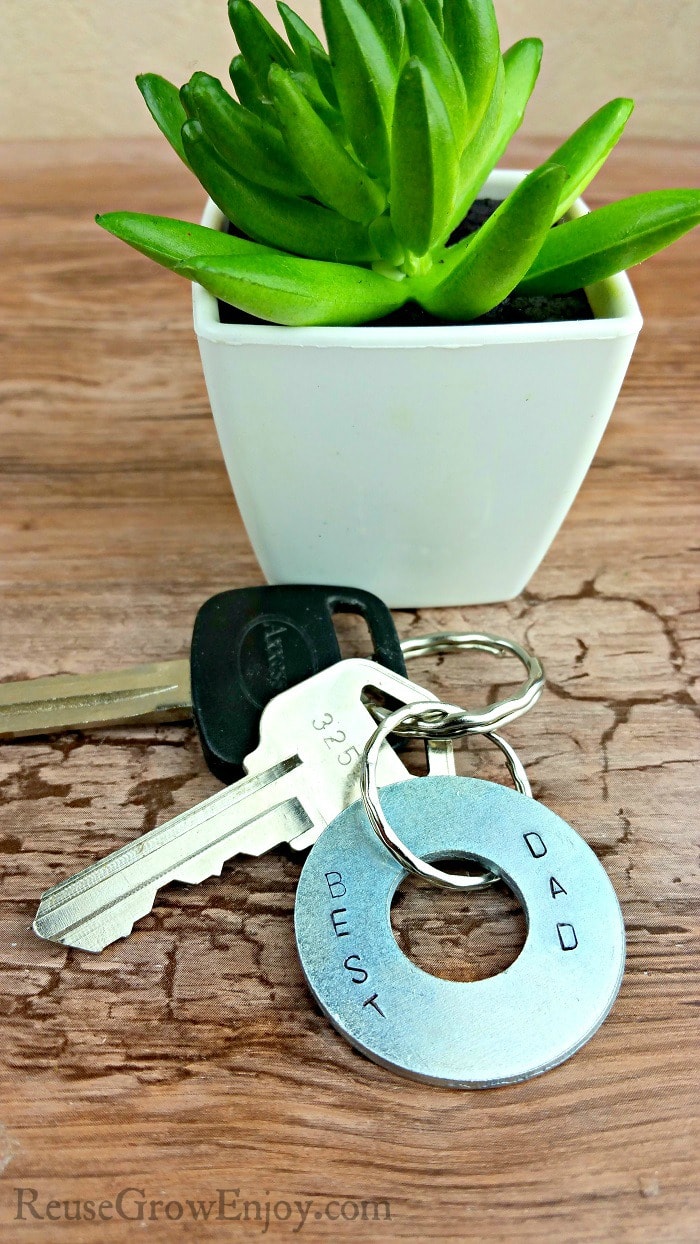 How To Make A Washer Hand Stamped Keychain
When looking for a special father gift idea, there are tons that you can buy that are already made. However, when you make one by hand it just adds that extra special touch. Plus making a hand stamped keychain is not as hard as you would think.
There are lots of different things you could use to make the hand stamped keychain. But for this one, I am using a large metal washer.
Ideas of other items you could use would be an old key, spoon, metal blanks or pretty much anything that is metal and has a smooth area to stamp.
For this keychain, I used 1/8″ 3 MM sized letters. They do have larger ones if you are looking for a larger print. I just used letters for mine, but you could get creative and add something like a heart.
How To Hand Stamp A Washer Keychain:
First thing you need to do is gather together all of the supplies needed to make this keychain.
Supplies Needed:
1 Large Washer (or some other type of metal blank)
Hammer
2 Key Rings
Brick (or some other hard flat object to hammer on)
Black Sharpie Marker
Letter Stamps ( I used these found here)
Rubbing Alcohol
Paper Towel
Next, you need to figure out what you want your keychain to say and if it will fit on the blank or washer you are using. I stuck with simple and went with Best Dad on the ones I stamped.
Another thing to figure out is if you are worried about the letters being perfectly inline. I free handed mine because I like the look of it being a little off.
If you want yours to be lined, either stick a piece of type right by the area you are doing and then line your stamps alone the edge. Or you could also use a ruler and draw a line to follow.
Stamping:
Lay the washer flat on the brick. Then hold one letter at a time in the middle. Make sure the letter end is pressed flat on the washer.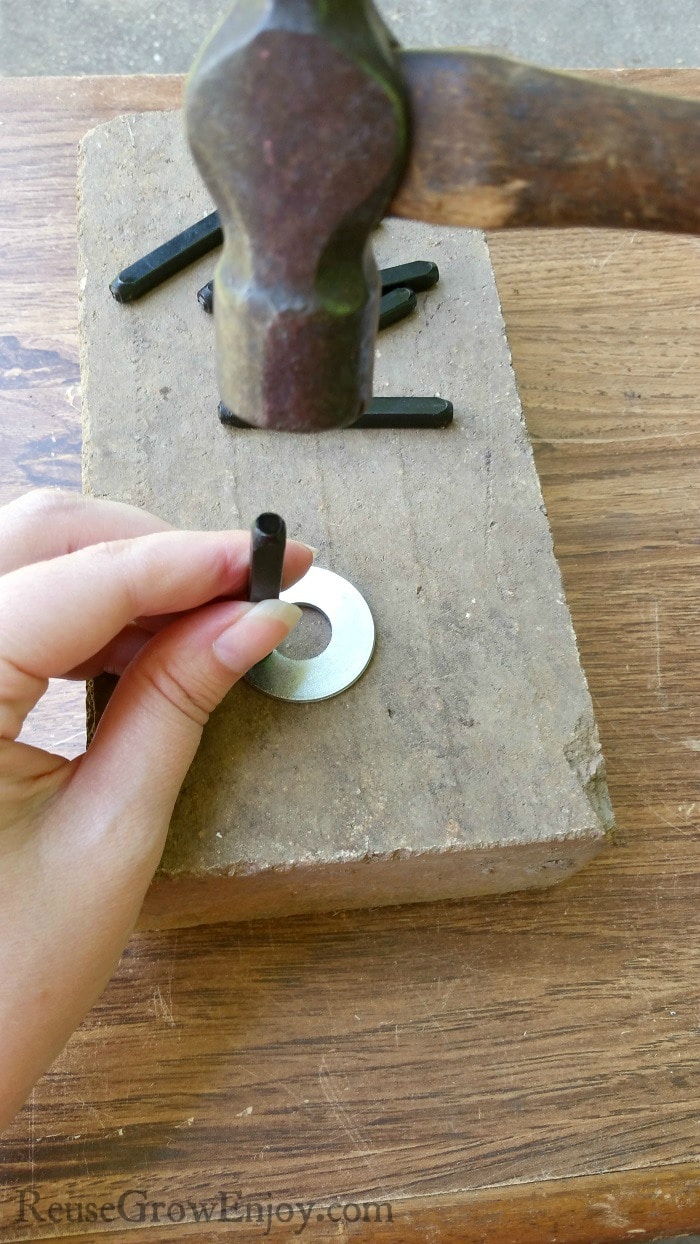 Then with the other hand, give one hard hit with the hammer on the top of the stamp. Make sure you are holding it in the middle so you do not hit your fingers.
If you are worried about hitting fingers, they do have stamping jig that helps to protect your fingers.
Try to avoid hitting it twice. If you do you may end up with a little double impression.
After you have finished with that letter, move on to the next carefully place it right next to the last so you do not stamp over the other letter.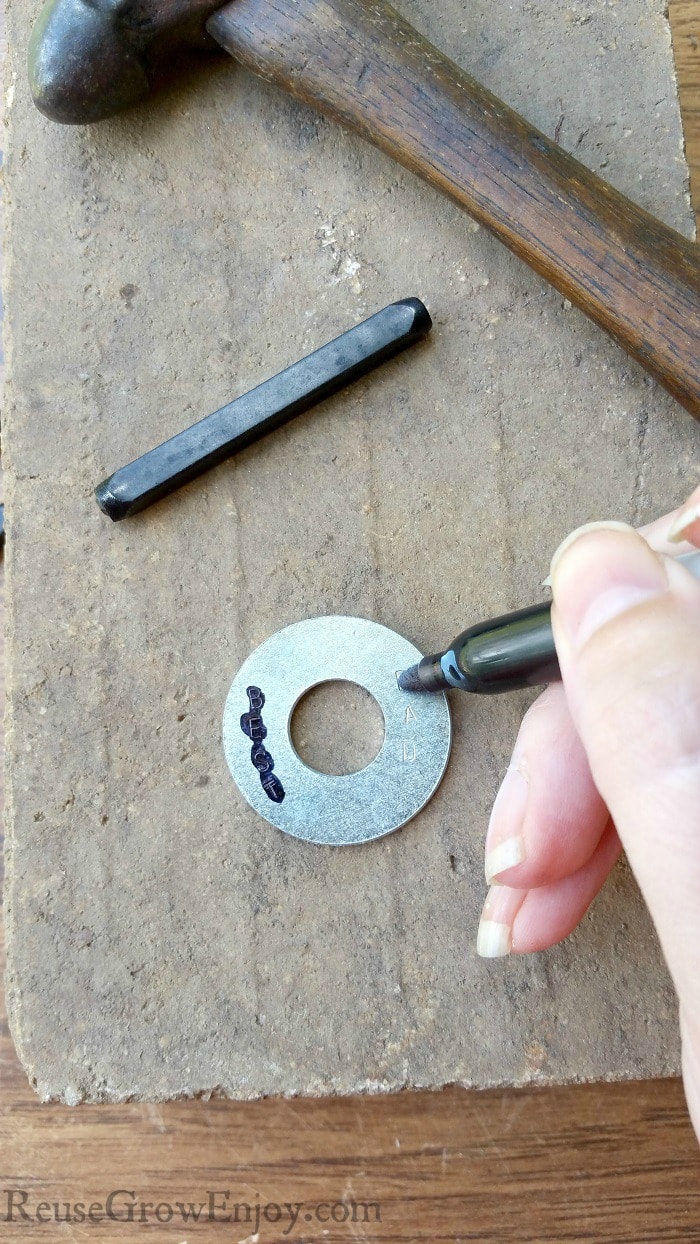 Darkening The Letters & Adding Keyrings:
After you have stamped all your letters it is time to darken them. Using the Sharpie, color in the letters. Don't worry if you get it all around the letters (you will) it will come off.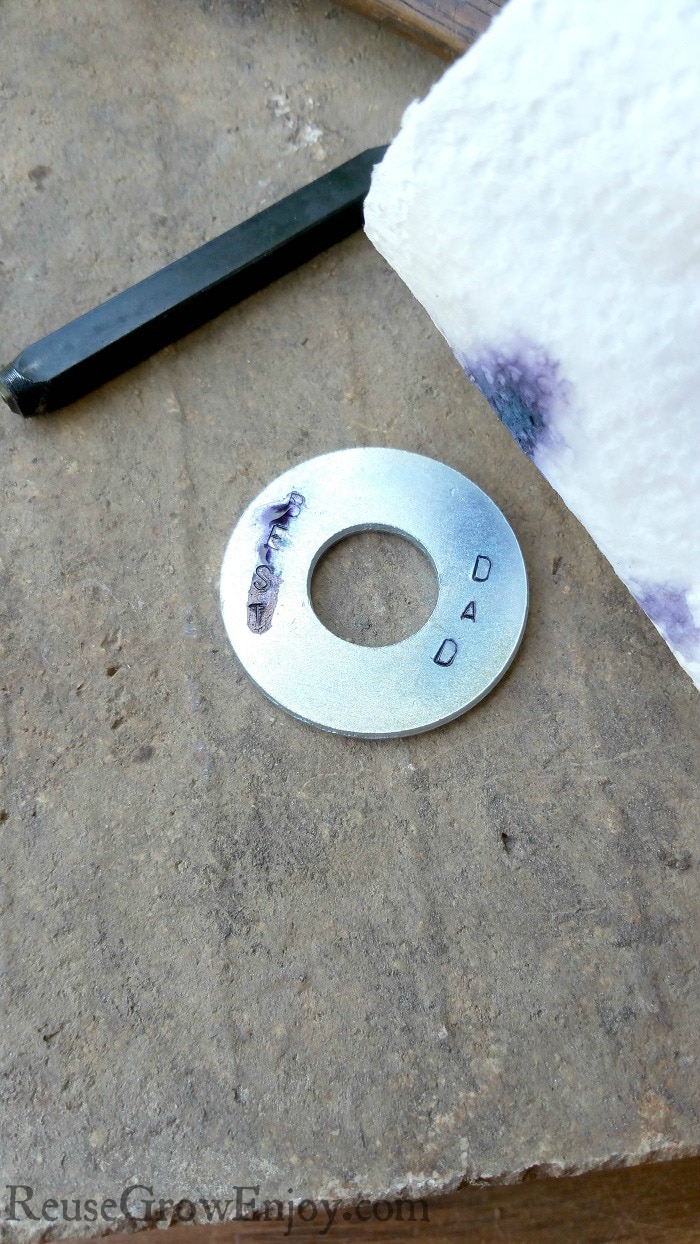 Now add some rubbing alcohol to the paper towel and then rub off the extra marker. Just wipe over it and don't push down into the grooves. We want the marker to stay in the grooves.
After you have all the excess marker wiped off, you can add your key rings. I used two on mine so that it would dangle a little better when it is attached to keys.
If you are looking for other father gift ideas, here is another one to check out.