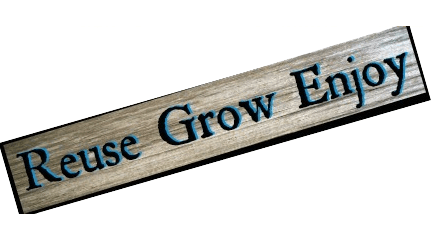 Who we are
Hi, my name is Crystal and I am the owner of Reuse Grow Enjoy website address is: https://reusegrowenjoy.com. This Privacy Policy below will tell you in detail of what data this site collects and what it is used for.
If you need to contact me you can send me an email to mail @ reusegrowenjoy.com
Note that this Privacy Policy can be revised from time to time and will always be done on this page. The last update was 4/25/2022. By using this site you agree to the terms of this Privacy Policy.
What personal data we collect and why.
When you visit my site I automatically collect personal info such as,
Your IP address (aka Internet Protocol addresses)
Type of browser you use.
Your ISP (aka Internet Service Provider)
The time, date and length of your visit.
The pages you visit on this site.
The site you came from and go to when you leave the site
All of that data is collected and stored using Google Analytics (You can read Google's privacy policy at: https://www.google.com/policies/privacy/). I collect it for administrative purposes so that I can see what types of things people like the most such as recycling, gardening, recipes and so on. Knowing the types of content that is most liked and from what areas helps me better understand what content to keep posting. I don't want to waste your time or mine so it is better to narrow it down.
Comments
When you comment on this site I do ask for your name and email address. That is so I know the name of the person to replay to and if need be email you with a follow up if the answer cannot be covered in the comment area. When your comment publishes, it will show your name but not your email.
You do have the right to comment without filling in the name, email or website if you choose to do so. It will still, however, collect your IP address and browser.
We collect the IP and, ISP and browser to help detect spam from bots and other abusive users.
An anonymized string created from your email address (also called a hash) may be provided to the Gravatar service to see if you are using it. The Gravatar service privacy policy is available here: https://automattic.com/privacy/. After approval of your comment, your profile picture (if you have one) is visible to the public in the context of your comment.
Cookies
We use cookies on this site. A cookie is small bits of data that are stored on your browser. There are two different types of cookies, a session cookie that will expire when you close your browser, and persistent cookie, which will stay on your browser until you delete it. These are used to provide you with a more personalized experience, analyze site traffic, and serve targeted advertisements.
If you leave a comment on our site you may opt-in to saving your name, email address and website in cookies. These are for your convenience so that you do not have to fill in your details again when you leave another comment. These cookies will last for one year.
Most browsers do allow you to control the use of cookies and to delete cookies. You can visit the website of the browser you use for information on how to block and delete cookies. However, you deactivate the setting of cookies in your Internet browser, not all functions of this Website may be entirely usable.
Embedded content from other websites
Articles on this site may include embedded content (e.g. videos, images, articles, etc.). Embedded content from other websites behaves in the exact same way as if the visitor has visited the other website.
These websites may collect data about you, use cookies, embed additional third-party tracking, and monitor your interaction with that embedded content, including tracing your interaction with the embedded content if you have an account and are logged in to that website.
Who we share your data with
We may share your information that we collect with trusted third parties. You do have the right to opt out of the sharing of your personal data. Each third-party service provider's use of your information is dictated by their own privacy policies.
This website currently uses the following third-party service providers:
Google Analytics – for collecting analytics data. (You can read Google's privacy policy at: https://www.google.com/policies/privacy/)
Mad MiMi – for sending out our newsletter.
Mediavine as noted in the advertising section below.
This third party list may be amended from time to time in this website's sole discretion.
Unless required by law, I will not sell, distribute, or reveal your personally identifiable information without your consent. However, we may disclose or transfer personal information that we have collected, to third parties if acquired all or a portion of our business. This may be from a result of a merger, consolidation, or purchase or in connection with any bankruptcy or reorganization proceeding brought by or against us.
Anonymous Data
I may from time to time use anonymous data, that does not identify you alone to provide to other parties for marketing, advertising, or other uses. Such anonymous data may include analytics or information collected from cookies.
Advertising
Mediavine Programmatic Advertising (Ver 1.0)
The Website works with Mediavine to manage third-party interest-based advertising appearing on the Website. Mediavine serves content and advertisements when you visit the Website, which may use first and third-party cookies. A cookie is a small text file which is sent to your computer or mobile device (referred to in this policy as a "device") by the web server so that a website can remember some information about your browsing activity on the Website.
First party cookies are created by the website that you are visiting. A third-party cookie is frequently used in behavioral advertising and analytics and is created by a domain other than the website you are visiting. Third-party cookies, tags, pixels, beacons and other similar technologies (collectively, "Tags") may be placed on the Website to monitor interaction with advertising content and to target and optimize advertising. Each internet browser has functionality so that you can block both first and third-party cookies and clear your browser's cache. The "help" feature of the menu bar on most browsers will tell you how to stop accepting new cookies, how to receive notification of new cookies, how to disable existing cookies and how to clear your browser's cache. For more information about cookies and how to disable them, you can consult the information at https://www.allaboutcookies.org/manage-cookies/.
Without cookies you may not be able to take full advantage of the Website content and features. Please note that rejecting cookies does not mean that you will no longer see ads when you visit our Site. In the event you opt-out, you will still see non-personalized advertisements on the Website.
The Website collects the following data using a cookie when serving personalized ads:
IP Address
Operating System type
Operating System version
Device Type
Language of the website
Web browser type
Email (in hashed form)
Mediavine Partners (companies listed below with whom Mediavine shares data) may also use this data to link to other end user information the partner has independently collected to deliver targeted advertisements. Mediavine Partners may also separately collect data about end users from other sources, such as advertising IDs or pixels, and link that data to data collected from Mediavine publishers in order to provide interest-based advertising across your online experience, including devices, browsers and apps. This data includes usage data, cookie information, device information, information about interactions between users and advertisements and websites, geolocation data, traffic data, and information about a visitor's referral source to a particular website. Mediavine Partners may also create unique IDs to create audience segments, which are used to provide targeted advertising.
If you would like more information about this practice and to know your choices to opt-in or opt-out of this data collection, please visit Opt Out – NAI: Network Advertising Initiative. You may also visit http://optout.aboutads.info/#/ and http://optout.networkadvertising.org/# to learn more information about interest-based advertising. You may download the AppChoices app at YourAdChoices.com | AppChoices to opt out in connection with mobile apps, or use the platform controls on your mobile device to opt out.
Affiliate Program Participation
I do engage in affiliate marketing. This is done by using tracking links on this site. When you click on an affiliate link, a cookie will be placed on your browser. This will track any purchases you make for purposes of commissions.
Newsletters
We do offer a free newsletter that you can subscribe to. It is used to keep you up to date with things happening on the site as well as for advertising purposes. The newsletter contains tracking pixels allowing me to see if you open the email and which links you click. When you subscribe to the newsletter you are giving consent for me to store your email to use to send you the newsletter.
What rights you have over your data
Newsletter opt out – you can at any time unsubscribe from the newsletter using the link at the bottom of the email you got. Or you can also send an email to mail @ reusegrowenjoy.com asking to be deleted from the list.
Access, Update or Delete – You can at any time send an email to mail @ reusegrowenjoy.com to have the data we have collected from you (if any) accessed, have it updated or deleted.
Sensitive Personal Information
At no time should you ever submit sensitive personal information to this Website. Sensitive personal information includes social security number, race or ethnic origin, criminal background, religious beliefs, health information, and so on. If you choose to submit such information to us, it will be subject to this Privacy Policy and the Reuse Grow Enjoy site has no responsibility or liability for such information.
Children's Privacy
My website, products, and services are all directed to people who are at least 16 years old or older. By using this site you agree that you are at least 16 years of age or older. We do not knowingly collect any information from anyone under 16 years of age.
Additional information
If you place an order through my Upcycled Product store your personal data such as name, address and email are only used for the purpose of sending you the items you ordered.
How we protect your data
We implement a variety of security measures to maintain the safety of your personal information.
We offer the use of a secure server. When making a purchase from my Upcycled Store payment is made using Paypal and the information is transmitted via Secure Socket Layer (SSL) technology.
This policy was last updated on 5/28/2020
You may also want to read our Disclosure Policy.