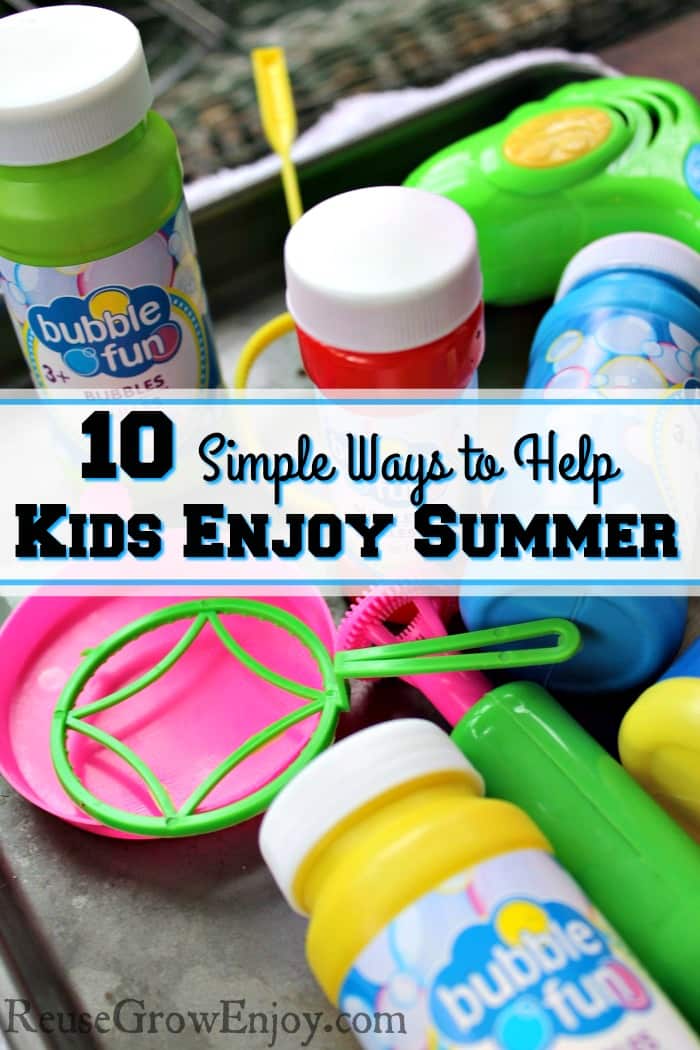 10 Simple Ways to Help Kids Enjoy Summer
Doesn't it seem like summer has turned into non-stop planning, driving, and scheduling? We have become so focused on booking every minute of our summers that we don't take the time to enjoy summer.
Kids are in turn missing out, and not getting the chance to slow down, relax, and enjoy summer and all the things it is famous for.
Instead of letting this summer become nothing but a bunch of dates on the calendar, look at these 10 Simple Ways to Help Kids Enjoy Summer. You might just see that is a simpler summer is exactly what you are in the mood for.
1. Consider less screen time:
One of the easiest ways to simplify summer is to cut down on screen time. Instead of hauling around chargers and looking for outlets, allow kids to enjoy GREEN time, not screen time. This means lots of time outdoors and in nature where all sorts of items are waiting to be found.
2. Allow one camp overs to be the highlight:
Instead of planning huge camping trips, choose one to be the highlight. Or better yet, do a camp over right in your back yard! This way kids will really enjoy the experience and make the most of it instead of feeling like they are from one camp to the next. It will feel more like a special experience this way.
3. Take advantage of nature:
There are so many activities to enjoy in nature! Try camping, fishing, boating, rock climbing, going to the beach, watching stars, and so much more. These are all simple and inexpensive activities kids will love that will show them a simpler way of life.
4. Allow for explorative play and free time:
Let kids design their own schedules. Let them choose activities they wish to do in the home and yard, allow for plenty of free time, and encourage explorative play. You might be surprised how creative they are when allowed.
5. Have plenty of grab and go snacks and meals:
Don't complicate summer with lunch dates. Have plenty of fresh fruit, veggies, nuts, bread, granola bars, homemade Larabars,  yogurt, and juice on hand so kids can grab and go. They will enjoy picnics in the yard, picnics with neighbor friends, and will love having healthy snacks at their fingertips.
6. Introduce some pastimes you enjoyed as a child:
Are there simple activities you enjoyed as a kid? Hopscotch? Jacks? Sidewalk chalk? Show these activities to your child and see if they catch on. They might find a new favorite.
7. Get lost in books and blankets
Head to the library for a stack of books. Then, give the kids books and a blanket! Let them build a fort and read for as long as they wish. This is a great way to pass the time on a rainy day or a day where the weather isn't cooperating.
8. Avoid making plans that involve driving:
Don't spend your summer in a hot car. Make plans around your own home and neighborhood. Or, places where you can ride your bikes. You will save time, save money, and find all sorts of things to do right in your own neighborhood.
9. Use resources you have on hand:
Get creative with the resources you have on hand. This can be craft supplies, snack foods, hoses and sprinklers, books, dress up clothes, or maybe even a small pool. Find new ways to use these items and see how much fun you can have.
10. Allow plans to happen naturally:
Instead of booking every second of the day, just see where the day takes you. Don't over plan, but instead let the day unfold and see what feels good.
Are you ready to enjoy summer? Consider these 10 Simple Ways to Help Kids Enjoy Summer and see how fun yet relaxing they can be.