Have you heard talk about all the wonderful bee pollen benefits? If you are wondering if it is something you should try, you may want to read over the benefits we have listed below.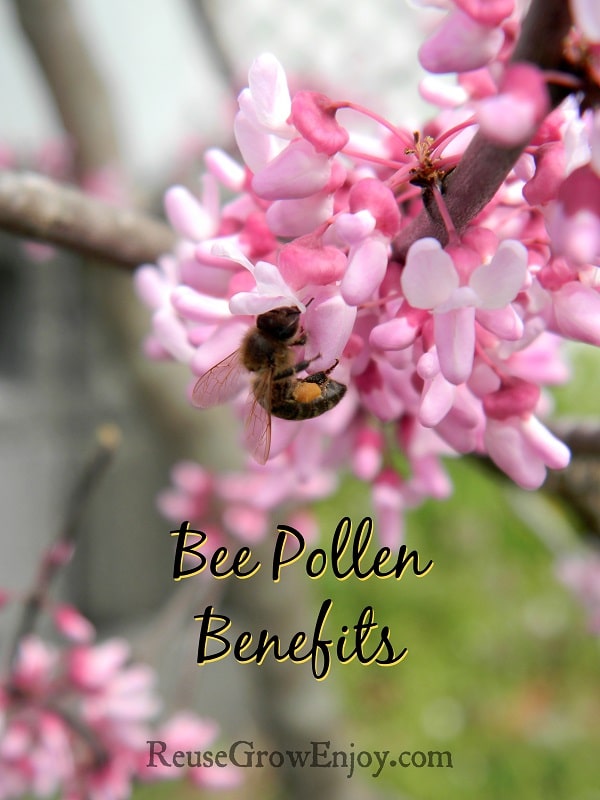 Bee Pollen Benefits
Bee pollen is a superfood that has been underrated for far too long. It has so many benefits, it's difficult to name them all – but we will talk about a few (as well as some awesome bee pollen recipes and resources) here today.
Cultures around the world have used bee pollen as an energy source and medicine. It's thought to have anti-cancer properties and protects against many things.
Bee pollen is one of the few things that cannot be recreated in a laboratory, and when bees are fed manmade pollen, the bee dies.
Gathering bee pollen is a lengthy process. The honeybee arrives at a flower, scrapes off the loose pollen with its jaws and front legs while moistening it with a drop of honey. The honey they use was brought all the way from the hive.
In mid-flight, the bee pushes the pollen into its pollen "baskets". The baskets get completely loaded, meaning it's been pressed into a single grain of pollen.
Bee pollen is approximately 40% protein. It's one of the most perfect foods we have discovered in nature. It's considered a complete nutrient/food because it contains nearly all the nutrients needed for the human body.
Bees really are one of the most amazing creatures out there!
Different Varieties & Forms:
When trying to incorporate bee pollen benefits into your life, I love the fact that there are different varieties and forms nowadays.
Some of the different forms of bee pollen include granules, powder, capsules, jelly, bee pollen honey and more.
Not only is there a wide selection, but it is also easy to find. Years ago you would have to make a trip to a health food store and pay top dollar. Nowadays it is just about everywhere including Amazon plus, it is very reasonably priced.
Bee Pollen Beauty Recipes:
One great way to get the benefit of bee pollen is to use it in beauty products. These would be ones that you make at home so you can control what goes in them.
You can use it in all kinds of beauty DIYs. Such as lip balms, skin cream, bath bombs and more. Here are a few ideas to check out.
— Bee Pollen Skin Cream Recipe
Recipes That Use Bee Pollen:
If you would rather get your bee pollen in without taking a supplement or capsules, a great way to do do is in recipes. This helps get it in your system and enjoy some wonderful flavors too.
Here are just a few recipes that call for bee pollen.
— Super Green Healthy Spirulina Smoothie
— Immune-Boosting Fig Banana Smoothie
— Blood Orange Chia Seed Pudding & Vanilla Overnight Oats Parfait Recipe
Weight Loss & Other Uses:
Among the many bee pollen benefits, treating allergies is one that some folks don't know about.
Some have found it helpful to lose weight by increasing your energy and keeping you full. It contains less than 100 calories for 2 tablespoons and is a natural appetite suppressant. It also helps prevent bloating during PMS.
Pretty much everyone can benefit from using bee pollen. That is unless you have an allergy to it. It increases our body's healing power and helps build immunity to resist diseases.
This just makes for one of the reasons why you should not kill bees.
It has been said to be used to treat asthma, chronic illnesses, insomnia, and even depression. Some studies have shown it can be beneficial in treating the symptoms of ADD.
If you are looking to get some, you can find a wide variety of bee pollen products
online at places like Amazon.
Do you use bee pollen? What are some of the bee pollen benefits that you have found? Let me know in the comments!
Please note that I am not a medical professional. This is not meant to replace medications. As with any health treatment, be sure to consult your doctor before trying anything new.