Having plants indoors is a great way to brighten up space and bring a little nature indoors. But what if you don't get much light? Check out these best low light house plants to find the right one for you.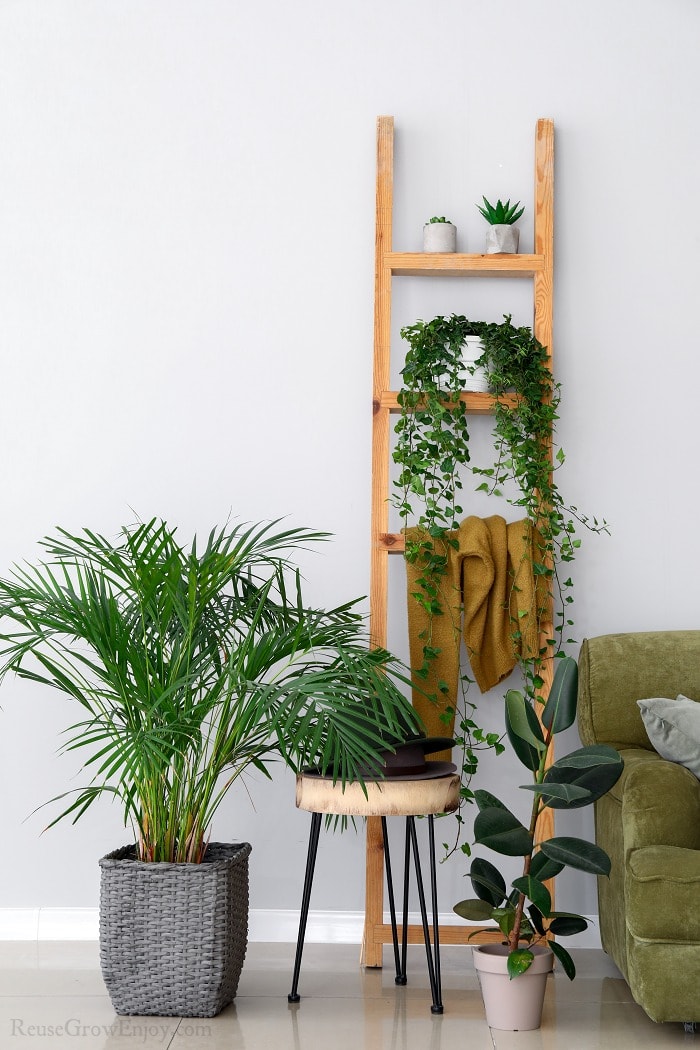 Best Low Light House Plants
Not everyone has huge windows with lots of light in the house. Or even one that gets a lot of sun throughout the day. But that does not mean you still can't have plants. It just means you have to choose them carefully and select low light house plants.
Now when I say low light, that does not mean that they need no light. It just means they don't need as much of it or have it as direct as some other plants.
If you are still worried you will not have enough light to even support low light house plants, there are ways around that too.
You can buy things light grow lights that help give the plant the light that it needs when there is no option for sunlight.
I use grow lights a lot in the winter to help extend the light of the day for my plants that require more light. I have been using them for years and it works really well. Plus they have a wide verity available now at reasonable prices.
You can get anything from the size of a small desk lamp to a full-blown huge grow light. They do also just have bulbs that can replace a normal light bulb.
House Plants That Do Well In Low Light:
Ivy:
Ivy is an easy to grow plant that doesn't mind living indoors out of the sun. As long as you have some sun shining in a window nearby even if it is not directly on the plant it can thrive.
This makes a great plant to grow in bathrooms, kitchens, and living rooms. The vines will run-out adding to your decor.
Vines can be easily started by placing a cutting in a glass of water until roots appear. Once your vines are thriving use a high-nitrogen fertilizer or fresh compost once a month.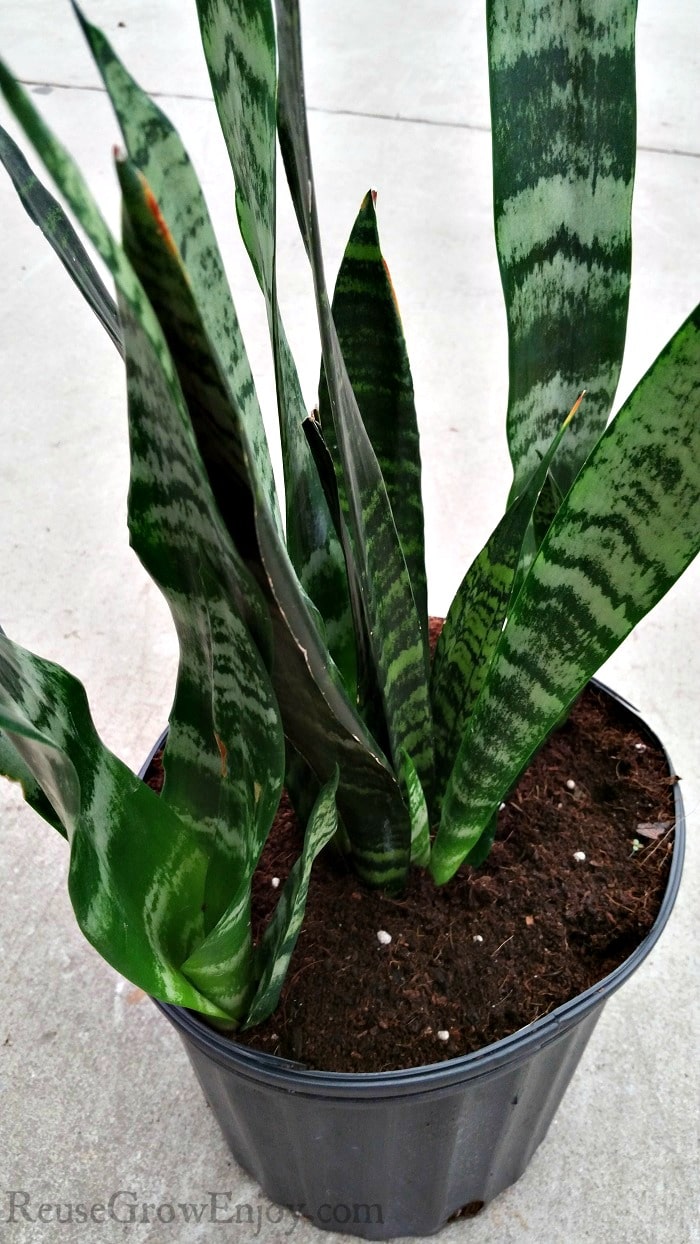 Snake Plant:
Snack plants can thrive in low light but you need to be mindful that they can rot easily. Keep them in well-draining soil to give them the best chance.
To propagate snake plants divide larger plants. Place in indirect sunlight and let this plant dry out between waterings for the best results.
You can find full details on how to care for a Mother-in-Law's Tongue (aka Snake Plant) here.
Staghorn Fern:
Staghorn Fern is a great plant for anyone looking for a great rustic addition to there home in a room with low light. In warmer months water once a week.
During the winter water every 2-3 weeks to help ensure they do not get too much water. These plants can be watered by submerging in a bowel or sink of water or by using a fine mist spray bottle.
Calathea:
Calathea makes a great indoor decorative plant fit for areas that get indirect sunlight. This plant thrives in a humid area with low water.
Add it to your kitchen or bathroom if you tend to forget your house plants and it will thrive with the occasional watering. Fertilize during spring, summer, and fall growth for the best results.
Anthurium:
Anthurium likes a lot of indirect light. This is the perfect plant for a room with a large window not south facing.
Keep your anthurium well watered by watering once a week and twice a week during the dry months. With plenty of fertilizer, this plant will keep a steady supply of flowers to add a pop of color to your space.
Lucky Bamboo:
Lucky bamboo is an easy to grow plant perfect for adding an interesting conversation piece to a room by shaping it as it grows.
Lucky bamboo can be grown in water. Soil and fertilizer can actually harm your lucky bamboo so just make a point of adding more water when you see it getting low.
If your plant is not in a well-trafficked area make a habit of topping it off weekly as you won't see when it needs water if you do not come across the plant daily.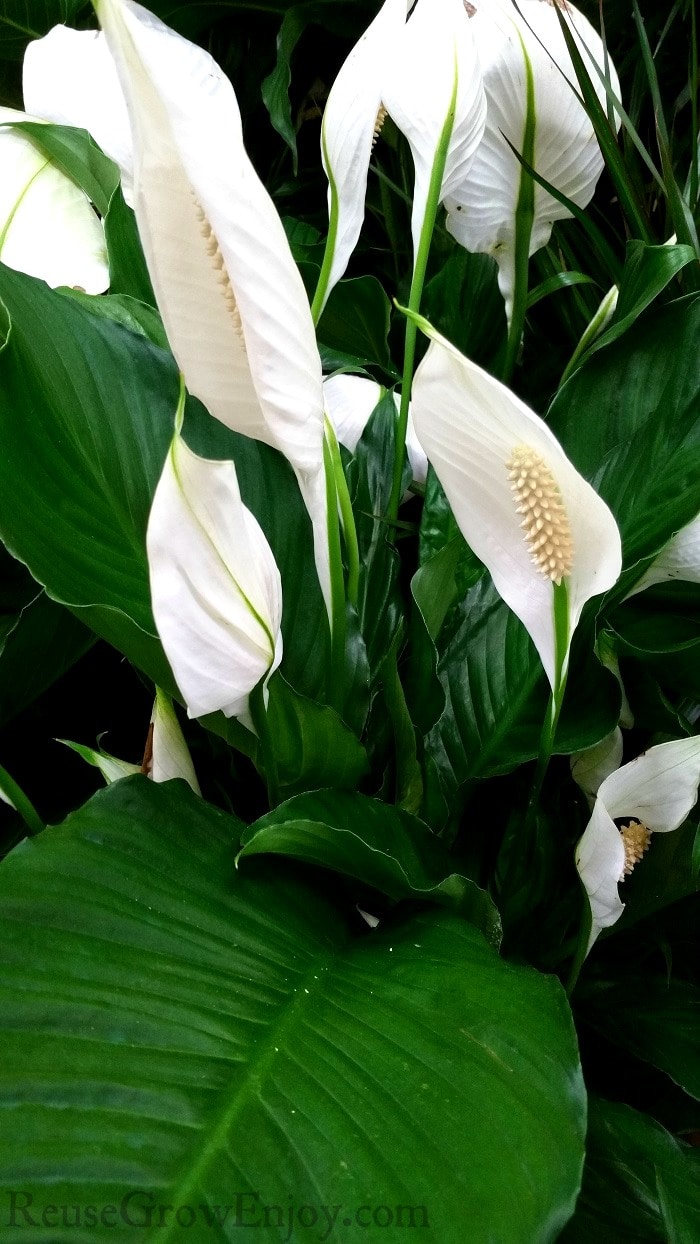 Peace Lily:
Peace Lily is an easy to grow plant that thrives on low light. Lilies can be dangerous to animals so they are best for pet-free homes.
Peace Lily can thrive in low light and tolerate fluorescent lights well. They can even grow in a room with no windows, making it a great option for a space in your basement or an interior room.
Water once a week and watch for wilting that tells you this plant needs water.
Find full Peace Lily care tips here.
Prayer Plant:
Prayer plants are easy to grow and do well indoors in a room with a large window though they do not need direct sunlight.
This plant can be a bit pickier than other low light houseplants. They require plenty of humidity and like moist but not soggy soil making them best for someone that is good at remembering to care for their house plants.
Water your prayer plant once a week using warm water. Fertilizing your prayer plant as often as once a week will help it thrive.
Spider Plant:
Spider plants are popular low light houseplants because they are easy to grow and can thrive in pretty much situation you put them in.
Spider plants prefer to dry out between waterings making this the perfect plant for someone that may forget to water their plants. Place in a room with moderate to bright indirect light for the best results.
Birds Nest Fern:
Birds nest fern is a bit harder to come by as it is difficult to propagate and can not be divided. For this one, you want to buy as many as you need rather than planning to grow more.
This low light house plant thrives in filtered light and shade. It can grow well in a room with a north-facing window that does not receive direct light.
Birds nest fern does best in peat moss based potting mix with regular additions of compost. Moisten soil without making it soggy.
Monstera:
Monstera is also known as swiss cheese plant due to its torn leaves. This large tropical plant is perfect for filling in space in a large room.
It does best in indirect sunlight so any room with a good-sized window will do the trick. If you do not provide it a light source it will attempt to climb and can get a bit out of control.
Allow soil to dry between waterings and trim when it gets too large. Leaves can be placed in a vase of water for quite some time making another great addition to your home decor.
Now, these are just a few of the best low light house plants. There are lots more options out there but we could not list them all or it would make for a really long blog post.
Now that you have seen a few options, which one will you be giving a try?