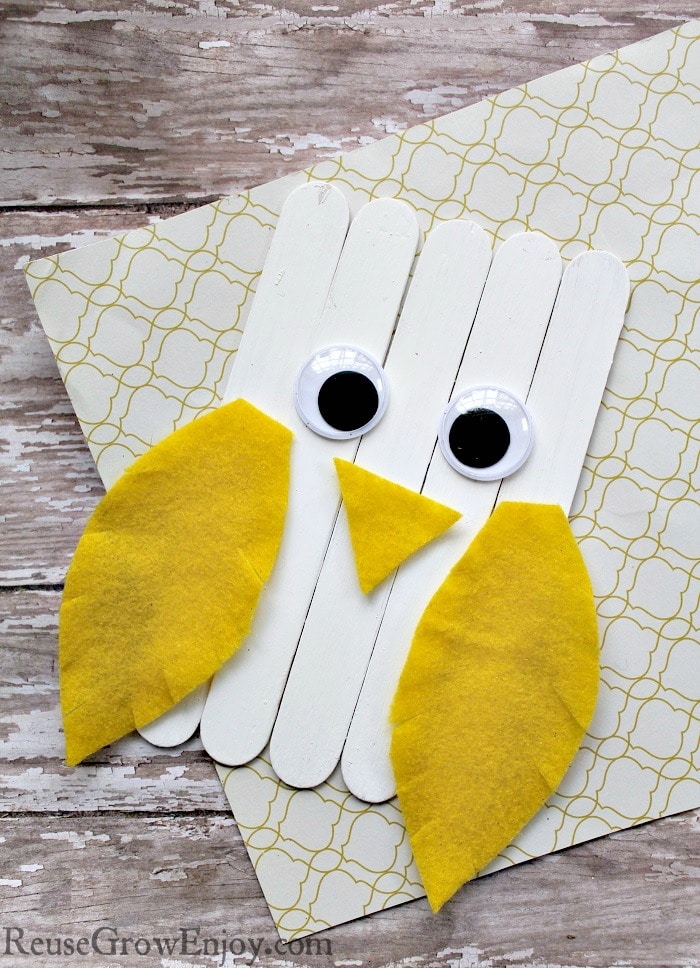 Bird Craft Stick Craft – Save Those Popsicle Sticks
Looking for a fun spring craft you can do with the kiddos? I have an easy and cute bird craft stick craft for you to check out. This is also a great way to reuse those popsicle sticks so be sure to save them up.
For our bird craft stick craft, we painted it white. But feel free to use the colors you have on hand or your kiddos favorite colors. Have fun with it and make it your own.
Note: if you do not want to deal with messy paint, you can buy pre-colored craft sticks.
Craft Stick Craft Supplies Needed:
Directions:
The first thing you need to do to start is by applying two coats of paint to one side of the craft sticks. Allow drying. You can skip this step if using pre-colored craft sticks.
Next, turn the sticks over to the unpainted side. Lay them side by side as close as you can. Now using the hot glue gun, glue one stick across the other sticks at an angle. This will hold them all together. Then you can turn it back over to the painted side.
Using the felt, cut out your bird's embellishments including two oval wings and a triangle for the beak. If you want, you can give it extra detail such as adding fringes to the sides of the wings so it looks like feathers.
Now use the glue gun to place the googly eyes a few inches from the top of the sticks. Then glue the triangle beak directly under them in the middle.
You can finish by adding some glue to the ovals (wings) and place them on each side of the sticks. Be sure to hold in place until glue is dry.
After you have all your pieces attached and they are dry, your bird is ready to be displayed.
Pretty easy right?
If you liked this kids craft, here are a few others to check out.