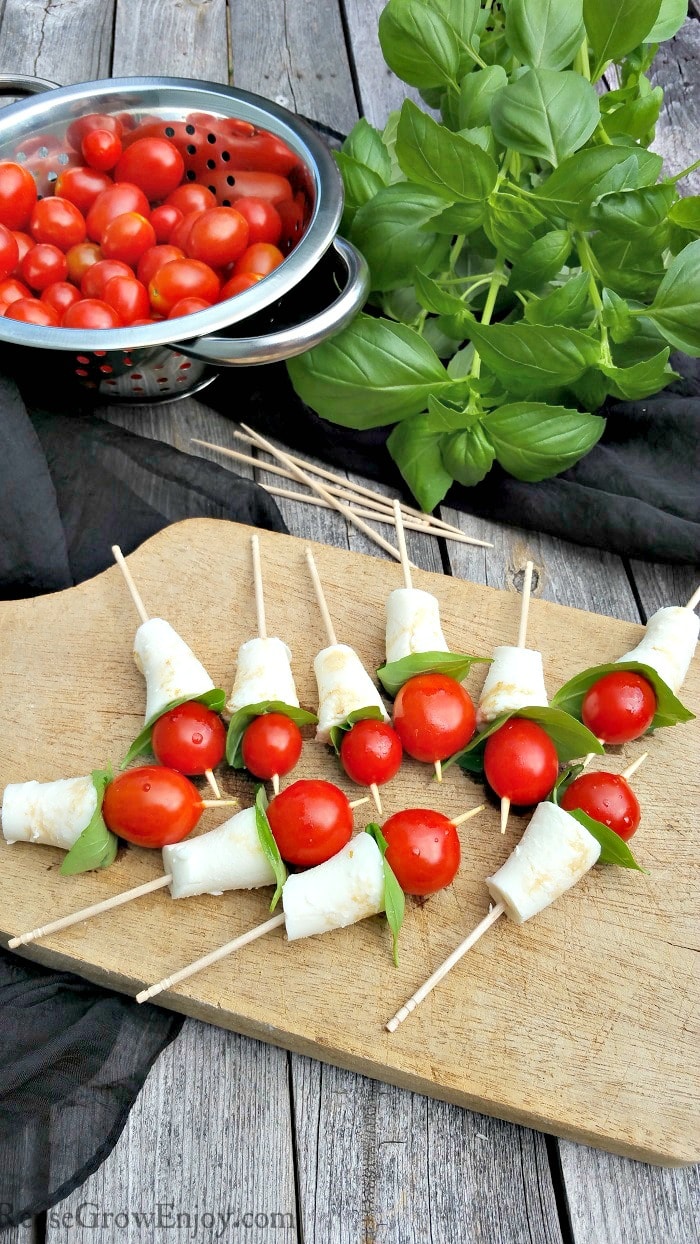 Caprese Salad Skewers
Having some family and friends over? If you could use a tasty yet easy appetizer these Caprese salad skewers are delightful!
These are made using fresh cherry tomatoes, fresh basil, mozzarella cheese and a drizzle of olive oil (or avocado oil) and balsamic vinegar. If you are someone that is not crazy over the taste of balsamic, you can leave it off if you want.
I love having super simple go-to recipes like this on hand as it only takes a few minutes to whip up if you have unexpected guests just pop in. Plus this time of year if you have your own vegetable or herb garden, you may already have half the ingredients on hand.
For the cheese, I used a small round cutter (the smallest one in this set is what I used). But you could also use a melon baller or even just cut into chunks if you wanted too.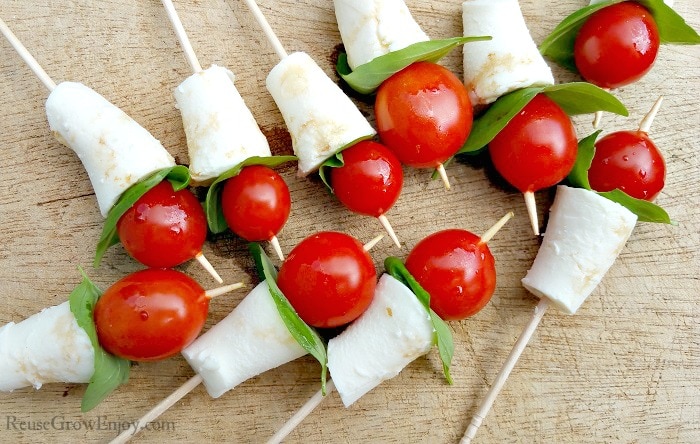 They are pretty small little bite size Caprese salad skewers that could fit on a normal size toothpick. However, I wanted the stick to look a little classy so I used these long specialty toothpicks. A bamboo knot pick would also be a great option.
This could also be made into a salad if you wanting something different to serve with your meal. You can also change it up if needed such as using chunks of cut tomatoes or even change out the mozzarella cheese with another cheese like provolone or Monterey Jack.
Or if you are wanting this to be a vegan recipe you could also replace the cheese with a vegan mozzarella or tofu.
If you like this recipe, here are some others to check out.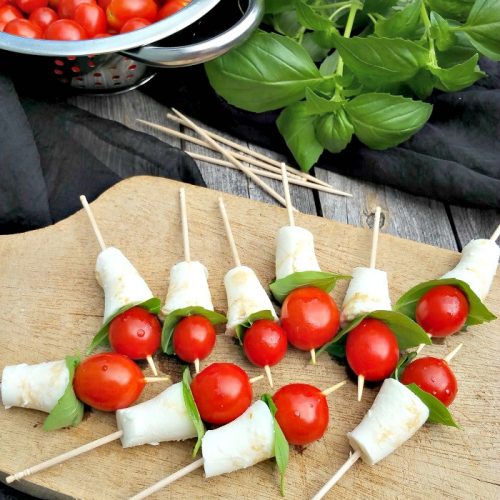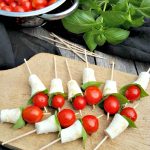 Caprese Salad Skewers
Friends or family on the way over and need a super easy, healthy and tasty appetizer? Whip up these super simple Caprese salad skewers! So delightful!
Ingredients
Fresh Cherry Tomatoes

you need one for each skewer

Fresh Basil Leaves

one for each skewer

Mozzarella

cut in cubs or balls (8 oz will make about 25 skewers)

Balsamic Vinegar

Olive Oil
Instructions
Place a piece of cheese on each skewer, then a basil leaf then a cherry tomato. Make sure to push them up the skewer a little so that they stay on.

Next lightly drizzle with a little olive oil and balsamic vinegar.

Keep chilled until ready to serve.