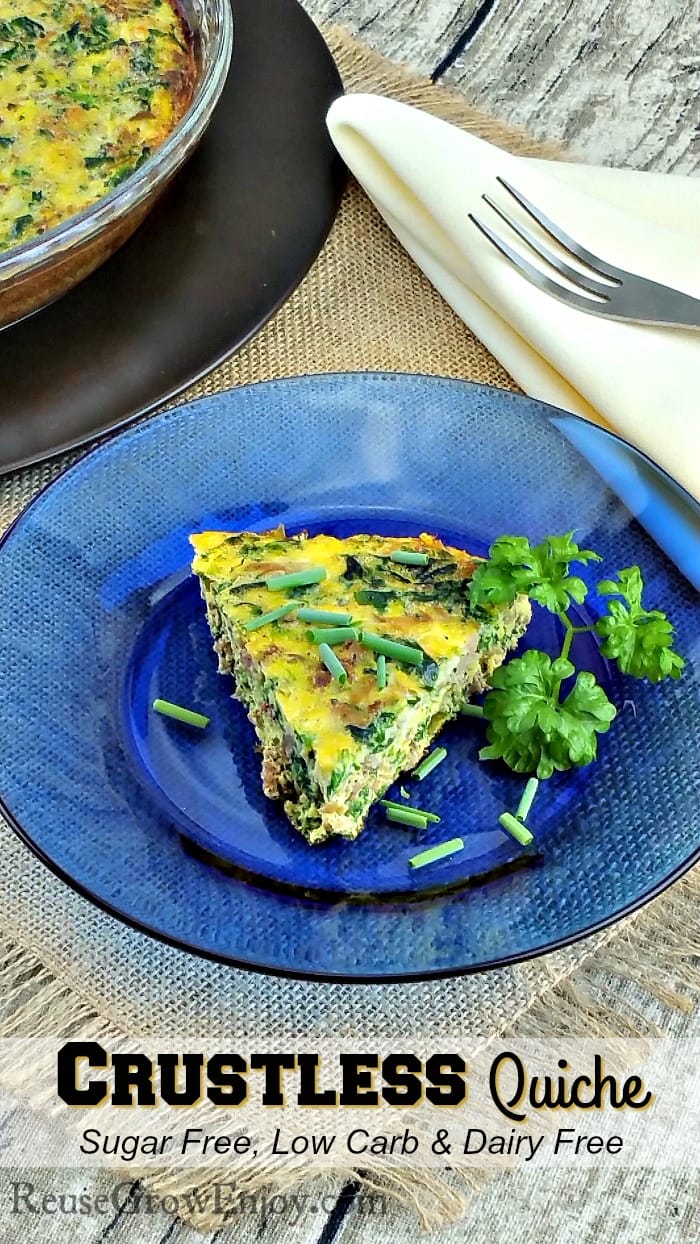 Crustless Quiche
Do you ever have a lot of extra eggs and need ways to use them up? In our house, we always have a ton of eggs as our hens lay 5-6 every day. So I am always trying to figure out recipes that use a lot of eggs. I came up with this recipe for a crustless quiche. By having it crustless, there are very few carbs and it makes it gluten free. Plus this recipe is also sugar-free and dairy free! It is one of those recipes that is good for dinner or breakfast.
This crustless quiche recipe is packed full of tasty ingredients. I used fresh spinach, mushrooms, sausage, eggs, onions, bell peppers and black pepper. It is super easy to make! It only takes about five minutes to chop everything and mix it. Then another 45 minutes to bake it. I had pre-cooked sausage as I had cooked it for another recipe. So if you do not have any pre-cooked, you will have to add in the time to do that too. So grab your mixing bowl and pie pan and let's get started!
If you enjoy this recipe, here are a few others you may want to try.
Crustless Quiche Recipe - Sugar-Free, Low-Carb & Dairy Free
Ingredients
1/4

Cup

Chopped Onion

1/4

Cup

Bell Peppers

6

Eggs

Large or Medium

1/2

Cup

Cooked Sausage Chopped

1

Tsp

Cooking Oil

1/2

Cup

Mushrooms

1/2

Cup

Chopped Spinach

1/4

Tsp

Black Pepper
Instructions
Pre-heat the oven to 350

Beat eggs in mixing bowl until fully mixed.

Add in all other ingredients and mix well

Grease pie pan with oil

Pour mixture into pie pan

Place in oven for 45 - 50 minutes (will be done when the middle is set and not liquid)

Slice and serve