If you are looking for a dad fishing gift idea, this one is personalizable. In just a few minutes you can take an everyday lure and turn it into a wonderful keepsake.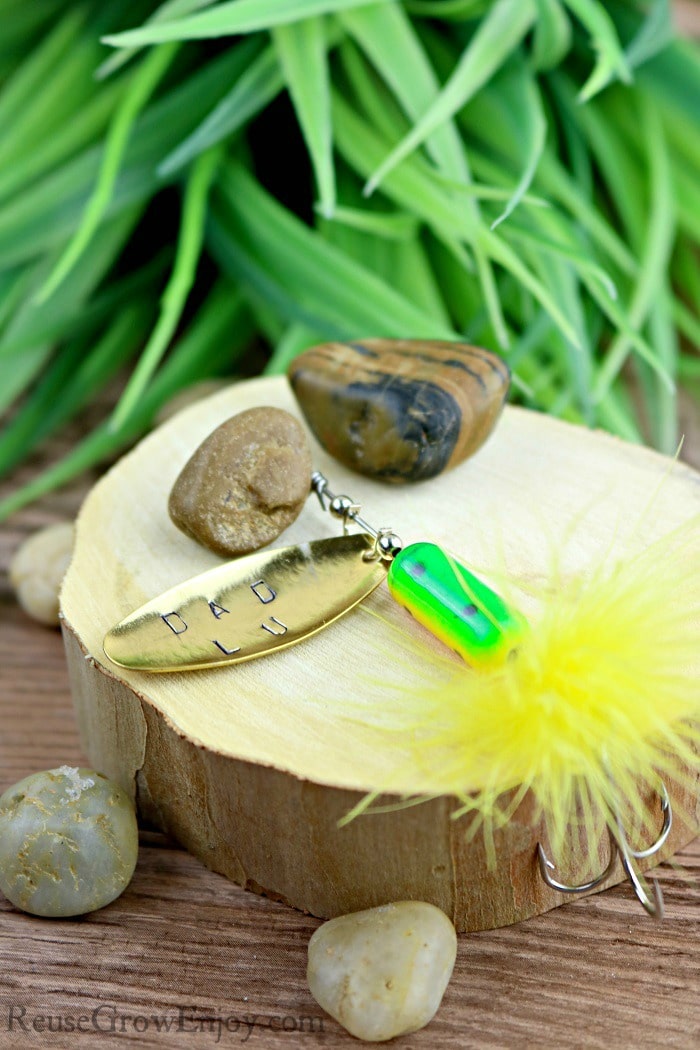 Dad Fishing Gift Idea – Hand Stamped Fishing Lure
Sometimes finding an extra special dad fishing gift is not always easy. Especially if he already has tons of lures and baits and other fishing gear.
However, it is super easy to turn an everyday low price fishing lure into a remembered gift. You could even use a bait he already has in the tackle box or pick one up in the store or online.
You will need to choose one that has a spinner or a flat metal area to use for the stamping. I grabbed one at Walmart for $0.97! But they do have some low price options on Amazon too.
Because these are small you will have a limited amount of letters you can fit. But you can still get creative and have it say what you want.
I went with Dad L U (for Dad Love You). Depending on the stamp set you have or buy, you could go with some like #1 Dad, Best Dad or use the Heart stamp with U Dad. Options are endless.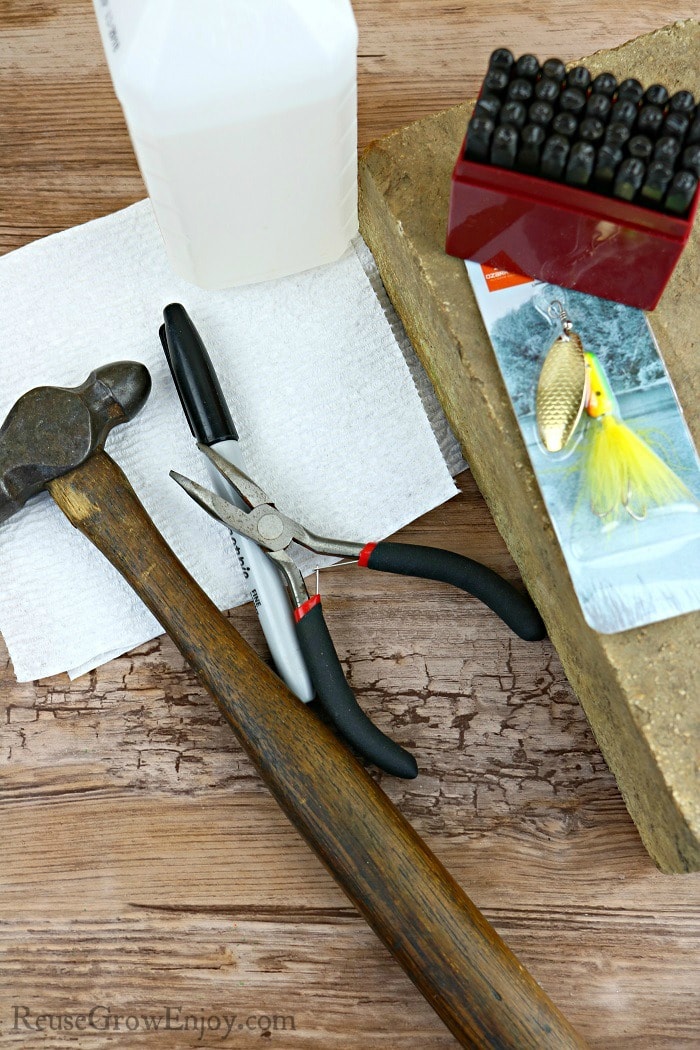 Supplies Needed To Make Hand Stamped Fishing Lure:
Hammer
Lure (must have a metal area, spinners work well)
Black Permanent Marker
Paper Towel
Rubbing Alcohol
Letter Stamps (used these)
Pliers (optional only needed if you have lots of hooks in your lure to help hold them)
Brick (or something else hard to hammer on)
Tape (optional see notes below)
Notes:
If you are worried about having the letters line up perfectly you can do that with tape. I wanted the more handmade look so just did my stamping freehanded.
To use the tape, just carefully press a piece strat across the are you will be working. Want to make sure to leave enough room for the stamp.
You use the tape as a guideline to line your letters up with the edge of the tape. Do not stamp through the tape as it will not turn out well.
Another thing to note is making sure your fingers are not at the top of the letter bunch. You don't want to smash them with the hammer.
If you think you will need a little extra space to hold it, they do sell a Stamping Jig that will allow a little extra holding space.
Making The Dad Fishing Gift:
Place your metal part of the lure on the brick (or another hard area) making sure the hook is away from you. You don't want to hook yourself while working.
Hold your letter flat on the metal area you will be stamping. Make sure you have the letter facing in the right direction.
Give a good hit on the other end with a hammer. You want to make sure you only hit it one time. If you hit more then one time you may end up with double impressions.
Keep repeating this step until you have all your letters stamped on to the lure.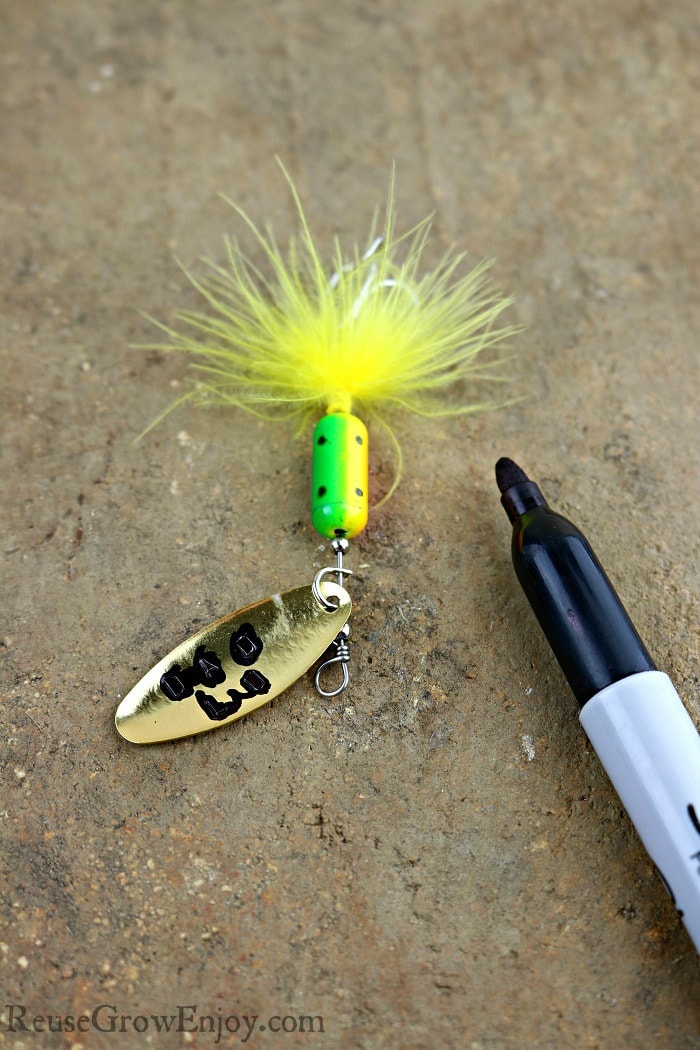 After you have the letters stamped, we need to darken them to make them stand out more. If you are happy with how they look as they are, you can skip this step if you want.
Using the marker, color over all the letters. Don't worry about getting outside the letters as we will wipe it off. Just be sure to get them filled in well.
Dampen the paper towel with a little rubbing alcohol. Then wipe it across the marker area. You want to wipe off all the extra marker but don't press so hard that you wipe down into the grooves.
We want the marker to stay in the grooves to darken the letters.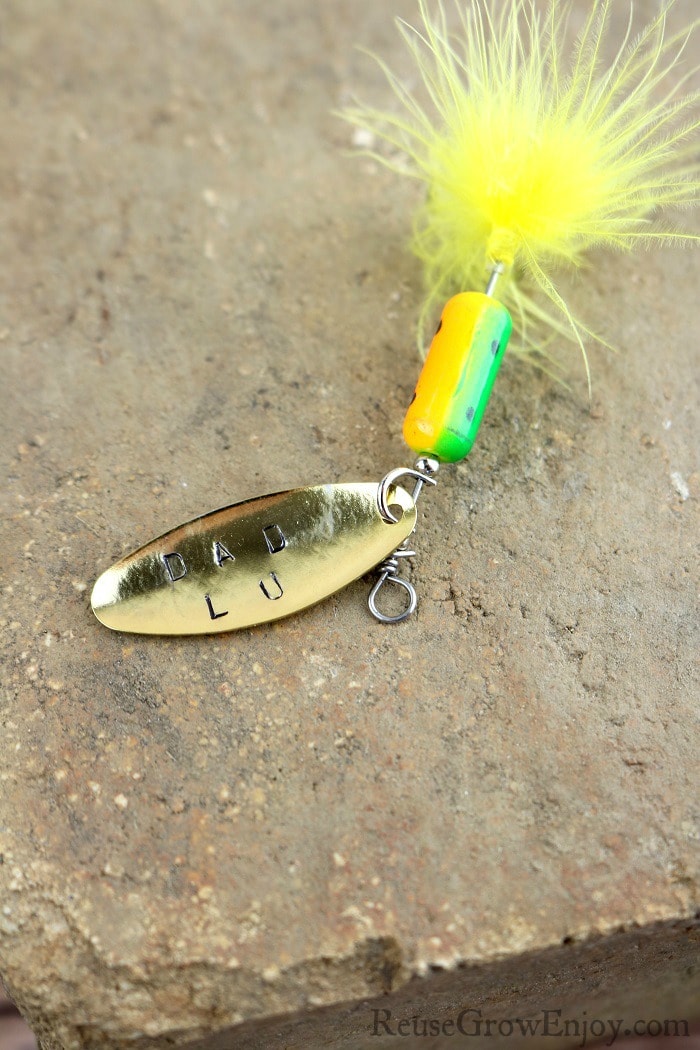 It is as easy as that! You know have a gift to give that will be remembered, used and enjoyed for years to come.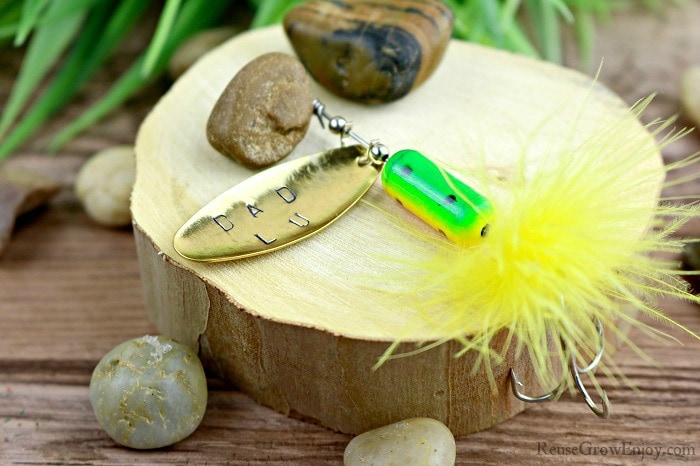 This same process works for other items too. So feel free to get creative! Below are a few other stamping projects to check out.