Need to mark your plants? Here is an upcycle project to try. I will show you how to make these upcycled hand stamped can top garden markers. You can even use different size lettering if you want.
Upcycled Hand Stamped Can Top Garden Markers
If you are someone that plants lots of plants, it can sometimes be hard to keep up with what is planted where. That is when garden markers are handy to have. Making these upcycled hand stamped can top garden marks is pretty easy and does not take as long as you would think.
To make these you will need some metal stamping letters. The size you get will depend on the size letters you want and what you will be stamping them on.
For mine, I used this 1/8″ / 3mm Letter & Number Stamp Punch Set. I had bought them for doing smaller projects such as the Washer Hand Stamped Keychain so just used them for this too.
However, if I was to be buying set for just doing things like these can top garden markers, I think I would get ones that have a little larger letters. Maybe something like a 1/4 inch set.
You will also need a smooth edge can opener. Yes, you could use any can opener, however, because we will be working with the tops, it is best to have them have smooth edges. Don't want anyone getting cut.
As you open your can goods to use them. Simply save the can tops and give them a rinse to get any food off. Store until you are ready to make your garden markers.
Remember, you can also use the bottoms of the cans as well! So be sure to remove the bottom end too after the can is empty.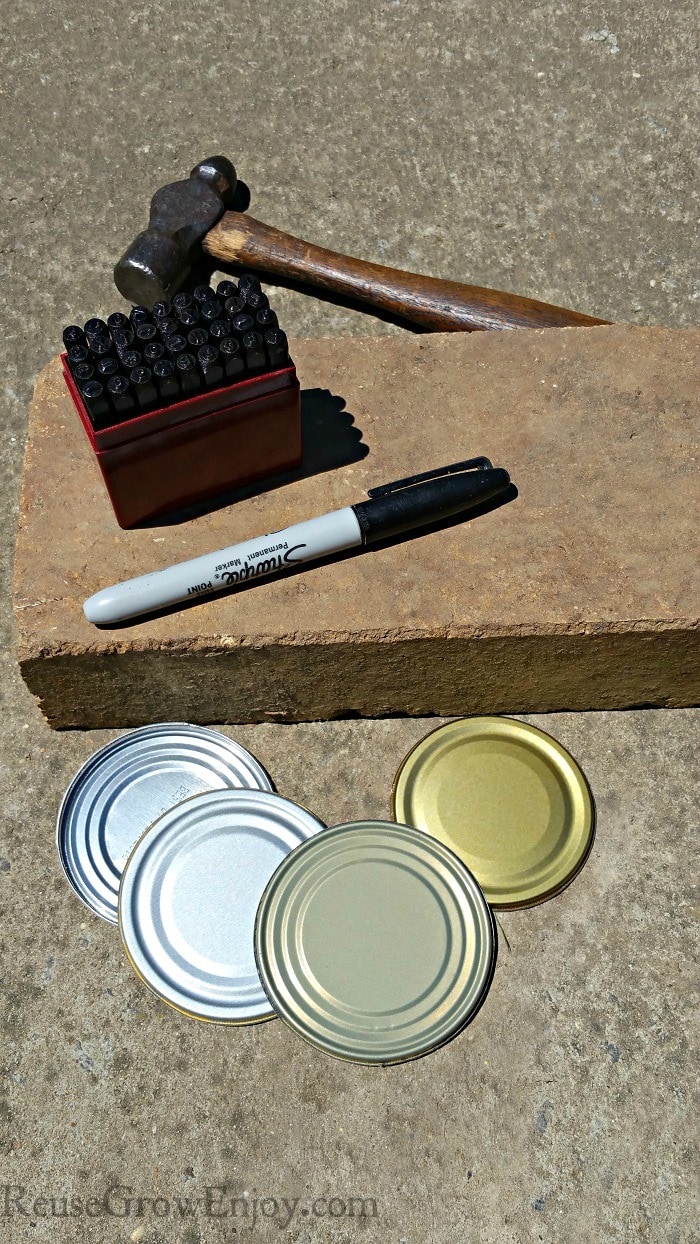 Supplies Needed:
Can Tops & Bottoms (one for each plant you want to mark)
Birck (or a Bench Block)
Metal Letter Stamps (I used these here)
Black Sharpie Marker
Rubbing Alcohol
Paper Towel
Hammer (any hammer will work but the mini hammers are easier to hold for this)
Tape (optional see notes below)
How To Make These Hand Stamped Can Top Garden Markers
First thing you need to do is figure out if you want to have your letters perfectly lined. If you do, then put a piece of tape across just above or below where you will be lettering.
Then line the edge of the letter punch up with the tape to keep it in a straight line. I did not do this for mine as I love the free handed look. Makes it look more hand done to me and not just stamped by a machine.
Stamping The Tops:
Lay your can tops on your brick or block. You want to also be on a sturdy surface and not something like a wobbly table.
Hold your letter punch with the letter end press on to the can top. Make sure you have it flat and not tilted as we want it to make a good indent.
Be sure to hold it in place about the middle of the punch as you want your fingers to be clear of the top. If you are worried your fingers will be so close, they do have things like a stamping jig that will give you a little extra space for your fingers.
Now using the hammer, give the letter stamp a hard hit to stamp the letter into the metal. Be sure not to hit it more than one time or you will end up with double impressions.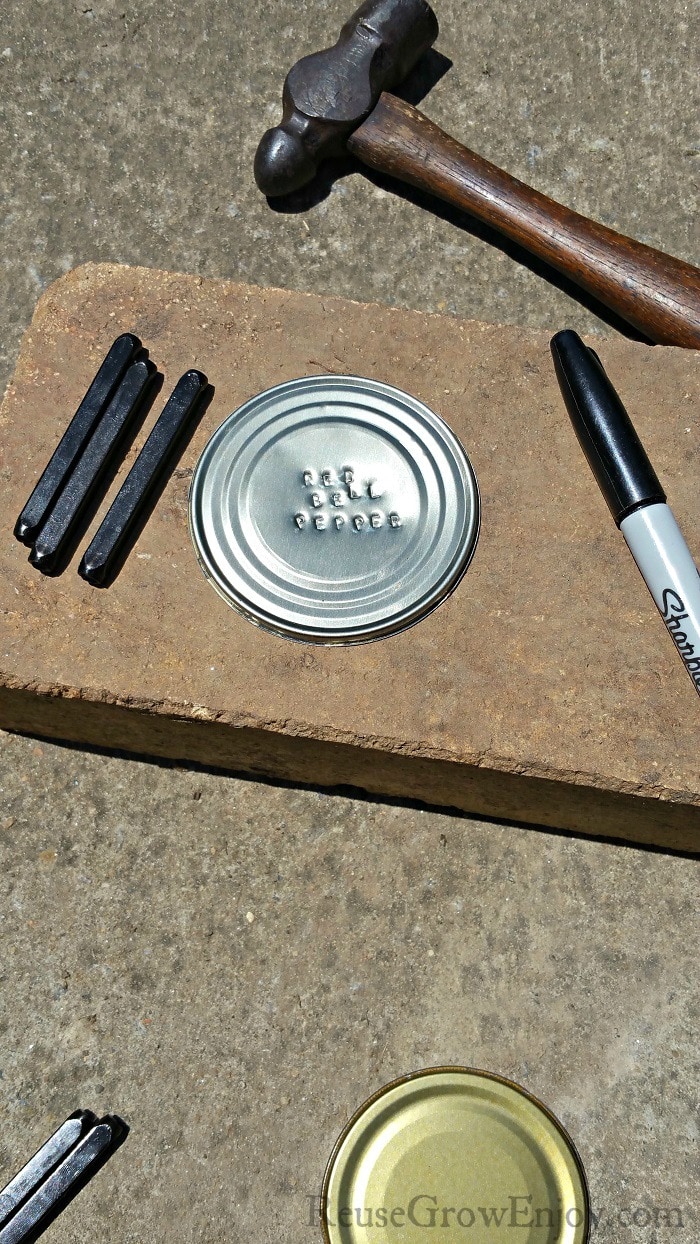 Keep repeating these steps until you have all your words stamped on the top.
Darking The Letters:
While you can totally leave the letters just as they are if you want, they are a little easier to read when they are darkened.
We can darken the letters using the Sharpie. Simply color all the letters in using the marker. Don't worry if it goes outside the letter area as we will remove the extra marker.
After you have all the letters colored in, dip your paper towel in alcohol. Then wipe off the extra marker with the wet end of the paper towel.
Make sure you only wipe it off and not and not dig into the letters as you want the marker to stay in the letter impression.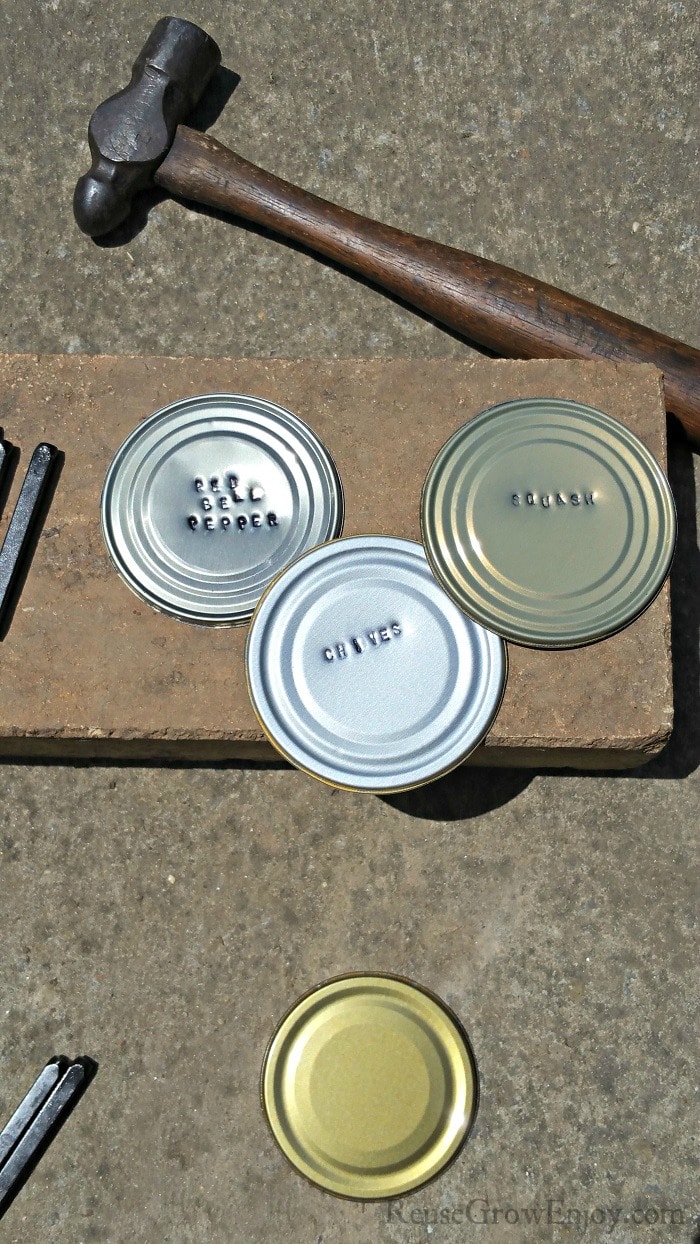 Displaying The Garden Markers:
There are a few options you can do to display your markers. You can do like I have done in the pictures and simply place the lid in the dirt next to the plant.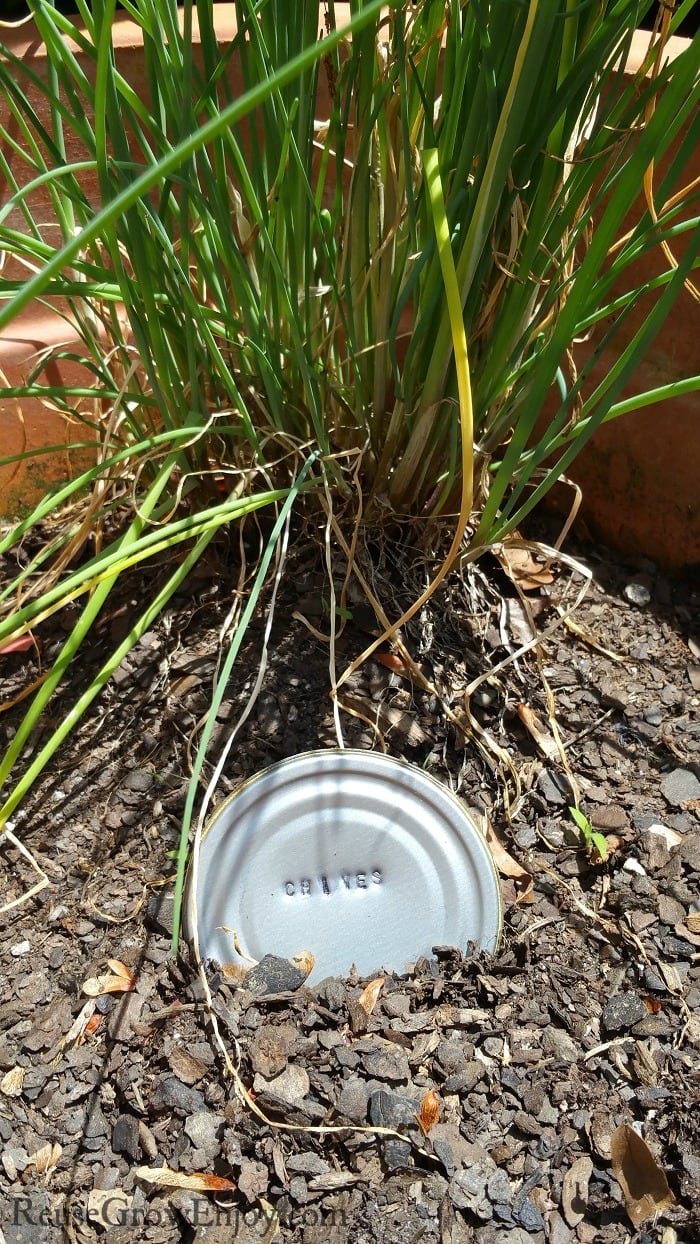 If you want it to stand out a little more or above the ground, try using a fork. You can push the handle of the fork into the ground. Then slide the top through the tines of the fork.
You may need to expand the tines a little using a pair of pliers so you can get the top in.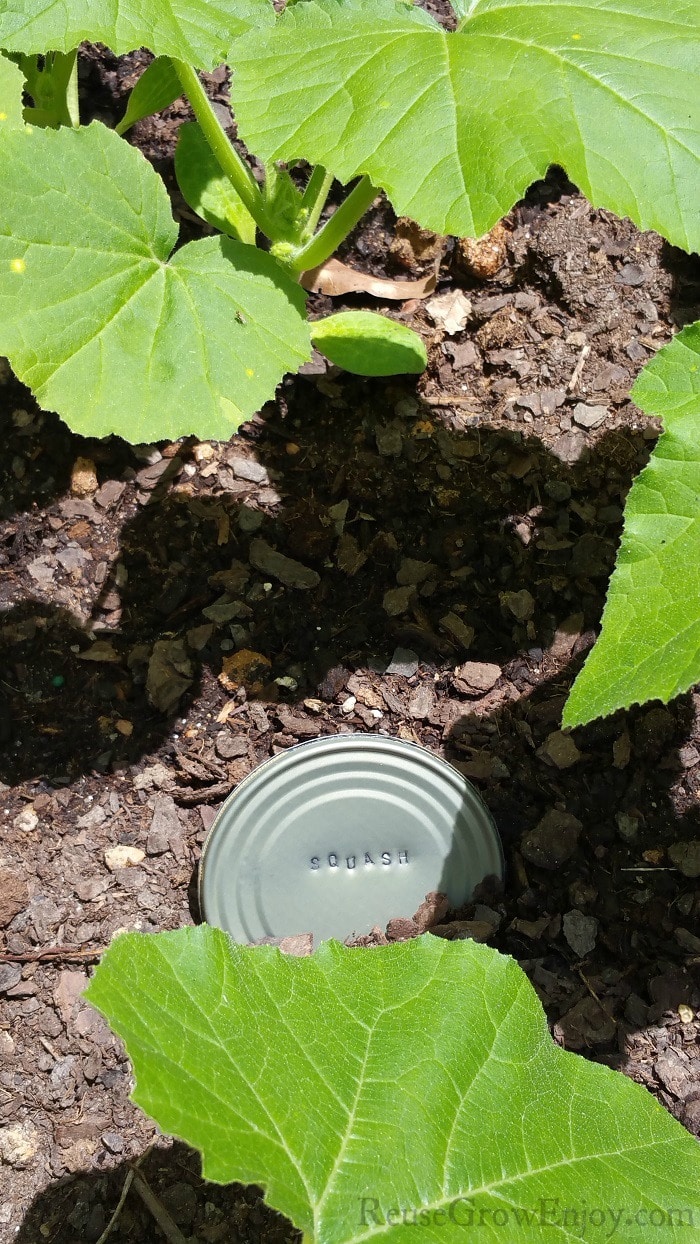 Here are a few other garden ideas to check out.