Have you ever wondered what different diatomaceous earth uses there are? We are going to talk about all the great uses it has as well as what it is.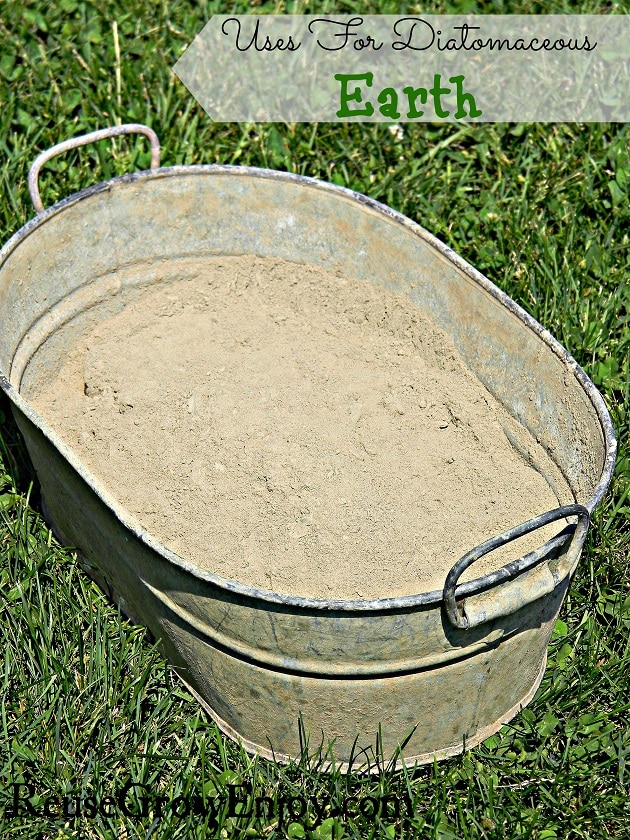 Before we start talking about all the great diatomaceous earth uses, let us cover what it is and how and when it started.
Because I am sure there are a lot out there that even never heard of it when it really is a super common product that can be found in just about every home in some form or another.
What Is Diatomaceous Earth?
I'm not sure why it's called Diatomaceous earth and not Diatomaceous rock, as it is soft sedimentary rock earth made of fossilized remains of hard-shelled algae known diatoms.
The skeleton of an ancient unicellular organism is composed of silica and is found in sedimentary rocks all over the world such as sediment of rivers. These fossils are billions of years old and provide an amazing window into how life evolved.
These silica-containing deposits are mined for both industrial and food-grade use.
This rock or earth crumbles easily into a fine powder and very well may be one of the natural wonders of the world.
Diatomaceous earth is used in everything from toothpaste and other personal care products, hydroponics, and filtration to pest control. I often wonder what I did before I discovered its many uses.
When And Where Was It First Discovered?
According to Wikipedia Diatomaceous Earth was first discovered in about 1836 by a man named Peter Kasten. It was found when sinking a well in North Germany.
Until almost the first World War, just about all of the worldwide production of this earth came from that region.
What Grade Diatomaceous Earth Should You Use?
The first thing you should know is what to look for when buying. There are two types of diatomaceous earth. What you want to buy is FOOD GRADE and 100% pure.
I often wonder when I see 97% pure at a cheaper price, what the heck is the other 2%, or do I want to know?
Why buy food grade DE? Food grade diatomaceous earth is EPA approved for mixing in with grains to help control mealworms and other creepy crawlers.
It is approved by the FDA for internal and external use, and it is also approved of by the USDA for use as an anti-caking agent in food and in animal feed.
There is also pool grade diatomaceous earth, it has been heated with high heat and chemically treated. So while food grade diatomaceous earth is a homesteader's gold, pool grade (also called filter grade) is like poison for anything other than water filtration for pool use.
Are There Any Cautions To Use When Using Diatomaceous Earth?
While diatomaceous earth is all-natural and is totally safe when using food grade, there is one caution that should be noted when using it.
When using the application of diatomaceous earth in things like garden use, you want to avoid getting the fine particles in your nasal passages and airways. The best way to do that is to wear a dust mask when using.
That is because the diatomaceous earth dust can irritate the lung tissue. Which can make you develop breathing issues and possibly even chronic bronchitis.
If you don't have a mask another good idea is to tie a scarf or bandana over your nose and mouth. If nothing else, be sure to at least face so the breeze is blowing it away from you.
Where Can You Buy It?
The next thing you'll need to know is where to buy it? One of the best and most reasonable places I have found to buy diatomaceous earth is on Amazon
10 lbs of food grade will run you around $20 or so, which may seem high to some people, but a little goes a long way.
Many farm supply stores also carry it but, wherever you get it from there make sure it's food-grade de and 100% pure.
What Are Some Diatomaceous Earth Uses?
If you haven't heard much about it, listen up you're soon going to find yourself amazed. If you already know its wonders then why not share ways with us that you have found it useful.
So you may be wondering what uses of diatomaceous earth are there? Well, there are many different uses, however, we have just 6 of them listed below.
Bird Lice Treatment:
Nothing controls lice on chickens better or more easily. All you need to do is place a "dusting box" filled with DE in the coop, and the chickens will do the rest.
Be sure to keep your "dusting box" in a place where it will remain dry. I keep mine inside the hen house.
If you are looking for more tips on raising chickens you may want to check out my post on Tips On How To Raise Baby Chicks.
Exfoliation:
DE works great for the exfoliation of dead skin cells, giving your skin a younger more youthful glow. Mix about 1 tbs of DE with water, to make a paste.
Use the tips of your fingers, move them in small circular motions, to massage the paste on your face. Then let the paste sit for 2-3 minutes. Now remove the paste with a warm wet washcloth again using circular motions.
Insecticide:
DE is an unbeatable natural insecticide. Its clay-like powder that has sharp edges (you can only see those edges at microscopic level) kills many garden pests. Because it is a natural product it allows you to do it without using nasty chemicals.
It even works to kill fungus gnats and spider mites on indoor plants too.
Use it as you would dust, or powdered product. We use it when talking about how to keep pests out of tomatoes and other plants.
Flea Treatment:
DE is wonderful for keeping fleas off the family pet, and out of your house. Simply use a small amount of de to dust over your pet's coat.
You can also sprinkle it around the floors and carpet of the home to help control fleas. Then vacuum every few days and reapply.
Bed Bugs:
Just like we use it in the garden to help control a pest problem, DE beats bed bugs too. Put it right on your mattress, couch, chairs, and around the baseboards.
It will take a few days before you will see a difference. That is because the way it kills is by the abrasive nature create tiny cuts in the insect's exoskeleton or skin and drys it out, killing the insect slowly.
It's perfectly safe, even if the dog eats it you'll be fine.
Keep Weevils & Mold Off Food:
DE can be used for food preservation. You can add to dry beans, grains, and legumes to ward off weevils and prevent mold. Just be sure you are using food grade.
Detoxification:
DE also has health benefits to it as well. It can be taken as a dietary supplement for human consumption. It has been said that it can help the human body by helping to remove harmful toxins and heavy metals from the body.
Many suggest that adults take a teaspoon of diatomaceous earth mixed in a glass of water daily. However, as it may not be approved by the food and drug administration and I am not a medical professional, I suggest you check with your doctor before trying any health treatment.
DIY Toothpaste:
Don't want to use store-bought toothpaste? The good news is you can make your own right at home. One effective way to make your own is to mix 1 tablespoon coconut oil, a drop, or two essential oil such as peppermint for flavor and tablespoons of diatomaceous earth together to make a paste. Then use just as you would normal toothpaste.