Ever seen a cheap pair of flip flops at a thrift store or dollar store and wonder what you could do with them? Learn how to make this DIY flip flop sign. It's super easy!
DIY Flip Flop Sign
This DIY flip flop sign is such an easy craft it is one the older kiddos could make too if they wanted to. You only need a few simple items to make it.
While this one uses a few fake flowers and a fake butterfly to embellish the sign, you could change it up if you wanted. Use items you have on hand or things you find on clearance at the store.
A few other cute ideas you could use to dress up your sign would be,
Another way you could change this up if you wanted is to paint the letters on and not use the premade letters like shown here. You could also draw on with a permanent marker.
This flip flop craft only takes about ten to fifteen minutes to make. How many flip flops that will be needed will depend on what you want your sign to say. You need one for each letter. This one says Hello so we used five flip flops to make it.
Supplies Needed:
Flip Flops (one for each letter)
Fake Flowers
Fake Butterflies
Gardening Shears
Letters – Used Embroidered 3" Self Adhesive (but could use any or simply paint the letters on)
Wooden Yardstick
Scissors
Hot Glue Gun and Glue Sticks
Ribbon – 36" length
Directions:
The first thing you need to do is layout the flip flops on the table or your work surface. Then measure how much of the yardstick you need.
You want it to be long enough so that it spans the entire length across all the flip flops you will be using. Cut off the excess unneeded amount with gardening shears.
Next, hot glue the yardstick in place to the back of the flip flops. You want to glue it just below the thong button.
Cut a piece of ribbon that is long enough to tie to each side to create a hanger to hand the sign from.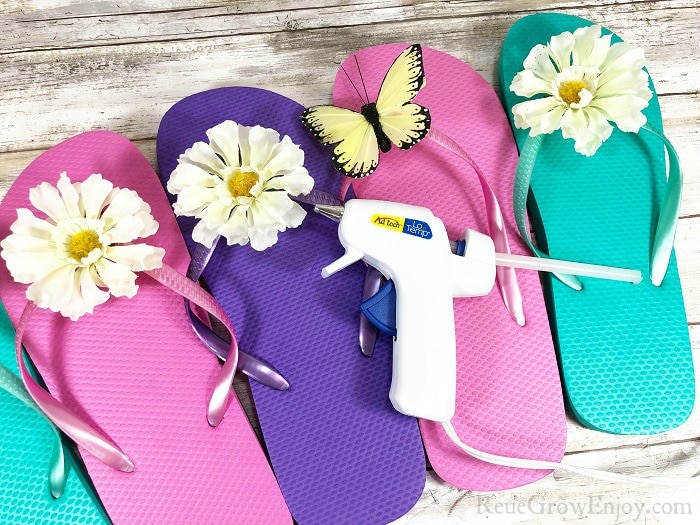 Next, to turn it over so you can attach the decorations. Pull the heads off a few of the fake flowers. Used four on this one.
Attach to the center of the flip flops you want to add them to. We did the first, second, third and fifth flip flop strap.
Then glue a butterfly to the center of the other flip flop.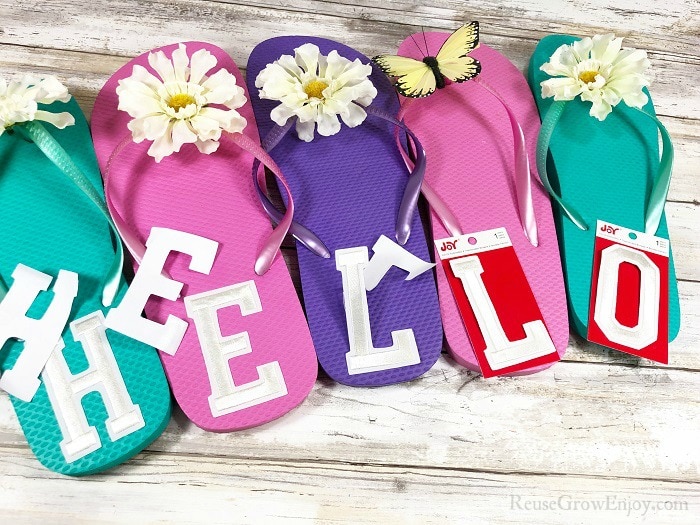 The last step is to position the letters on the flip flops. This one spells out the word HELLO on the heel part of the flip flop.
Peel the backing paper off of the letters and attach letters to flip flops. Or you could also paint letters on or even use a permanent marker to write them on.
That is it! You now have a cute summer flip flop sign to hang on your door or wall.
If you like this DIY idea, here are a few others to check out.