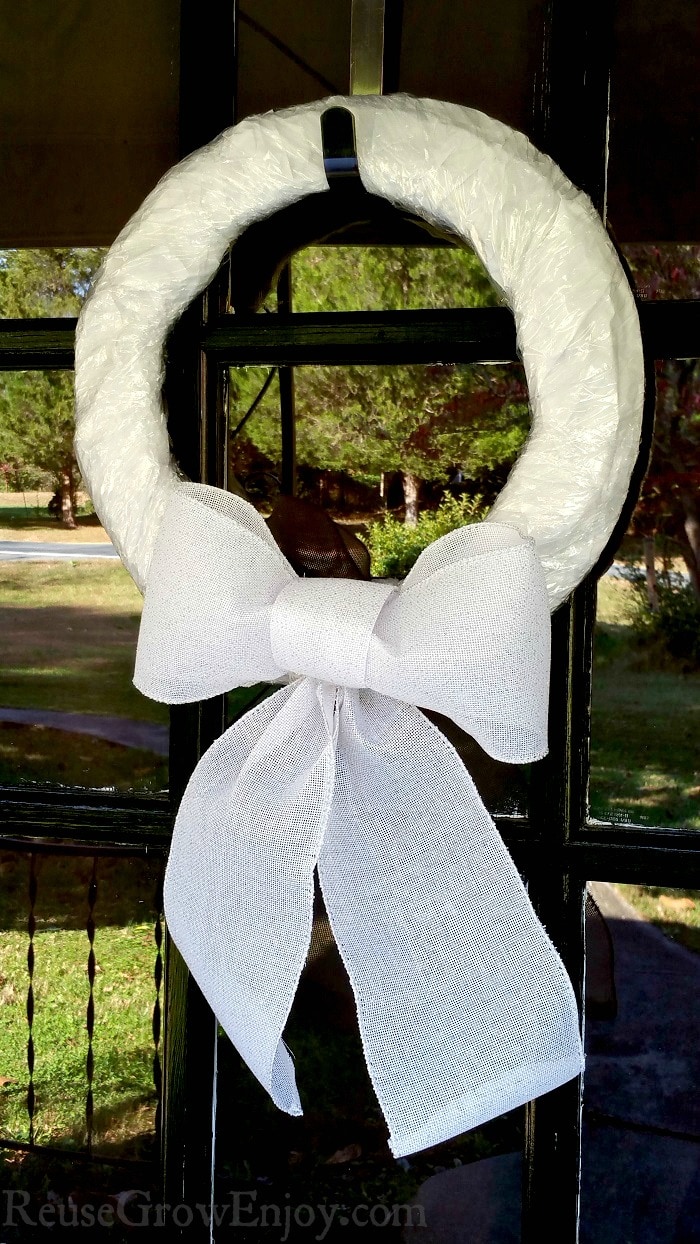 Easy DIY Winter Wreath
Would you buy a roll of plastic wrap from a thrift store that is not in a box? I do! No, not to use on my food but to use it for craft projects and to keep it from being tossed in the trash. Also, what do you do with your tissue paper from gifts? Do you just toss it out? Did you know you can use it for wrapping paper and to make crafts like this easy DIY winter wreath?
I am going to show you how to make an easy DIY winter wreath from reused tissue paper and thrift store plastic wrap!
Wreath Supplies Needed:
Plastic Wrap
Tissue Paper (used white)
Scissors
Dental Floss or Thread
White Wired Ribbon (or pre-made bow)
Stapler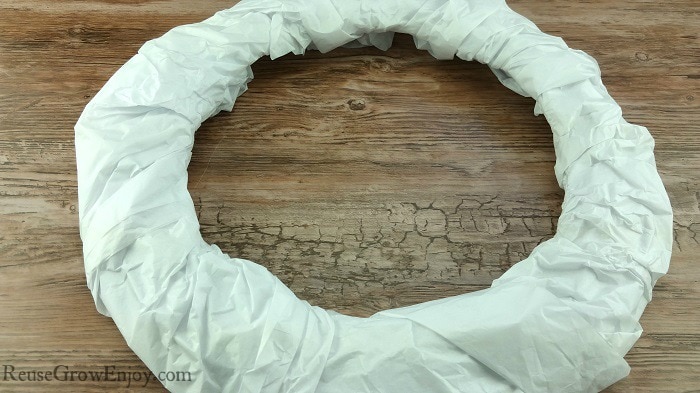 The first thing you want to do is wrap your wire form in tissue paper. I just tucked the edges behind the next piece as I went all the way around the ring. You don't have to worry about it being attached to much as it will be held in place with the plastic wrap.
Next, tie the end of the plastic wrap around the ring. Then start working all the way around wrapping the ring. Be sure to overlap it some so it has that crinkled layered look.
When you have finished wrapping, cut the plastic wrap and be sure to leave a little extra. That little extra you will end by tucking it into the last wrap on the backside of the wreath. Be sure to tuck it deep so it does not pull out.
Making The Bow:
Now we need to make the bow. If you are using a pre-made bow, you can skip these steps. To start the bow, take your ribbon and make a loop. Then cut it from the rest of the ribbon.
Using your floss or thread, tie the center of the loop tightly together. Be sure that it pinches together in the middle.
Now, cut another piece of ribbon about four to five inches long. Fold both of the outer edges in lengthwise.
Wrap that folded piece over the part of the loop that you tide. Use a stapler to hold it together. LOL, fancy right?
Cut another piece of ribbon about 24 inches long. Fold it in half and use some floss or string to tie it to the back side of the bow where you just stapled. On the ends of the ribbon where it was cute, you can fold/roll them up slightly so have a clean look.
After you have finished making your bow, you can use another piece of floss or string to tie it to the lower part of your wrapped wreath. That is it! You now have a new winter wreath to display!
If you liked this craft project, here are a few others to check out