If you are wanting to add a touch of winter wonderland to your home or maybe having a kids candy themed party, this is for you. I am going to show you how to make this DIY giant candy cane from a pool noodle!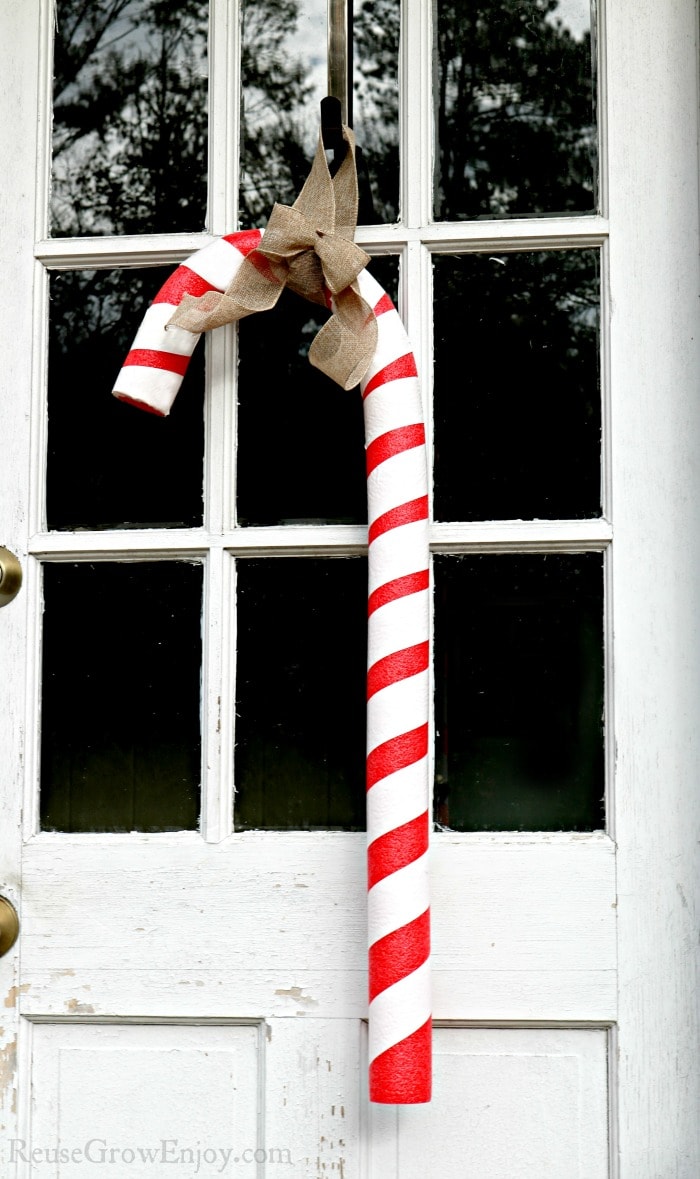 DIY Giant Candy Cane
You may even have an old pool noodle that is no longer really floatable for the pool. This is a great way to reuse it. When you make this DIY giant candy cane it does not have to be just red.
You can use other colors too so they look like other flavors. Some popular colors would be blue or green. Then just get the color tape that would go with it to make it look like the real thing.
As for the bow at the top, feel free to use the ribbon of your choosing. I went with the natural burlap looping ribbon. It does turn out better when you use the ribbon that has the wire on the edges. That helps the bow hold its form.
This can be used to display on the door or even in the home on a wall.
Supplies Needed: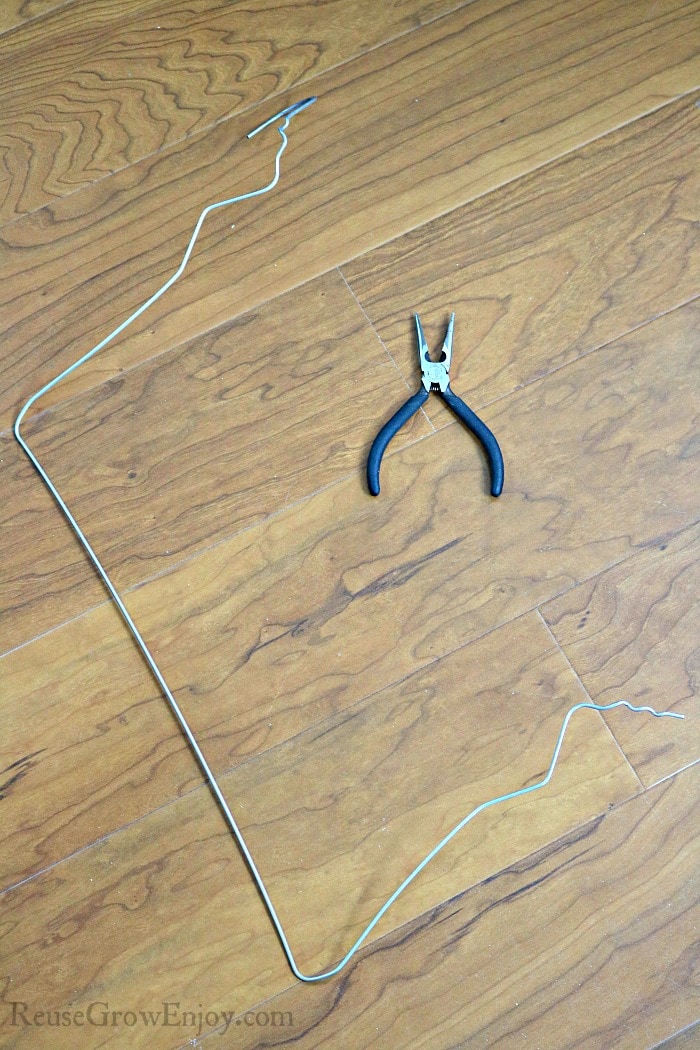 How To Make This Craft:
Start by untwisting the coat hanger. You can pretty much carefully do this with your hands. If you have a hard time getting it started you can use a pair of pliers to grab the wire.
Try to straighten it out as much as you can. It does not have to be perfect but straight enough you will be able to get it in the noodle.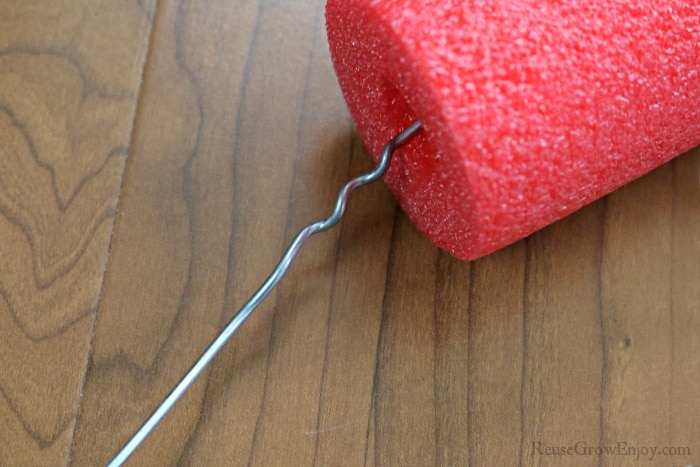 After you have it pretty straight, put it in the noodle so that nothing is sticking out.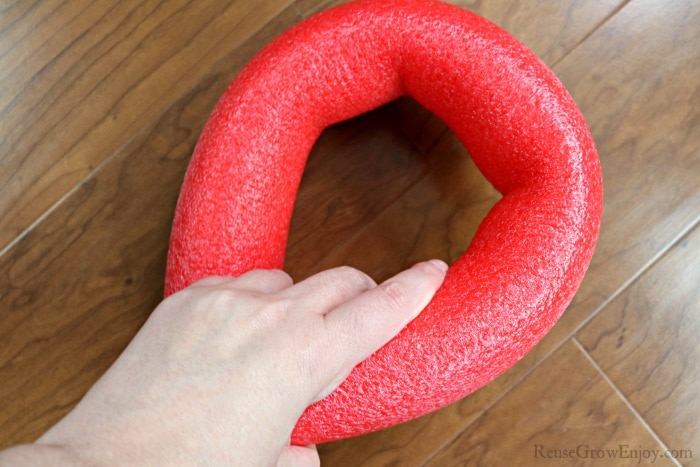 Now on one end of the noodle (the end where the wire is closest to the end of the noodle) bend it to make a cane shape. You may need to bend it a few times in a few different places until you have the right shape.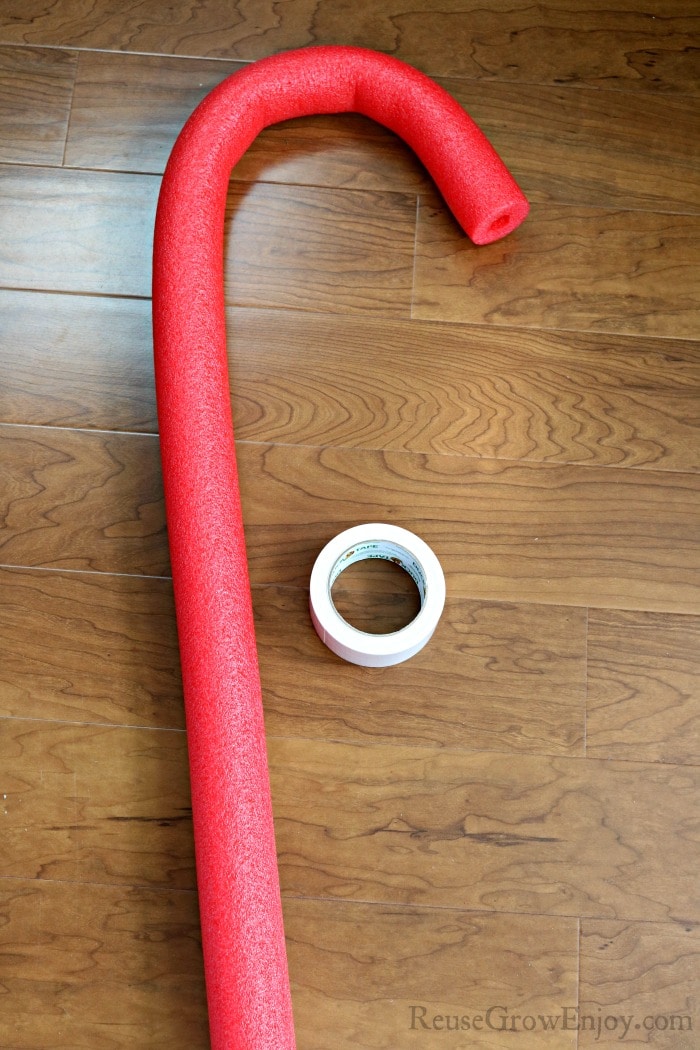 Not that you have your noodle shaped into a cane, it is time to add the candy stripes.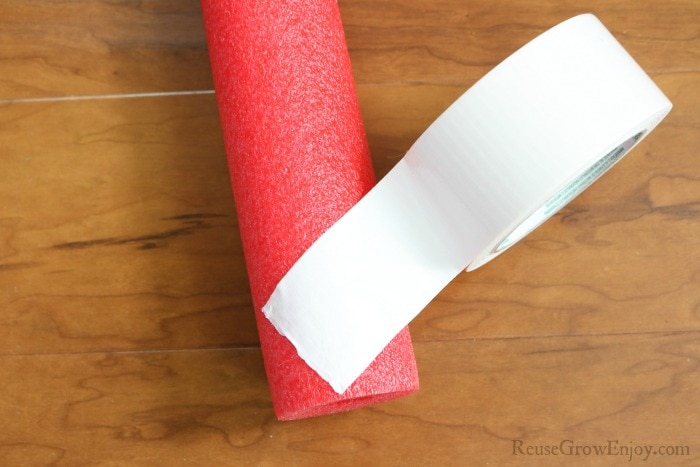 Start the tape at the end of the cane. You want to start it at an angle so that it has that candy stripe look. Slowly wrap it around the noodle working your way up. Try to keep it as smooth as you can.
When you get all the way to the other end cut the tape off and cut off any overhang.
Now you can either display it just as is by leaning in a corner or on something or you can make a bow to hang it from. I did the bow.
To make the bow, I cut a piece of ribbon that was about 20 inches long. Tie the end together leaving about a four-inch tail at the end.
Fold those tails over to form a bow and pinch the wire together so that it holds shape. You can also use thread to tie in place if needed.
Cut another piece that is about ten inches long and slide it behind the bow to make the two bow tails. Then simply slide the candy cane through the loop end and hang on a wreath hanger.
If you are not great with making bows, you can also buy premade ones like this one here.
If you like this winter craft, here are a few others to check out.