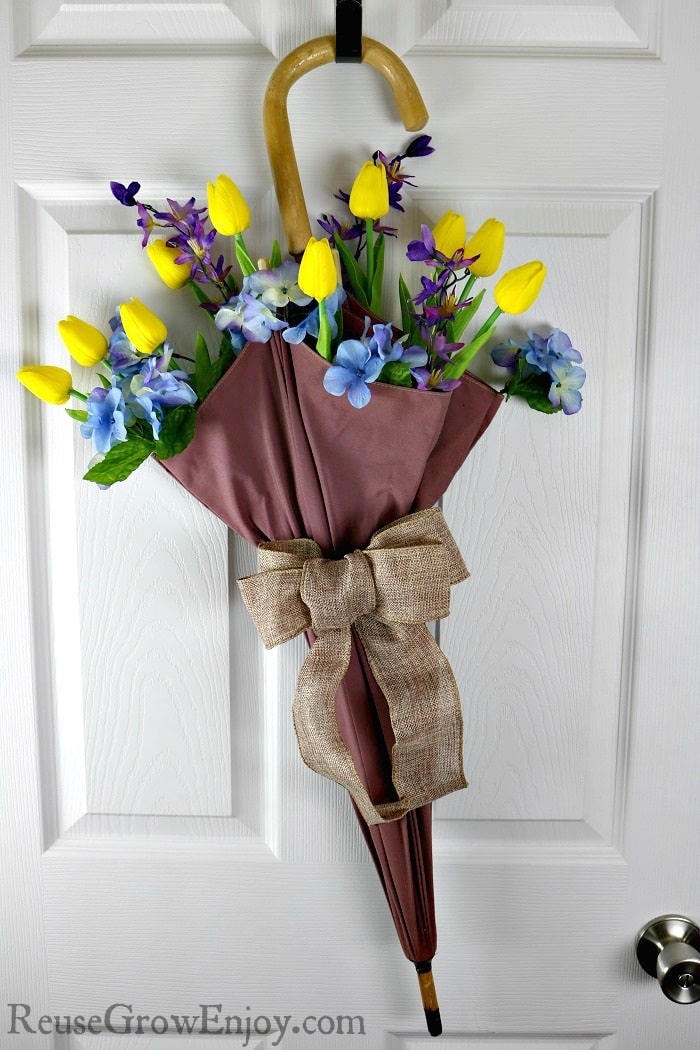 DIY Upcycled Umbrella Flower Arrangement
Looking for a cute but easy spring flower arrangement? Here is one to do! It really only takes just a few minutes to make.
This umbrella flower arrangement works best with the longer umbrellas. So if you do not have one, be sure to keep an eye out at thrift stores or garage sales. I found mine at Good Will pretty cheap.
As for the flowers, any fake or silk flowers will work. If you are looking for really realistic looking ones, these tulips are AMAZING! They look so real!
You could do these with real flowers if you wanted, it just would not last as long. To use real, you can group some flowers in a small plastic bag with a little wet floral foam. Then put a rubber band around the bag and the stem. Tuck the bags into the pockets of the umbrella.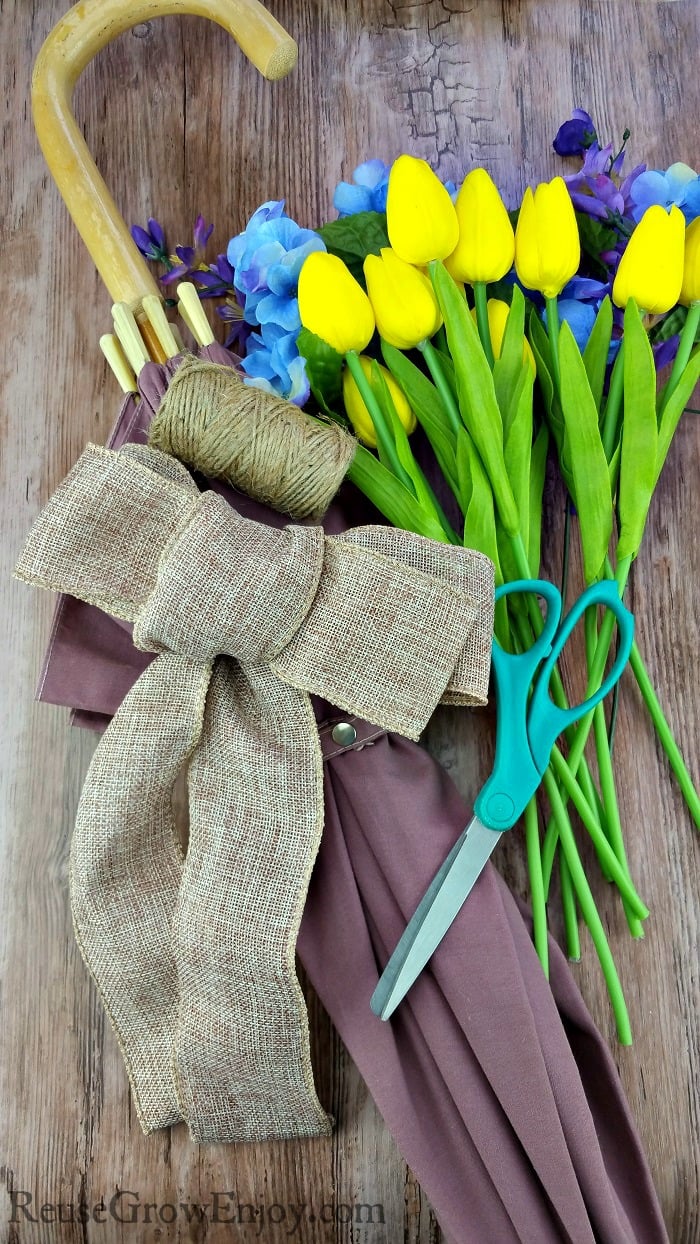 Umbrella Flower Arrangement Supplies:
Directions:
First thing you want to do is tie the strap that is attached to the umbrella in a loop knot. You want it to be pretty short and have a loop hole. We will be running the twine through this to keep it from sliding down the umbrella.
After you have knotted it, you can snap or velcro it back to its self. That way you don't have a tail hanging down.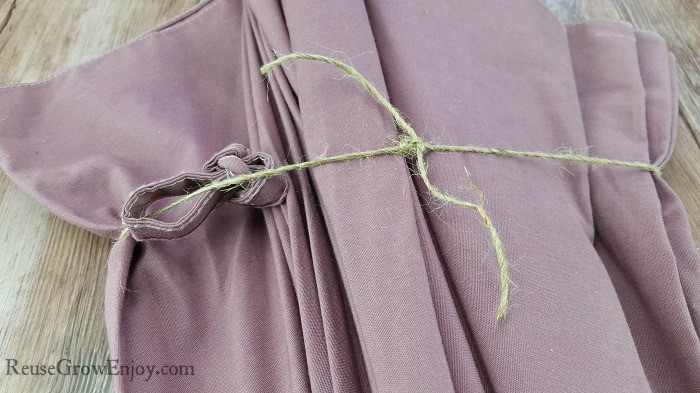 Next, you will cut a piece of twine that will go all the way around and tie. You want to be sure that it is a little loose to the folds of the umbrella will open some, but not so much so that everything will just slide down inside the umbrella. Be sure to run the twine through the loop you made so it stays in place and does not slide down.
Now, flip it over so the tied loop is on the back. Cut another small piece of twine and run it through the back of your bow (if your bow does not have strings or wires already attached for putting into place.) then tie that to the twine on the umbrella.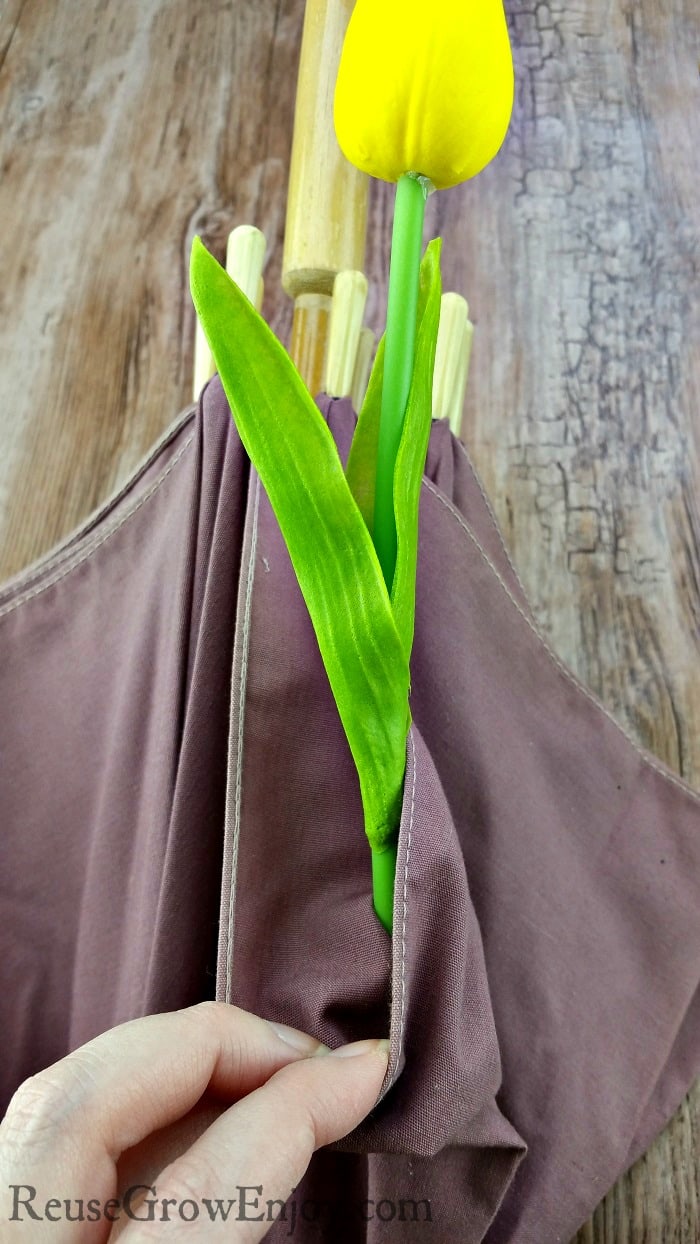 Last thing you need to do for this upcycled umbrella flower arrangement is to add the flowers. You just simply start adding flowers into each of the umbrella folds. If you run into issues with your flowers sliding down to much (depends on type of flower and how long the stem is) you can fix that by stuffing a little tissue paper or tissues into the folds first. Then go back and add the flowers back in.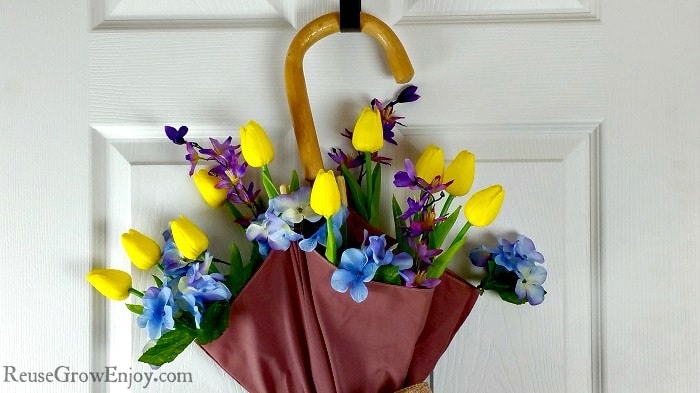 That is it! Now you can hang your upcycled umbrella flower arrangement on a wreath hanger and you are good to go!
If you liked this craft, here are a few others to check out.