Trying to eat healthily but still missing chocolate and cake? This healthy flourless chocolate cake is a nice go-to recipe to have around for when you just have to have chocolate cake.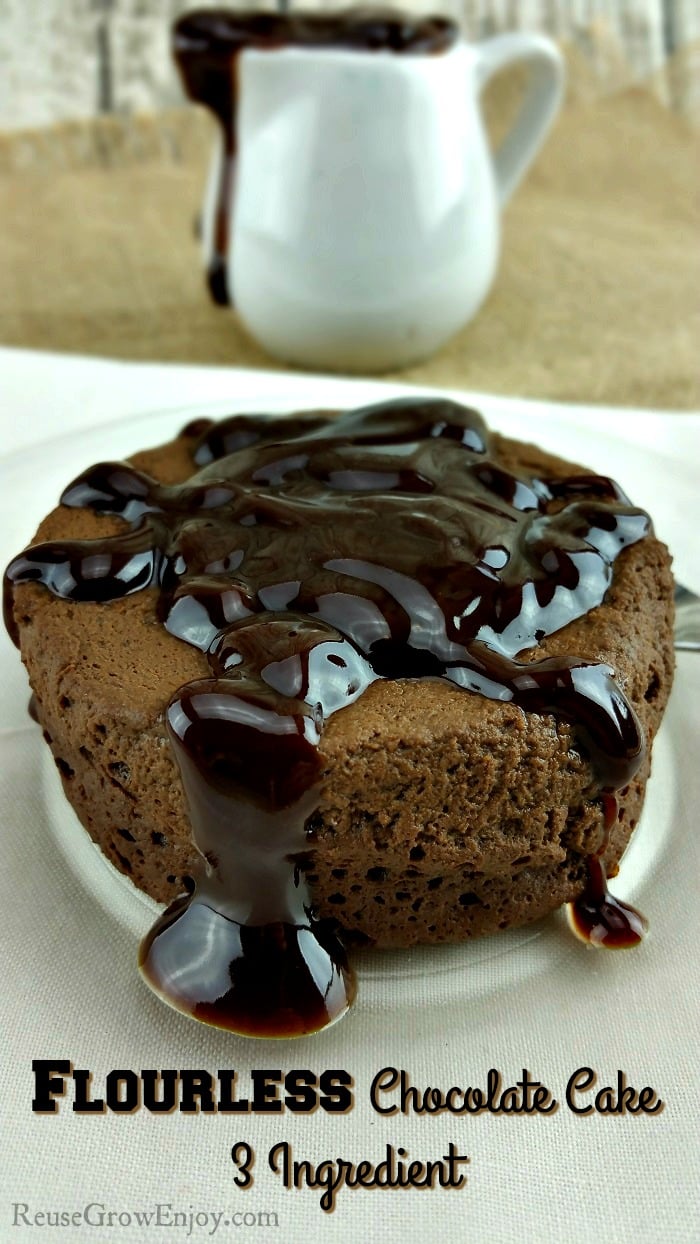 Healthy Flourless Chocolate Cake
Are you someone that is eating sugar-free? Or maybe you eat dairy and gluten-free? Well, I have a great recipe you HAVE to try! It is for a healthy flourless chocolate cake! It only takes 3 ingredients to make!
This cake is really easy to make. It cooks in the microwave in one minute and 30 seconds. Or in the oven for about 10 minutes. What gives this cake its slightly sweet flavor is the ripe banana. So be sure to use a really ripe one and not one that is more on the green side.
It is super moist too and not at all dry like some other cakes. While I find this cake is sweet enough on its own, if you are someone that needs things a little sweeter and don't mind a little sugar, I also have the chocolate glaze recipe included.
Other than the ingredients it takes to make this flourless chocolate cake, you will also need a blender, coffee mug or 4-inch ramekin and oil. The oil is simply for lightly greasing the dish you will cook the cake in. I used coconut oil.

Things To Note About This Recipe From Reader Feedback:
Does not taste like a normal chocolate cake. There are a few things to note about this healthy flourless chocolate cake recipe. This is not and will not taste like a normal chocolate cake.
While I love this cake and find it takes care of my chocolate cake cravings, some have been not so happy with it. You can not except a health cake to taste just like a cake that is super unhealthy.
Has a banana taste. Because banana is one of the biggest ingredients in this recipe, the flavor does have a slight banana taste.
The texture of the cake is slightly different from normal flour cakes. Yes, this flourless chocolate cake has a slightly different texture than a normal cake. It leans more to the texture of maybe a flan.
The cake is not sweet enough. Because this is a healthy dessert, it is not as sweet as others. That is because it can be eating when you are avoiding sugar such as a sugar-free diet, Paleo and Whole30.
Like I said above you can add the glaze to the cake using sugar and it will give it a little more sweetness, that is if you don't mind using sugar.
You could also add a tablespoon of sugar right into the cake batter if you wanted to sweeten it up too.
Other Recipes You May Like: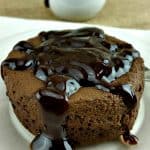 Healthy Flourless Chocolate Cake - 3 Ingredient - Dairy, Sugar & Gluten Free!
Ingredients
1

Ripe Banana

1

Egg

2

Tbsp

Cocoa Powder

Optional Glaze:

1/8

Cup

Hot Water

2

Tsp

Cocoa Powder

2

Tsp

Organic Sugar or Raw Honey
Instructions
In blender mix the egg, banana and cocoa powder until it is fully blended.

Lightly grease a coffee cup or ramekin.

Pour batter into greased dish.

Microwave for 1 min and 30 sec. Or you can bake in the oven at 350 for about 10 min.

Enjoy!

Optional Glaze:

Heat water for about 1 min in microwave.

Mix in cocoa powder and sugar or raw honey. Be sure it is fully mixed.

Allow to cool for a few minutes and then pour over cake.