Cactus plants in all of their green and emerald tones are gorgeous on their own, but when you have a blooming cactus they truly put on a show!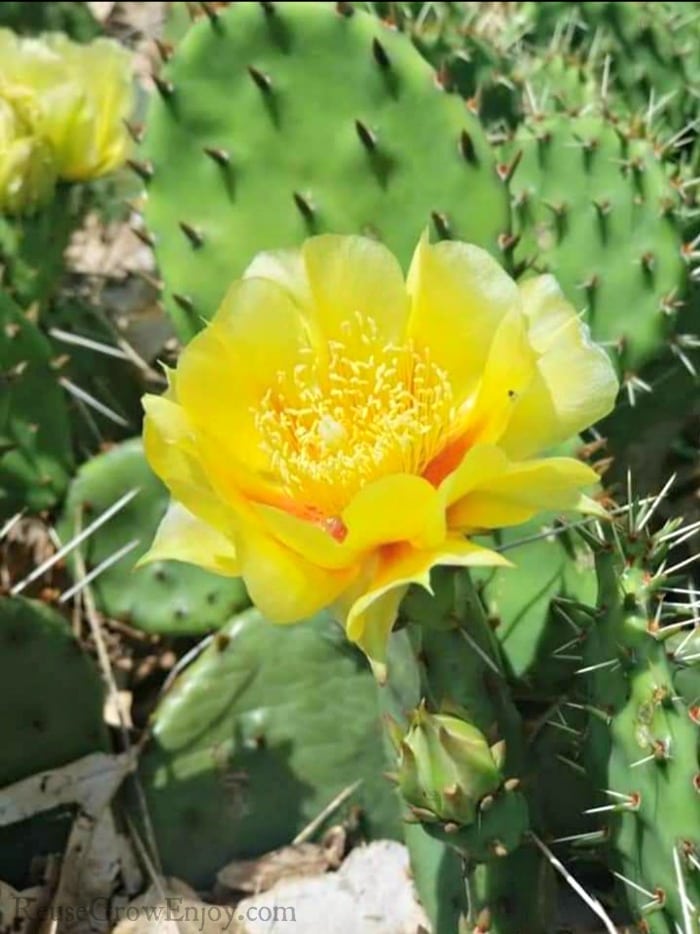 How to Grow and Care for Blooming Cactus
Blooming cactus can add color and interest to your landscaping and even indoor plant collections, it just takes a little patience and special care to get them to perform.
Here are some helpful tips on how to grow and care for blooming cactus, so you can enjoy these flowering beauties for years to come!
1. Allow them 4-6 hours of full sunlight per day.
You might think that since cactus typically grows in the desert, they need a scorching 8-10 hours of full sun per day. This simply is not the case.
In order to bloom, cacti need a cool-down period, so only 4-6 hours of full sun per day is perfect. Keep this in mind when choosing where to plant your blooming cacti.
2. Cooler nights are key.
In order to get your cactus to bloom, they will need a recovery period during the evening hours. This means they love to "sleep" when temperatures are around 60 degrees.
Does your climate offer this kind of cool air at night? If not, you may want to consider growing blooming cacti indoors instead.
3. Give them a fertilizer boost.
An extra fertilizer boost can help give blooming cacti the help it needs to really thrive. It is best to use liquid food/fertilizer according to package directions about every two weeks.
It is advised to feed during the warmer spring and summer months especially, and don't be afraid to feed again when the plant is actually blooming.
4. Allow the soil to dry out in between waterings.
Blooming cacti love dry soil. Don't feel like you need to keep the soil damp at all times. They will actually do better if you allow the soil to dry out well in between waterings.
Using nutrient-rich, loose soil will also benefit the plant and allow it to grow (and bloom) at its best!
5. Let there be…dark!
Usually, with plants, we say let there be light, but if you want your cactus to bloom they need a recovery period. Holiday cactus such as Christmas cactus, Thanksgiving cactus, and Easter cactus will bloom well if they are given at least 12 hours of darkness each night.
Of course, if you are planting your cacti directly outside you can't control the light elements, but in most cases, your plants will have at least 10 hours of darkness to recover.
6. Be patient.
It may take your cacti some time to get into a groove. While some blooming cacti plants may offer blooms within months, others may take more time to get established.
When planting your cacti outdoors, it could be 1-2 years before you notice any changes. If you are in a hurry, and indoor variety such as a holiday cactus may be ideal and give you faster-blooming results.
7. Pick the perfect variety.
So what kind of flower cacti can you grow? Luckily, there are all sorts of blooming cacti varieties just waiting to be discovered.
Make sure you take note when buying your cacti. The tag will clearly note if it is a blooming variety. Here are some of the varieties you can try:
Christmas Cactus
Thanksgiving Cactus
Easter Cactus
Arid Cacti
Crow's Claw
Sea Urchin
Saguaro
These are some excellent (and gorgeous) blooming cacti varieties to get you started!
Are you ready to watch your cacti bloom? Consider these tips on how to grow and care for blooming cacti and see how simple it can be to get your plants to put on a colorful show.