Sweet-smelling flowers are something that most people cherish when they grow honeysuckle. Did you know it is pretty easy to grow and you can also eat the flowers?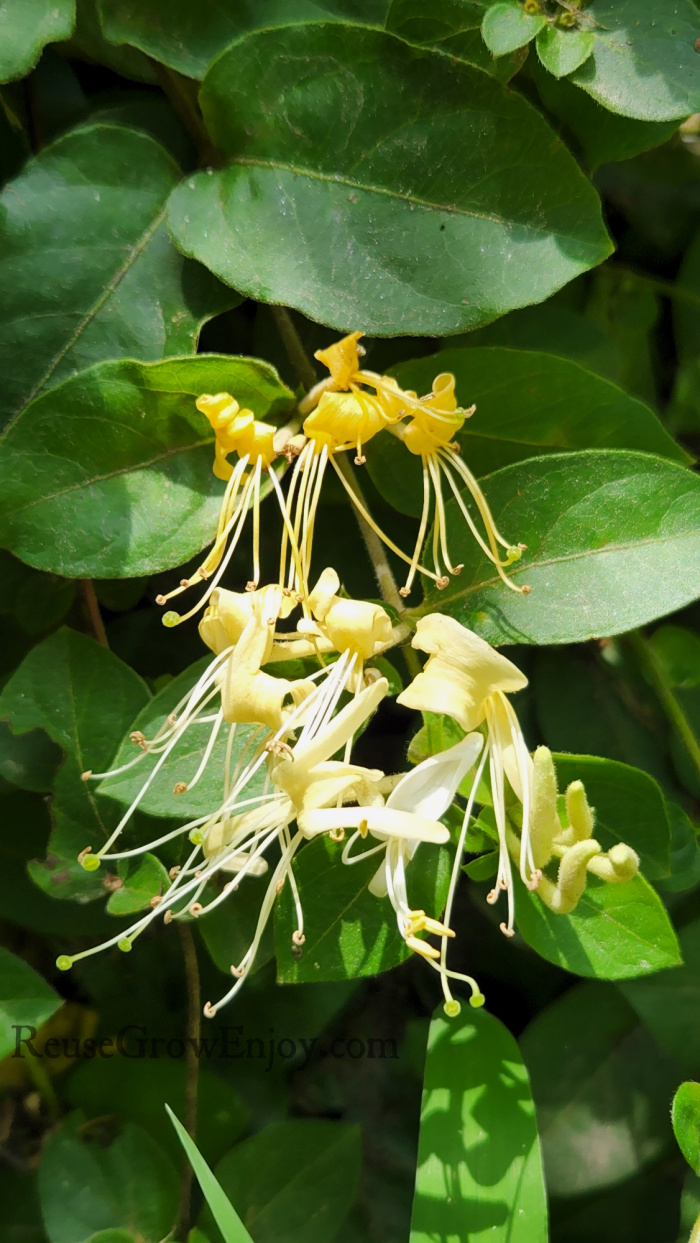 The Honeysuckle plant is a flowering plant that thrives in warm temperatures. Honeysuckle produces many sweet-smelling flowers. They can have white or yellow flowers or a mixture of the two. Honeysuckle normally has clusters of tubular flowers. The plants grow like vines, so it is a good idea to plant them next to a fence such as wooden fences or trellis.
Honeysuckle plants are fast growing if the environment suits them, and they tend to become quite thick as well. In the winter, you can expect your Honeysuckle plant to go into hibernation. Basically, the plant will look like it's dead. But when spring returns, your Honeysuckle will once again turn green and bloom.
Did you know you can even make things from honeysuckle flowers? Check out a few of my honeysuckle recipes.
Honeysuckle Varieties:
At least 180 different varieties of honeysuckle exist, so gardeners have many species of honeysuckle to choose from when planning their landscaping. Some honeysuckle is invasive species. So it is recommended gardeners check with local nurseries or master gardeners to find out which ones are good choices suited to their regions or are native plants.
Winter Honeysuckle:
Winter honeysuckle is well-suited to both cold and warm climates and grows as a large shrub. It is often used to create hedges or as a border plant. Winter honeysuckle produces small, white flowers that are quite fragrant. In warm climates, they bloom from January to March, when the flowers fade and give way to red berries.
In colder climates, honeysuckle will bloom in late winter, which will vary by region. Flowers are white, then fade to yellow before giving way to the berries. The berries are favorites of birds, who will frequent the shrub throughout the late spring or early summer, depending on the climate sometimes even into the late summer.
Winter honeysuckle is a fast-growing shrub with stiff, outward-reaching branches. Over-pruning can result in poor blossoms the following year, so gardeners should only prune what is necessary. The plant will grow in either sun or in a partially shady spot and prefers well draining soil.
Coral Honeysuckle:
Coral honeysuckle is also known as trumpet honeysuckle because of the shape of its red, tubular flowers. It grows as a tall vine and is popular among gardeners and landscapers because it is native to the United States, fast-growing and fragrant, and its flowers attract hummingbirds and butterflies.
The blooms occur from spring to fall, then give way to red berries. The leaves are deep green and smooth. Coral honeysuckle is deciduous in northern climates, but evergreen in the South. The vine is noninvasive, but pruning should be done each year because flowers will only bloom on new growth branches. Coral honeysuckle prefers sun but will tolerate partial shade.
French Honeysuckle:
As evident by its name, the French honeysuckle is native to Southern Europe. It has pink, sweet nectar filled flowers that play an important role in bees' honey-making. French honeysuckle also grows in western North America. The plant is small, reaching only about a foot and a half tall. It grows well in meadows and rocky areas and prefers moist soil. It should receive at least six hours of full sunlight daily to thrive.
Gardeners who want to plant French honeysuckle should have a moist area with good sun exposure for easy growth. The plant is primarily a northern variety. The root of the French honeysuckle can be harvested because it is sweet and edible (both raw and cooked). Plenty of winter frost increases the root's sweetness. The plant is also useful in fixing nitrogen in the soil to be used by itself and nearby plants.
Hall's Honeysuckle:
Hall's Honeysuckle bears sweetly scented, white flowers that age to yellow on a rampant, spreading vine with dark green leaves.
Gold-net Honeysuckle:
The less aggressive Gold-net Honeysuckle has similar flowers, but its green leaves are attractively veined and netted in yellow.
More Honeysuckles:
Other Honeysuckles have flowers shaped like trumpets. Unscented orange, red or yellow blooms with yellow stamens decorate the 6-meter Trumpet Honeysuckle. In a mild winter, the vigorous vine will retain some of its leaves.
Pliable Honeysuckle stems let you train plants in a variety of ways, making this versatile vine suitable for many areas. Use the largest growing Honeysuckles as sweet-scented, flowering screens, to cover garden sheds, and to quickly provide leafy, overhead shade on pergolas.
Allow these luxuriant vines to blanket hillsides, where they will create fragrant ground covers. Plant the smaller Honeysuckles where they can become pillars of color on posts or tree trunks. Train them to decorate a wall, create a flowering fringe along a fence top or beneath eaves, or simply let stems wind through a trellis.
Bountiful Honeysuckles can furnish color and fragrance behind, or twining among, plantings of other sun-loving shrubs and perennials.
The firecracker red-flowered 'Dropmore Scarlet' Honeysuckle makes a striking companion to the saucer-like, intense yellow blooms of shrubby St John's Wort. Use this 4-meter showy Honeysuckle as a backdrop to a mass planting of Roses with blooms of cream and orange shades.
Bright gold forsythia, white and cool-colored Phlox, and the azure haze of Caryopteris are lovely mates for a shower or the red and gold, fragrant flowers of either the Gold Flame Honeysuckle or the variety 'Firecracker', which as bright red flowers.
The yellow-centered, purple flowers of L. periclymenum are striking in combination with orange-yellow Heliopsis 'Patula'.
Where to Plant & Grow Honeysuckle:
The Honeysuckle plants require warm temperatures and full sun. You can plant them in partial shade, but it isn't necessary. And be careful not to plant the Honeysuckle next to any other types of plants. Since the Honeysuckle plant is a vine, it tends to crowd out or kill nearby plants by blocking their light.
Planting Honeysuckle:
Install a large trellis, fence, or wire frame. Dig a hole 10-11 inches from the trellis as deep as the plant's rootball and twice as wide. Mix a shovelful of compost into the soil.
Remove the plant from its container and check the rootball. Lightly rough up its surface, loosening any circling roots.
Place the Honeysuckle in the planting hole so the top of its rootball is level with the soil surface. Fill in with compost-soil mixture.
Water the newly planted Honeysuckle to establish good root-soil contact. Apply a mulch of compost or Pine needles.
Secure stems with ties as the young plant grows. In time, stems will twine around and through the support structure provided.
To create new plants, remove all but the upper leaves from a low stem. Bend the stem to the ground and cut at soil level. Bury about 1/2 inch deep; the new plant will root by next summer.
Grow Honeysuckle Conditions:
To grow honeysuckle full sun to partial shade is required. The best planting situation is where the roots are shaded, but where the stems can grow up into the sunlight. Honeysuckles all need average, well-drained soil. During dry periods, water Honeysuckles thoroughly and regularly.
Watering:
Depending on the temperature, Honeysuckle plants will need a certain amount of water. Again, in the winter you will not need to water very often because the Honeysuckle will be hibernating.
However, in the summer months, you may need to water once or twice a week. If you live in an especially warm climate, you might have to water your Honeysuckle even more. But every week or two should suffice. It really is a pretty hard plant to kill.
Soil Types:
The Honeysuckle plant can thrive in a variety of different soils. A sandy well-drained soil seems to work well for this plant. Mixing mulch with the soil will help the Honeysuckle to retain some moisture. But it is a drought-resistant plant, so you don't have to mix in the mulch. It doesn't hurt anything, though.
Pests:
The most dangerous type of pest that can threaten your Honeysuckle plant is the cutter ants. These ants seem to strike randomly, but they appear to be more prevalent in the fall and spring months.
Basically, the cutter ants strip off all of the leaves and flowers that the Honeysuckle produces. The cutter ants may not kill the plant, but if the leaves are stripped off repeatedly then the Honeysuckle could die. Other less dangerous pests are grasshoppers and aphids.
To protect against grasshoppers and aphids, you should use a natural pesticide. As for the cutter ants, there really isn't much you can do. Even pesticides don't seem to work very well. You could try and destroy the mound that the cutter ants came from, but even that is unlikely to stop them.
Honeysuckle Buying Tips:
Buy container-grown evergreen Honeysuckles with healthy, green foliage. Buy deciduous types with healthy buds and no leaves. Avoid plants that have outgrown their containers, as root-bound plants will take longer to establish.
Honeysuckle Training tips:
To train Honeysuckle to climb a wall or other flat surface, provide sturdy string supports or a trellis for stems to twine around. The Lonicera japonica variety is very vigorous and may become a problem unless routinely trimmed.
Propagation of the Honeysuckle:
Honeysuckle vines are known and well-liked for their pale yellow blossoms and sweet, edible nectar. The hardy plant thrives well in sun and shade and adapts to a variety of soil conditions. Since the plant is easy to root, you can propagate honeysuckle cuttings to share with friends or plant in your own yard. It is best to take cuttings in early spring since the branches are dormant and pliable during this time.
Things You'll Need To Propagate Honeysuckle:
Gardening shears
Flowerpot
Well-drained soil
Clear plastic bag
How To Propagate:
Find a branch on the honeysuckle vine with a single pair of leaves opposite each other. Using your shears, cut the stem right above the leaves. Make a second cut below, halfway between that pair of leaves and the leaves underneath.
Dip the bottom of the cutting in the rooting hormone to help it root.
Fill a flower pot with soil and cover the bottom inch of your cutting with the soil. Water the plant until water comes out of the holes in the bottom of the flowerpot.
Place a clear plastic bag over the flower pot to create a greenhouse effect.
Place the flowerpot in a warm, but out of direct sunlight.
Take your honeysuckle cutting out of the pot once it has rooted and the danger of frost has passed. Take it outside so it can adjust to outdoor temperatures and conditions. After it hardens, plant it in the ground.
If you would like to see step by step how to propagate plants, check out my post on How To Grow Plants From Cuttings.
Seasonal Tips:
Late winter-early spring: Planting
Plant evergreen Honeysuckle varieties as the weather warm up.
Summer: Watering and spraying pests
Water plants during dry periods. Hall's Honeysuckle will tolerate some drought. If necessary, spray aphids with insecticidal soap.
Autumn: Pruning
After plants have finished flowering, thin out tangled stems and prune out old, weak, and excess growth.
Winter: Planting
In warm-weather areas, plant deciduous Honeysuckle varieties while the plants are still leafless.
Powdery mildew forms grey to white, felt-like patches on Honeysuckle leaves, causing leaves to turn yellow and sometimes deforming flower buds. Remove infected leaves and branches. If infestation is severe, spray with a fungicide recommended for use on powdery mildew.
Honeysuckle As a Remedy:
Floral remedies are for helping people regain hope and live for the present. It can help people who tend to live in the past and are obsessive about the missed opportunities in life. Floral remedies are easy to take and are found in health food stores. If you are ready to try something different then you may want to try a floral remedy.
Honeysuckle has been used for over fifty years to help promote emotional healing. The type of Honeysuckle used for floral therapy has slim petals of flowers and are red on the outside and white on the inside but they turn yellow after they have been pollinated. These types of Honeysuckle are climbing plants with can grow up to twelve feet high. The berries of the Honeysuckle are very toxic and you should stay away from them.
You can find floral remedies in most health food stores. They are usually bottled as a flower essence and come in different kinds of flower essences. You can make your own remedy with the flower essence or combination of essences by mixing them in spring water and sipping the mixture several times a day.
Using As A Remedy:
Honeysuckle has a relaxing, revitalizing effect that is used to help people overcome a negative outlook on life. Honeysuckle flowers can build up concentration and optimism about the present and future. People who are the most likely to benefit from honeysuckle therapy have deep regrets about their past or they may be having a hard time dealing with the loss of a loved one. Honeysuckle can help people confront and move beyond suppressed, painful, and past experiences.
You can make a wildflower mixture to help feel better. You can combine honeysuckle with the star of Bethlehem for the relief of grief following the death or tragedy of a loved one. Add three drops of wildflower mixture to a half-ounce of water and sip it slowly. If you are feeling like you could use help to get a more positive, mental outlook you may want to try wildflower remedies.
If you use the flower remedies you may see signs of improvement in yourself such as a positive outlook and you may be more alert. Your mind may open up to more possibilities and you may feel joy. You will feel more optimistic about the future and you may get more initiative and creativity. You will feel more optimistic about the present and the future.
Floral remedies may seem strange if you have never heard of them before but once you are used to them they can provide emotional help.
However, I am not a medical professional and this post is not meant to replace your medications. As with any health treatment, be sure to consult your doctor before trying anything new.
Conclusion:
As you can see, the Honeysuckle is a very hardy plant that produces many beautiful flowers. Butterflies and hummingbirds are often attracted to these flowers, and watching them can be quite entertaining. So if you want a flowering plant that is drought resistant, try the Honeysuckle. You will not be disappointed.