Have you heard of plarn? If not, it is plastic yarn! It is a great way to reuse plastic when you know how to make plarn. I will show you how and share some plarn projects too!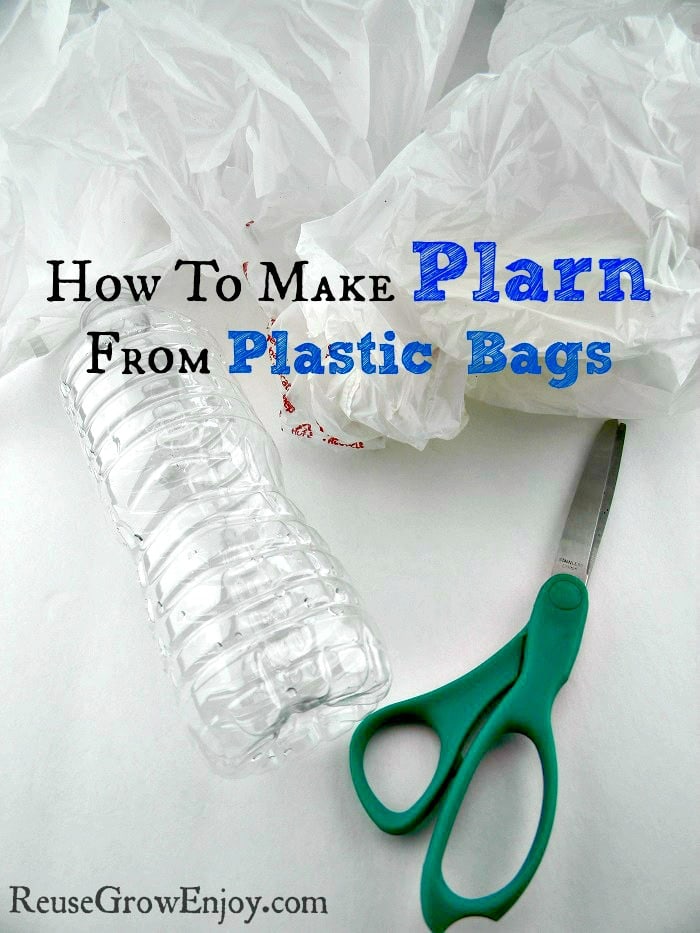 That is right, plarn is yarn that is made from plastic. It is also sometimes called plastic yarn or plastic twine
. There are different types of plarn that are made from different types of plastic.
However most of the time when you learn how to make plarn, it is made from recycled plastic bags. Just like the ones you get from the grocery store.
While you can buy plarn from a few different craft stores or even sometimes on Amazon
, it is not always easy to find.
So I like to make mine myself. Not only is it super easy to do, it allows for a great way to recycle any shopping bags you may have from the store.
You can save your bags and add to your plarn a little at a time. Then you can have it for doing all kinds of crafts and gifts.
I have used it for many things such as making baskets, jewelry, crochet bags and so much more! So if you are looking for directions on how to make plarn, follow the simple steps below.
How To Make Plarn

Step 1 is to lay your shopping bag flat on a table and smooth out any ridges.
Then for step 2, you want to fold the bag over from the sides until you have a strip that is about one inch wide.

Step 3 is to cut the handles and the very bottom of the bag off.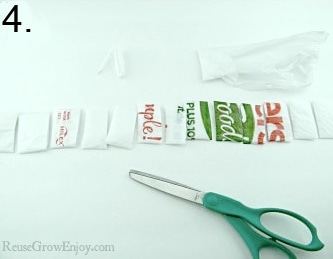 Now cut strips about a half-inch wide, until you have the whole bag cut into pieces.

Unfold those pieces and lock them together by placing them through another piece and then pulling it back through itself.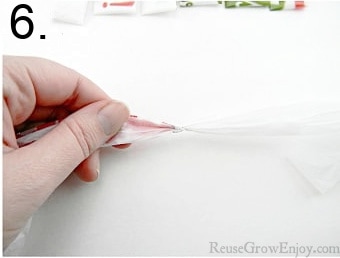 After you have them locked together, pull it tight until you have a small knot.
Keep doing this until all the pieces are gone.
Use a stick, plastic bottle, or piece of round cardboard to wrap it around. I normally cut a small slit in one end of a cardboard tube and then place one of the ends of the long string you just made through it.
Or place one end in a plastic bottle, and put the cap back on to hold it in place. Then you can start wrapping it round and round until you run out of string.
As you are wrapping it around, be sure to twist it as you go. This helps to make an even tighter string.
That is it! You now have your own homemade plarn!
What Is Plarn?
As I touched on above, it is a yarn or sting that is made from plastic.
While the store-bought stuff can be made from all different types of recycled plastic, the homemade kind is normally made from upcycled bags.
Bags like you would get from a grocery store.
Bags can be cut into small strips and tied or interlocked together to make one long pice like you would have in a scene of yarn.
Plarn Projects & Ideas For Using Plarn:
While there are tons of different ways and ideas you can use plarn for, here are two of my favorite projects I have made.
First is a basket or bowl that is crocheted from upcycled bags aka plarn.
The next one is my favorite as I have made these Upcycled Plastic Bag Flower Earrings hundreds of times. They are such an easy and cute gift idea too.
I have made those earrings in many different colors and I sometimes change them up so they are multi-colors too.
After checkout those two plarn projects, it should give you some ideas on how you can use plarn. You really can use it in place of pretty much any yarn to make any project.
The only thing you may have to do is just change up the thickness of the plarn for the project you are making. You do that by cutting the bag strips wider or narrower.