With the right setup and some motivation, you can easily jump-start your garden this year by starting seeds indoors. In can be done as simple as just a few easy steps.
Jump-Start your Garden by Starting Seeds Indoors
Many people opt to start their garden inside so that they have a faster harvest when spring growing season arrives. If you're looking to plan a garden this year and want some tips on how to jump-start your garden by starting seeds indoors then you've come to the right place.
I'm going to show you how to get a head start with your garden so that you can reap the reward of a plentiful spring garden this year.
Necessary Supplies to Jump-Start Your Garden by Starting Seeds Indoors:
For this process, you'll need to have some supplies to make sure you start and end this process of growing seeds indoors properly. You'll need enough containers for every seed you plan to grow indoors.
These containers should be approximately 2-3 inches deep. You'll also need soil or bio-sponges that work well for growing seeds indoors. You'll obviously need water to keep the soil moist and sunlight or grow lights to ensure your seedlings get enough hydration and lighting.
The Best Seeds to Start Indoors:
There are many seeds you can start indoors to jump-start your garden, but there are some seeds that grow better indoors than others.
If you want to grow seeds that don't require a whole lot of attention then tomatoes are a great place to start, in addition, you can grow a variety of flowers inside such as marigolds to jump-start your flower garden.
I'd personally opt to start tomatoes, peppers, melons, cucumbers, and squashes as they work well under a controlled indoor growing environment.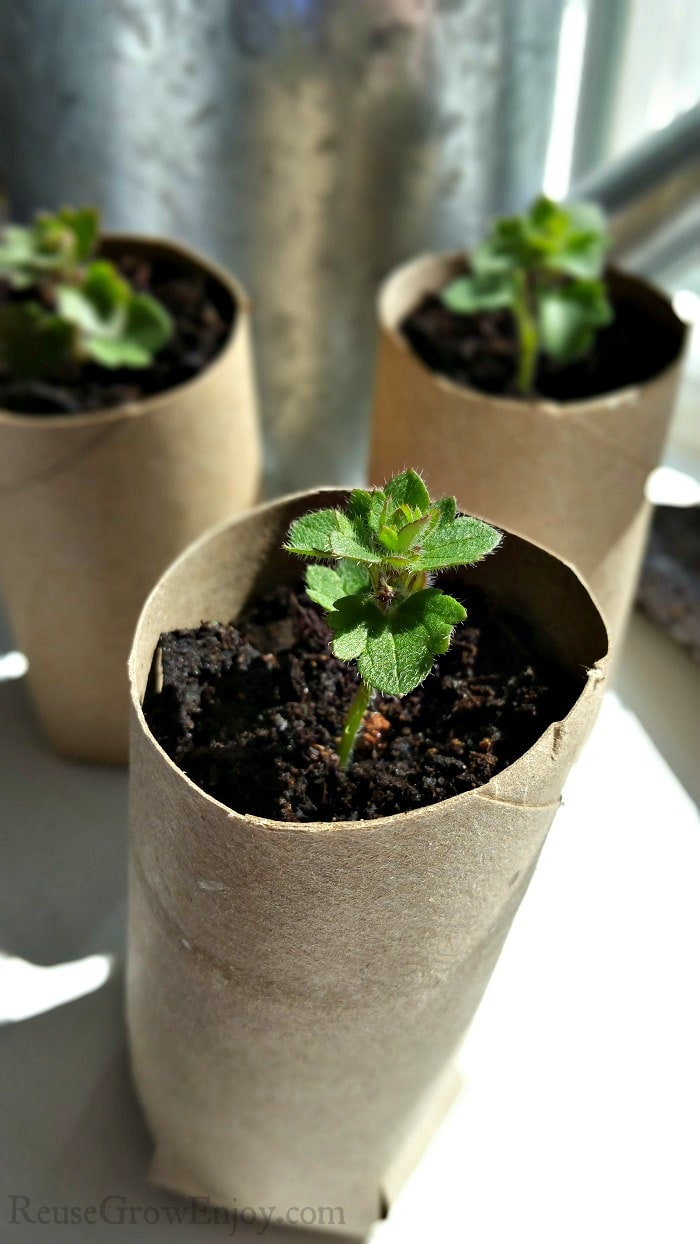 Important Factors for Starting Seeds Indoors:
There are many factors to take into consideration when jump-starting your garden by starting seeds indoors. This indoor environment must be very controlled so that the seeds get enough light and water.
Humidity and temperature play a key role in how well your seeds will germinate. When starting seeds they need to stay warm at all times and be kept moist.
Do not over water them, they only need to be moist at the start and not totally wet.
Final Tips for Starting Seeds Indoors:
While everyone does this process slightly different with good results to jump-start their garden, I highly recommend you take the containers you plant the seeds in and put them under a plastic dome or in a clear plastic bag with a small hole.
Then place them in a window or under a grow light. This will help the seeds start to germinate has it while providing it with a greenhouse effect.
Simply check on them every 3-4 days and give it a little water misting if it looks to be drying out. When the sprout and start growing, remove them from the plastic before they touch it.
Hardening Plants:
When starting seeds indoors one of the places people fail is when it comes time to move the plants into the garden. The plants have been grown in a controlled environment and need to get adjusted to the outdoors before planting in the bright sun.
A few days before you will be planting your plants in the garden, move them outside. Place them in a partly shaded area that only gets slight direct sunlight. Keep watering them and let them stay there for a few days.
This step is called hardening plants. It slowing gets them adjusted to being outdoors. After a few days, you can plant them in the garden like normal.
Opting to jump-start your garden by starting seeds indoors has many benefits. The biggest benefit of this process is having a controlled growing environment for your vegetables so that they have a larger chance of success when transplanted to your outdoor garden area come spring season.
Looking for more gardening tips? Here are a few to check out.