Nothing like a big slice of cheesecake from time to time. If you are looking for a new recipe to try, this orange Instant Pot cheesecake will not let you down!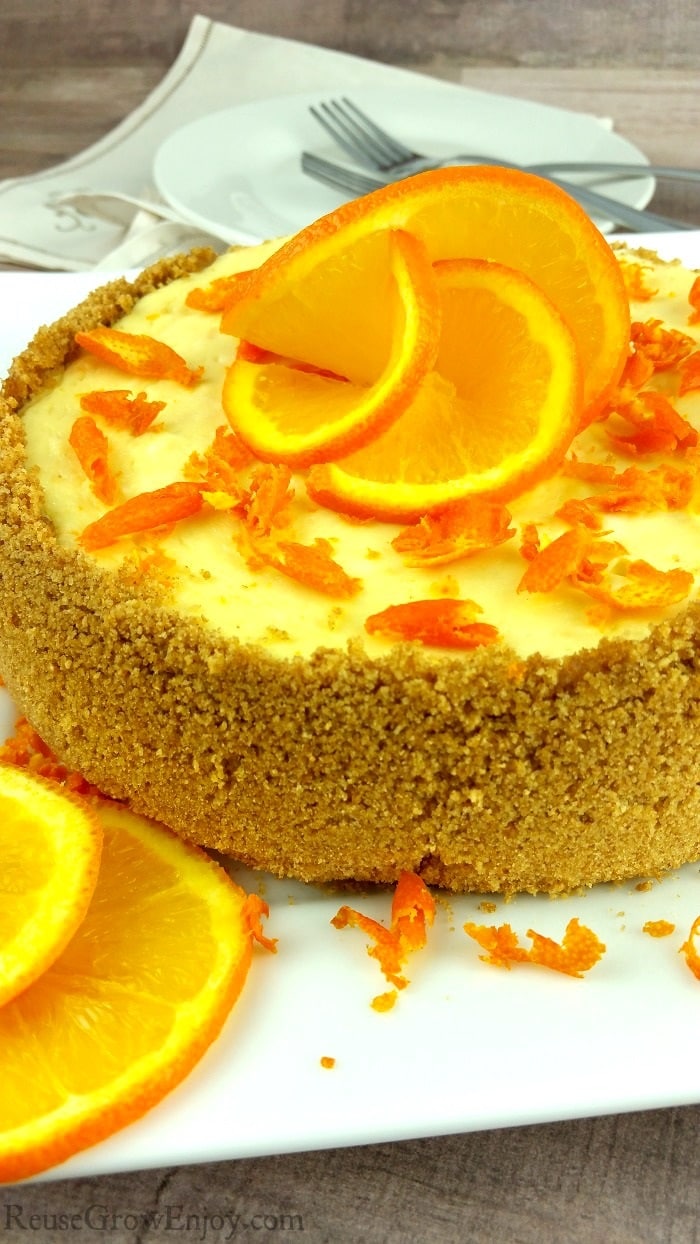 Orange Instant Pot Cheesecake Recipe
Making this orange Instant Pot cheesecake is pretty easy! I love that you can pop it in and walk away without having to watch it as you do in the oven. Plus it only takes 25 minutes to cook!
If you do not have an Instant Pot, this could be made in any electric pressure cooker.
This recipe is sweetened with Splenda as my husband is a diabetic and can not have a lot of sugar. However, if you prefer sugar, you can simply replace the Splenda cup for cup with sugar.
To make this cheesecake you will need a springform pan that fits in the Instant Pot. I have and used this one here. It fits great in my 6qt Instant Pot.
You will also need to either make a sling out of foil like I did to be able to pull the pan out when it is hot. Or have some mini mitts to pull it out.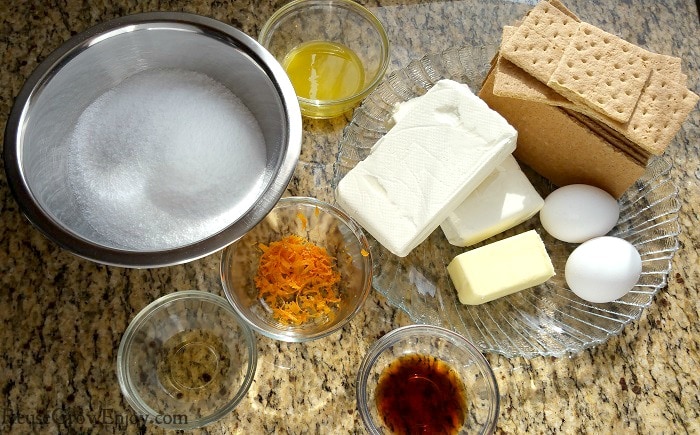 Questions & Troubleshooting:
Can you use sugar in place of Splenda? Yes! If you are someone that does not have to watch your sugar intake, you can totally replace the Splenda cup for cup with sugar. Just know that it will change the calorie count per slice if you do.
Can you use low-fat cream cheese? I have not tested this yet so do not know if the taste and texture would be the same with low-fat cream cheese. I do have it on my to do list to try and see what happens and will update this post as soon as I do.
Can you use a push pan in place of a springform pan? Yes! As long as it will still fit into your Instant Pot you can use a push pan in place of the springform pan.
Can the orange Instant Pot cheesecake be frozen? Yes! If you want to make it ahead and have it in the freezer for when family and friends pop by, you can. I did find it is easier if you chill it first, then slice it then freeze it. That way you can thaw a few slices at a time if you want.
I ended up with a soggy edge to my crust, how do I fix? If you get a soggy top edge to part of your crust you can trim it off with a knife. Ways to avoid it from happening is to make sure the foil does not hang right over the pan so the water does not drip right on it.
Another way to avoid a soggy edge is to not put the crust up high and allow the cheesecake mixture to totally cover the top. That will keep the crumbs from absorbing the dripping water.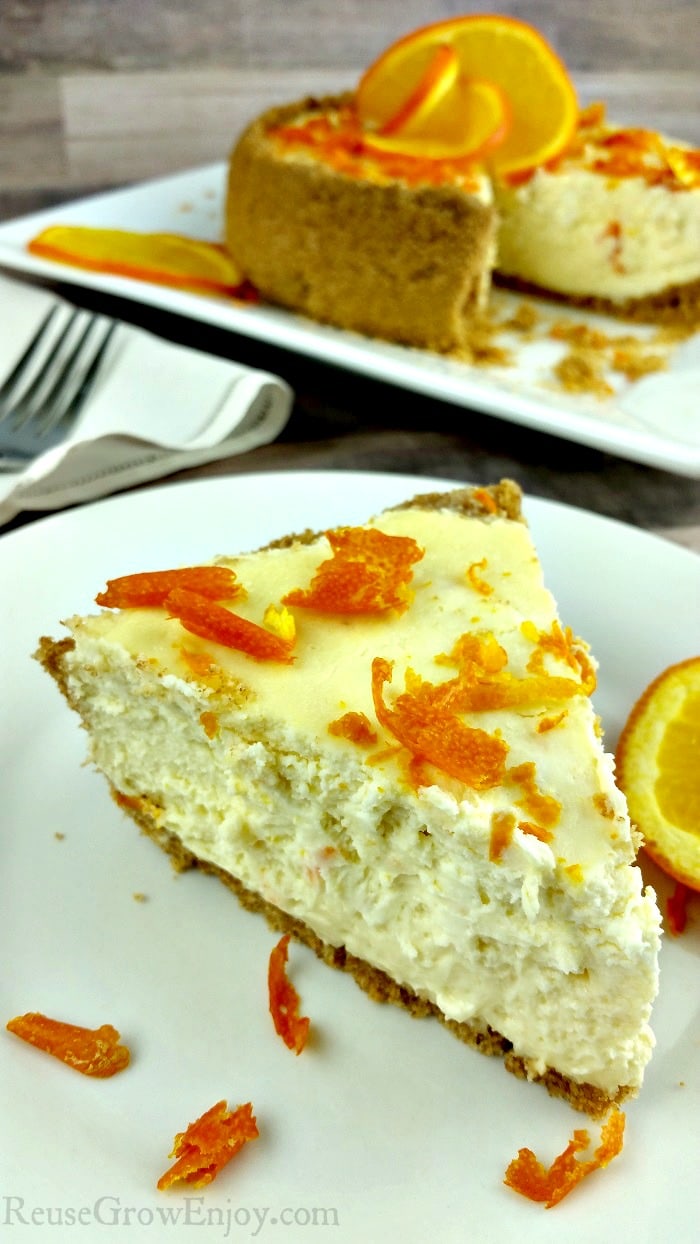 If you like this Instant Pot recipe, here are a few others to try.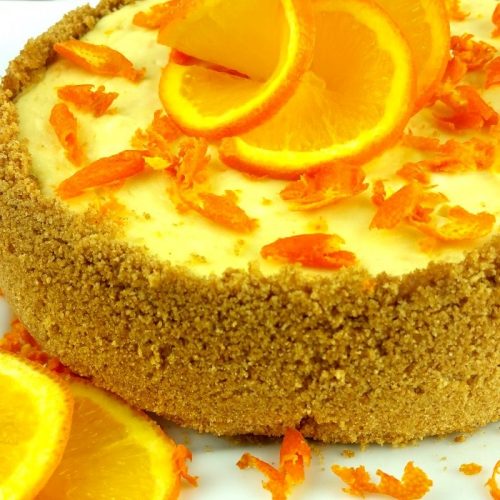 Orange Instant Pot Cheesecake Recipe
Nothing like a big slice of cheesecake from time to time. If you are looking for a new recipe to try, this orange Instant Pot cheesecake will not let you down!
Ingredients
16

oz

Cream Cheese

room temp

2

large

Eggs

room temp

1/4

Cup

Butter

melted

2

Cups

Splenda

can replace with sugar

1 1/2

sleeves

Graham Crackers

thats 13 and a half full cracker sheets

1

Tbsp

Vanilla

Zest From 1 Orange

Juice From 1 Orange

about 1 1/2 to 2 ounces of juice

1 1/2

tsp

Pure Orange Extract
Instructions
In a food processor crush graham crackers until they are fine crumbs.

Slowly add in the melted butter to the crumbs.

Lightly grease the springform pan. I just used a little of the butter that was in the dish and rubbed it into the pan.

Add crumb mixture into the pan and press it down on the bottom and slightly up the sides. When done, pop it in the freezer.

In a stand mixer or food processor add cream cheese and beat until fairly smooth.

Then add in the orange extract, vanilla, and orange juice and blend until mixed.

Next, add both eggs in and mix well. You may have to open and scrape sides and then blend again to make sure all the egg gets mixed in.

Now slowly add in the sweetener. Be sure to mix until everything is fully blended and smooth.

Last, then that needs to be added is the orange zest. Make sure it is fully mixed in.

Get the crust from the freezer and dump the cheesecake mixture into the crust. You may need to jiggle the spatula in the mix in the pan a little to make sure you have air bubbles out.

Place the trivet into the bottom of the inner pot of the Instant Pot. Then add one cup of water.

Make a sling from foil that the pan will sit on. This is so you can easily remove when it is hot. If you have the little mitts to remove it, you can skip the sling. Carefully put the pan inside the pot on the trivet.

Place the lid on and make sure the valve is on sealing. Push manual (high pressure) and add a cook time of 25 minutes.

When it beeps that it is done, open the valve to vent (quick pressure release). When it is fully vented, remove the lid and carefully remove the cheesecake.

Allow it to cool for about 30 min on the counter. Then pop in the fridge to chill the rest of the way. Do not remove from pan or slice until it is fully chilled.

After fully chilled garnish with a few fresh slices of orange and some zest and serve.
Recipe Notes
Calorie count is per slice using Splenda as the sweetener. If you use sugar in its place it will be higher.