Did you have jalapeno plants in the garden this year? If you are having a great crop and find yourself overflowing with them I sharing one of my popular recipes with you. It is a recipe for candied jalapenos! These are also called cowboy candy.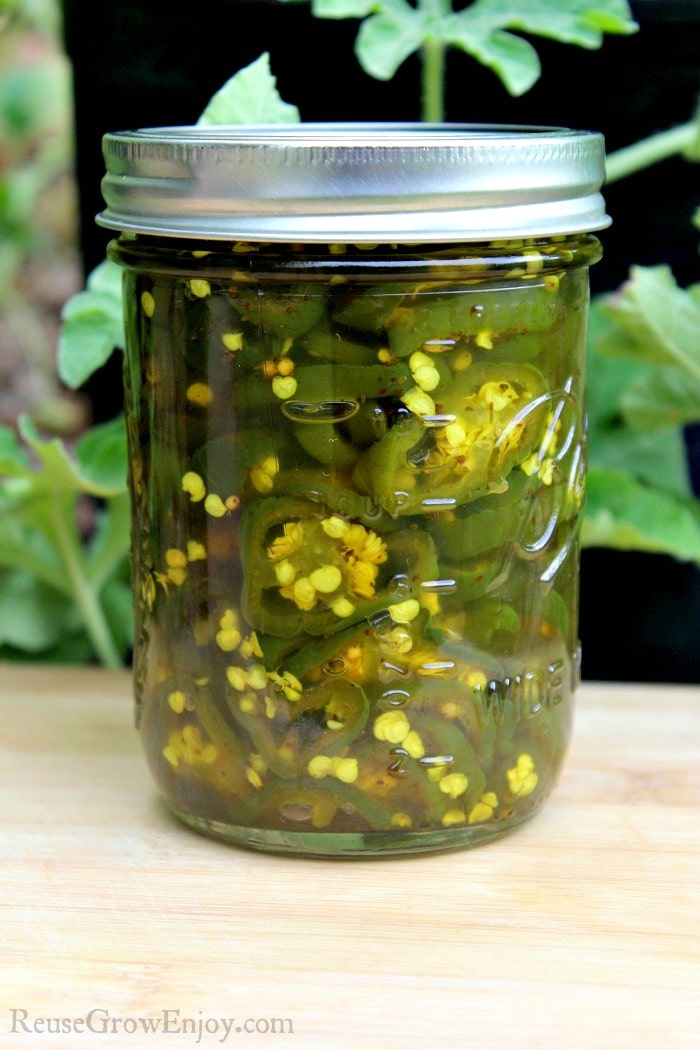 This is such a delicious way to enjoy spicy jalapeños if you like spicy food. You can simply add this jalapeño slices spicy condiment on top of cream cheese and crackers.
Or it is also great on a burger, sandwich, sub, hot dogs, macaroni salads, potato salad, or just about anything you like to spice up.
Heck, you can even toss a few tasty candied jalapenos (aka cowboy candy) in a salad. There really is no wrong way to enjoy them. They are such a perfect combination of spicy peppers and sweet flavor.
While this is a water bath canning recipe, there is also an option to put them in the fridge if canning is not your thing.
After you make these delicious candied jalapenos you want to be sure to allow them to sit for at least two weeks before you open them.
This is so that the peppers can fully soak in the spices and sugar and you get the best flavor. It also allows them to firm back up slightly.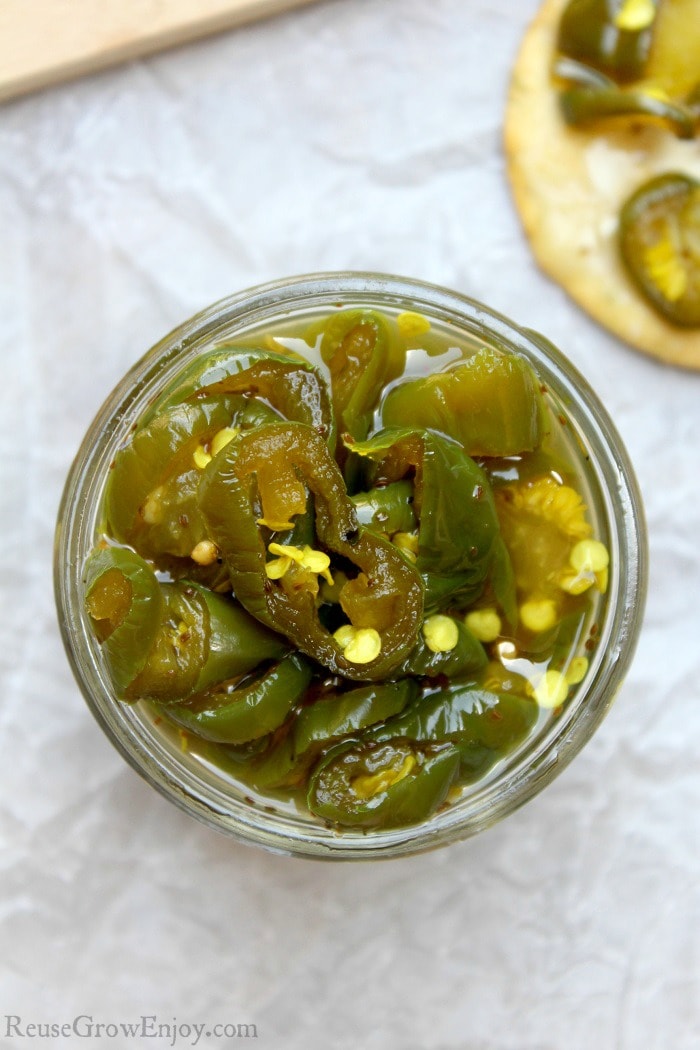 How To Make Candied Jalapenos (or Homemade Cowboy Candy)
We will be using pint jars for this recipe. While regular mason jars work, I find it best to use the wide mouth canning jars as they are easier to pack.
Each pint jar will fit 1 1/2 to 2 pounds of jalapeno peppers in them. So this recipe will make about 2 jars give or take. Or if you want to put them into smaller half pint jars maybe to give as gifts to family or good friends, you could do that too. They really do make a great gift idea!
When working with this many hot peppers, you may want to wear gloves. It can be a clean pair of dish gloves or just some thinner disposable gloves. If you don't use gloves, spicy peppers like this can burn your skin.
You also do not have to worry about removing the seeds from the peppers. You can just leave them in the pepper slices.


Making & Canning Cowboy Candy:
Slice peppers and lay them to the side.
In a saucepan mix vinegar, sugar, celery seed, cayenne pepper, mustard seed, and turmeric and bring to a full boil over medium heat. Reduce heat simmer for 6 to 7 minutes string frequently.
Add sliced peppers to mix and bring back to rolling boil. Then reduce again and simmer again for another 6 minutes or so.
While that is simmering sterilize jars and lids in a large pot of boiling water.
Use a slotted spoon to divide the jalapenos evenly into the canning jars.
After peppers are removed from the pot, turn the heat back up and thicken brine into sweet syrup. Then pour the syrup in jars over peppers. Cover peppers completely and leave 1/2 inch headspace at top of the jar.
Remove any bubbles, wipe rims and place lids and rings on the jar. Tighten them so they are finger-tight.
Place in water bath canner and process for 12 minutes. Then remove jars and place them on a towel on the counter and allow them to cool and seal.

What If You Don't Want To Can?
If this is your first time making this jalapeño peppers recipe and you don't want to process it in a water bath canner you can still make it and the end result and flavor will be the same.
The best way to preserve them, in this case, would be to follow all the simple steps right up to the canning part. After you have topped the jars (or a glass airtight container) with the syrup and placed lids on, allow them to cool to room temperature then place them in the fridge.
Leave in the fridge for 2 weeks before opening. This allows them to soak up the sweet syrup. However, they can be used sooner if you need to. They will still taste good before the 2 weeks is up, but the full flavor may not be there.
You can always try canning them next time you make a batch.
What To Do With Leftover Syrup After Peppers Are Gone?
I am often asked when all the candied jalapeños are gone what can you do with the leftover syrup?
One great way to reuse it is to make another fridge batch of candied peppers. The easiest way to do that is to add sliced jalapeños into the leftover syrup and allow them to sit in the fridge for about two weeks.
You can use sooner but the peppers may not be as sweet as it can take some time for the syrup to soak into the fresh jalapenos.
However, I would not reuse it to do another canning batch.
The one thing to note if you do this is the 2nd batch heat level may be a little spicier. Because now you have juice from the fresh peppers and some from the first batch in the syrup.
What To Do With Candied Jalapenos Remaining Liquid aka Remaining Syrup?
Depending on the size of the peppers, you can sometimes have extra liquid or brine. If this happens when you make this jalapenos recipe, you can add more spicy jalapenos to another jar or two. Or you could also use other spicier peppers or you can even use other vegetables.
I have had readers tell me they love to use this sweet and spicy syrup with things like zucchini, carrots, and beets. But feel free to play around and find the flavor you like.
Here are some other recipes to check out as well as one on water bath canning.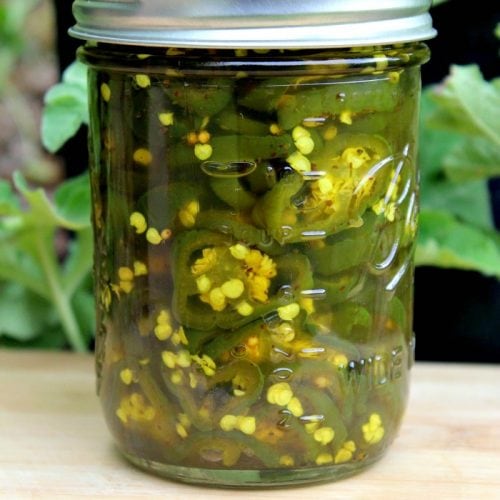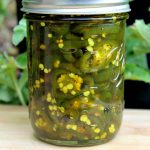 Recipe For Candied Jalapenos (aka Cowboy Candy)
This is a must try recipe for Candied Jalapenos (aka Cowboy Candy)! They are sweet and spicy! It is a canning recipe with a fridge option.
Ingredients
1

Tsp

Celery Seed

4

lbs

Fresh Jalapeños

washed and stem removed

5

Cups

Sugar

2 1/2

Cups

Apple Cider Vinegar

1/2

Tsp

Turmeric

1/2

Tsp

Mustard Seed

1/8

Tsp

Cayenne Pepper

optional
Instructions
Rinse jalapenos well then slice them into about 1/8-1/4 inch slices. Place in a bowl and set aside.

In a medium saucepan combine vinegar, sugar, celery seed, cayenne pepper, mustard seed, and turmeric. Bring this mixture to a full rolling boil. Then immediately reduce the heat and allow it to simmer for 6 to 7 minutes. Be sure to stir it frequently.

Now add the sliced jalapenos to the saucepan. Turn the heat back to high and bring it to a rolling boil. Now reduce the heat to low/medium again and allow it to simmer for about another 6 to 7 minutes.

While that is simmering, put your pint canning jars and lids in the water bath canner. This is to sterilize them. After a minute or two, remove the jars and lids and place on a dish towel. You always want to be sure to work with sterile canning jars.

Now use a large slotted spoon to transfer the jalapenos to the canning jars. Be sure to make them as equal as you can. While regular jars will work, wide mouth jars make it easier to pack the jars.

After you remove the peppers from the pot, turn the heat back to high to thicken the brine into a syrup. This should take about 5 minutes.

Now distribute the hot brine syrup between the jars. You want to make sure to cover the peppers completely but allow 1/2 inch headspace.

After you have the jars full, remove any air bubbles, wipe rims with a damp paper towel or cloth. Then place lids on and then rings. You want the rings to be finger tight. Place jars in a hot water bath or large pot of boiling water and can for 12 minutes. You want to make sure you have enough water in your canner. The water should cover the jars by about two inches.

After 12 minutes, remove the jars carefully and allow them to cool on a towel for about 8 to 12 hours.

After cool check out seals and if everything is sealed (that is when the top center can't be pushed in) you can store in a cool place for up to one year.
Recipe Notes
If you do not want to do the water bath canning, you can put in the fridge. Just follow the same steps and then apply the lids and rings allow to cool to room temperature then refrigerate. Leave in the fridge for at least two weeks before opening. Then enjoy within 10 weeks.