Sleep Inn & Suites Lakeland Florida
Are you thinking about taking a trip to central Florida? Maybe to visit a few of their wonderful attractions such as Walt Disney World? One of the biggest things you have to pay for when traveling is for a place to stay that is unless you find a nice place with great prices like Sleep Inn & Suites.
My husband and I took a trip to central Florida not too long ago. When we first made plans we had booked a low price hotel in Kissimmee as we had a pretty tight budget.
However, it did not work out as we had planned. After getting to the hotel we had booked, we found it to be in a not safe area to stay. So we asked for a refund and left right away with no idea where we would go.
Then I did a little looking around and found some great reviews for Sleep Inn & Suites in Lakeland Florida. It was only about 45 minutes away so that is where we headed.
After getting there, I was SO HAPPY we changed hotels! I was very pleased with the condition of the hotel for the rates we found it for on Hotels.com.
There was a reason I had found great reviews for this hotel. Plus it was still in a pretty central area where we could very easily hop on I-4 and visit Tampa, Clearwater, Orlando (Disney World), and lots of other great Florida areas.
So if you are thinking of taking a trip to central FL, Sleep Inn & Suites Lakeland Florida would be one of my first places to check rates for your stay. You can check the rates for them here.
If you are looking for other tips and ideas for Florida travel, be sure to check out this handy Florida Visitors' Guide.
Sleep Inn & Suites Lakeland Florida Has To Offer:
Rooms:
We found the rooms to be super clean and had everything you needed including free toiletries & free coffee. The room also had a microwave and small refrigerator. Let me tell you, both of those are a life saver when you have a long stay.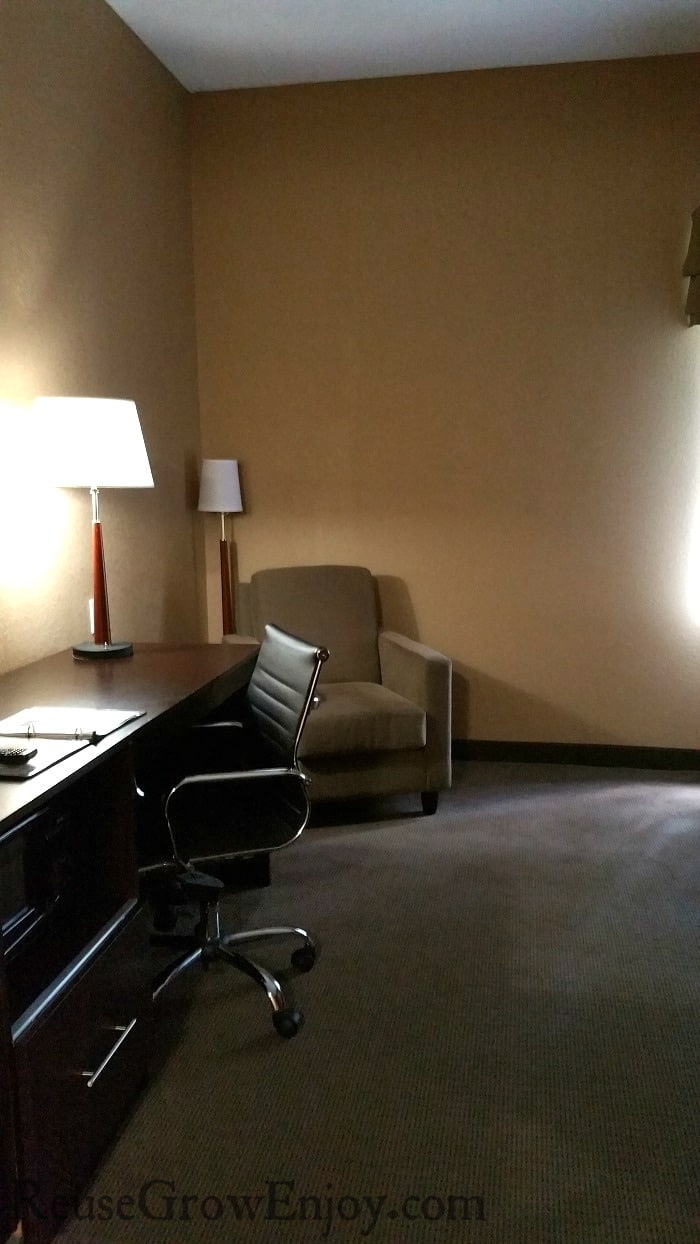 The rooms are a pretty nice size. However, on our second stay, we got a room that was huge! I mean I was happy with the first room size, but this one was just the icing on the cake!
While you can still hear some sounds from the hall or rooms above, it was a lot less than other hotels we had stayed at. I think they must have some pretty good soundproofing in the walls. We are someone that travels with a box fan and run it at night. When it was running we heard nothing at all. It was almost like being at home!
Oh and the beds. OMG, they have to be one of the most comfortable hotel beds I have ever slept in. If you are not tired, after you lay down on one, you will fall fast asleep anyways.
Pool & Fitness Room:
While on vacation, if you are like us you are always on the go. So we did not get a chance to use the fitness room. However, I did check it out and it looked to be a nice one. All of the equipment looked to be in good shape and well taken care of.
We did use the pool and found it very relaxing. It is not a huge size like some others, but large enough to cool off with and loosen up some tight muscles.
I loved that that also had some tables and chairs as well as a patio umbrella out there. But when I was not in the water I just hung out in one of the chaise lounges trying to soak up a little sun.
Free Breakfast:
Eating out can also put a hole in the budget when traveling. So it is always nice when you find a place to stay that gives you one meal a day for free.
They have a pretty nice free daily breakfast that they offer. You can find something that fits pretty much everyone's diet or needs. They do change it up slightly each day. Some days they may offer bacon and eggs and others it may be biscuits and gravy and so on.
Every day we did find that they offered coffee, juice, oatmeal, cereal, yogurt, toast, fresh waffles, pastries, bagels, boiled eggs and more!
After having such a wonderful experience with this Sleep Inn & Suites in Lakeland, we will be sure to look for them in other areas we stay as well.