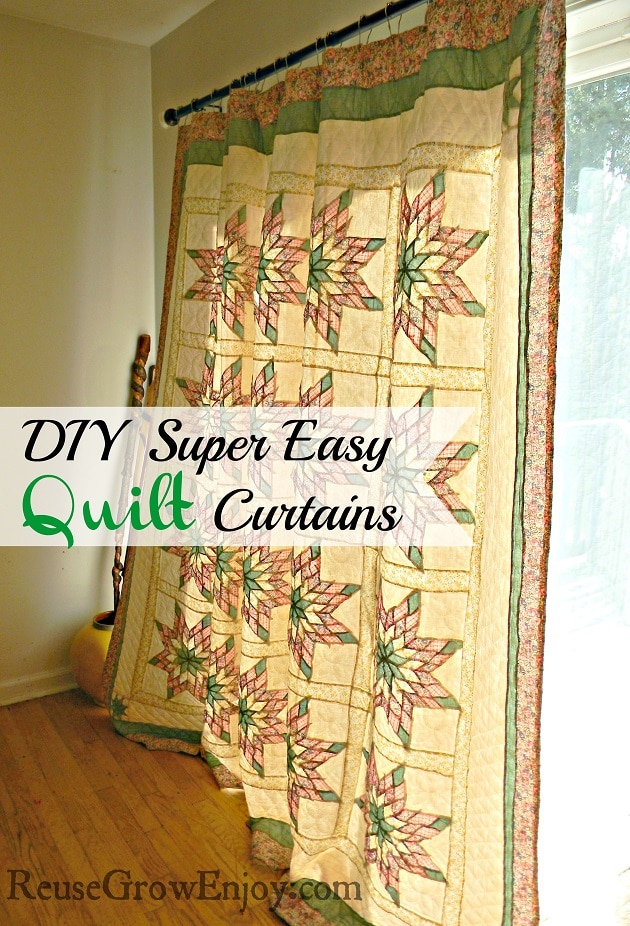 Super Easy Way To Make Quilt Curtains
If you are like me, there is nothing you enjoy more than saving money, recycling, reusing, re purposing and reducing your carbon footprint. This summer is proving to be a hot one already. While I really enjoy the light my sliding glass doors allow to come into my home, I can't say I am as crazy about the extra heat it brings with it.
I am not a fan of vinyl blinds or those energy saving curtains with the backs that stick together when washed and the fact that they cost a lot of money. But I LOVE quilts! Quilts are like books; they have a story to tell, they remind me of simpler times.
I love quilts but I don't like paying big prices for them, and I can never seem to find time to make my own. Most of my quilts come from yard sales or thrift stores. Most of the time I never pay more then $15 for a quilt.
One day as the sun was streaming it's heat in through my sliding glass doors, the idea hit me to hang a quilt there. Hanging a quilt would block out the sun help keep the house cooler. Plus I would get to display one of my pretty quilts.
To make these super easy quilt curtains, here is what you will need.
Supplies:
A Quilt- I used a Double/Full size which was 80X88"
Tailors chalk
Seam ripper
Sewing needle
Thread
Measuring tape
Interlocking Shower Curtain Hooks. I used the metal Shower Curtain Hooks With Rollers.
If you do not want to sew, or do not want to put holes in your quilt, you could skip that part and use Clip Rings
.
Directions:
1. Measure your door. Most are 72″ wide by 80″ tall. Just be sure that your quilt covers the door.
2. I used a Double/Full Quilt standard size 80″ X 88." I used the 88″ side across the top and the 80″ for the sides.
3. Using tailors chalk draw a line on the back of the quilt about 1/2″ – 1″ down from the top going all the way across (the longer side).
4. 1/4″ from side working across the top make your first hole for shower hook. I used a seam ripper and made a small hole on the chalk line across the top. You can whip stitch around the hole as you would for a button hole, in order to keep the fabric from fraying when washed. If you don't make it to big, then if you ever get tired of your curtain you'll still have a perfectly usable quilt. (OR skip making the holes and use Clip Rings
)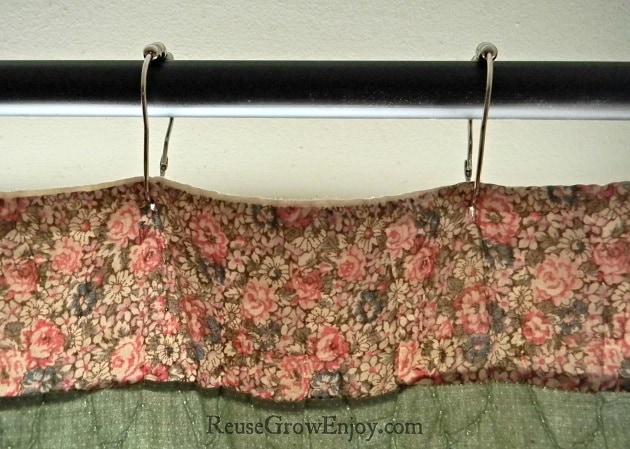 5. Place hook hole about every 5-6″ apart evenly across the top. Make last hook placement 1/4″ on the opposite side of the quilt from the first hook. It took me 17 holes to go across the top of the quilt.
6. Place an interlocking shower hook in each hole across. Then hang your new quilt curtains!