Going on a camping trip? Will you be tent camping? If so, I have some camping hacks you should know about before you go! They will make your trip a breeze.
Some of these will also work for RV camping too.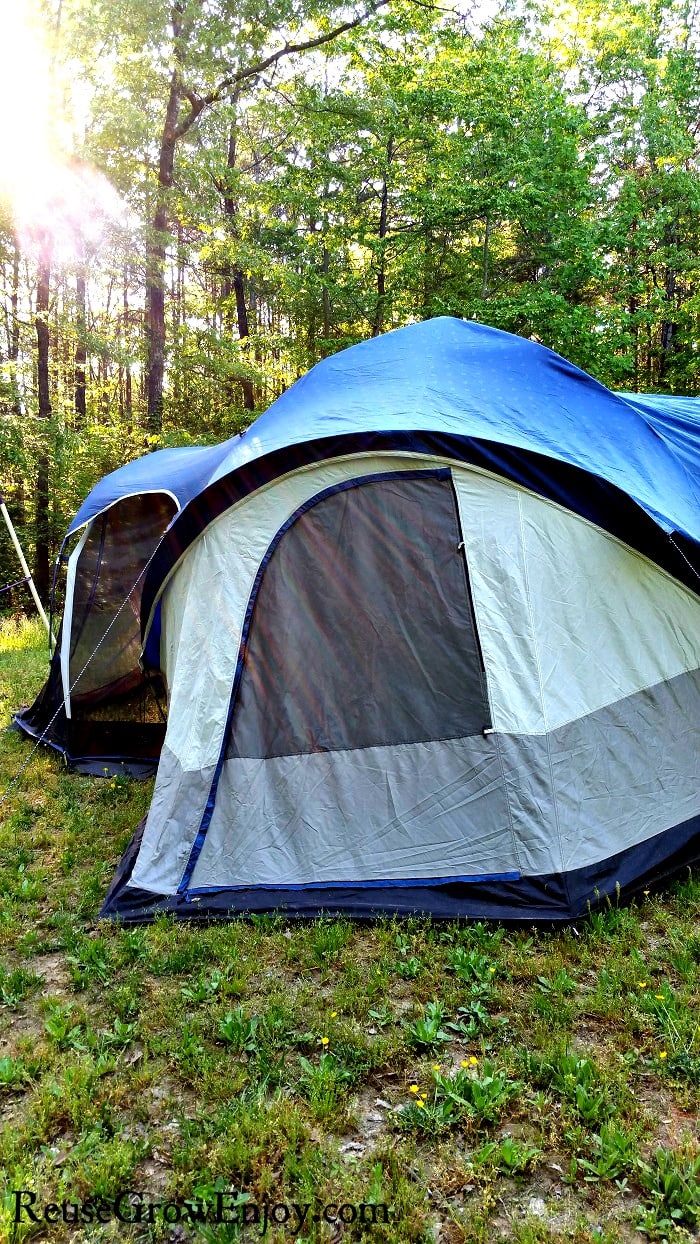 Tent Camping Hacks
You Need To Know Before Going Camping
Camping is such an enjoyable thing to do alone or with friends and family, but there are some handy little tips and hacks that can save time or just make things so much easier. I am going to share some of the top tent camping tips I know about with you.
So let's get started.
Pool Noodle:
I can't tell you how many times I have tripped over the tie downs of a tent. Plus the times where I did not trip but gave myself a nice ankle rope burn.
You can avoid that totally with one simple and cheap fix. Simply take an ordinary pool noodle that you can pick up from any dollar store and cut it into about 12-inch sections.
Then simply put a slit lengthwise down one side and slip it over the tie down just above the stake.
You can also avoid making a slit and just run the string through the center of the noodle before you stake it down if your noodle is one with the hole in the middle.
Solar Garden Lights:
Nowadays you can grab little solar garden yard lights for just a buck or two per light at places like Amazon or even your local dollar store.
These are wonderful for putting just outside the tent or even a few along the path to the bathroom for when you need to get up at night.
You can also use an upside-down clay pot on a table and then place a light in the center hole to hold it in place as a table light.
Pop Up Hamper Trash Can:
If you have ever been camping in a place that does not have a trash can you know what a pain it can be to try and hold up the bag.
The easy and cheap fix for that is to put a trash bag inside a pop up hamper! The pop-up hampers are great for this because they fold up super small and are easy to pack away with camping gear.
Plus you can pick them up for just a few bucks.
Foam Floor Mat:
Ever been camping and the floor of the tent just has little pebbles or sticks that always end up under the tent no matter how much you clear it before you put it up?
You can use the puzzle piece kids or puzzle exercise mats to cover the inside of the tent floor. That way you have a little padding to walk around on.
The puzzle ones are great for this as they are easy to pack up and store with your camping gear.
Hand Wash Station:
Depending on where you camp it is not always easy to be able to wash hands before eating or for anything really as most tent camping sites don't have water.
Having a hand washing station comes in handy. They are pretty easy to set up too.
You can reuse large detergent bottle with a spout, water jug (one that lays on its side) or even buy a dispenser with a spout to hold clean water.
Set it on a table with some soap by it and a hand towel run through the handle of the jug. Then place a 5-gallon empty bucket on the ground under the spout to collect the dirty water until you can empty it.
Pool Raft Kids Bed:
If you have kids and want them to sleep a little better then on the tent floor, pool rafts work well. They are small so they don't take up a lot of room in the tent. It is kinda like their own little mini mattress.
This is one tent camping hack that I remember that we did back when I was a kid. And it still works great!
Closet Or Shoe Organizer:
Keeping things organized or where you know where they are when you need them can be a challenge when tent camping. Well, that is until you hear this hack.
Next time you come across a good deal on a hanging closet organizer or shoe organizer, grab it! You can hang it at camp either on a line from a tree. Or even with some clips to a pop-up canopy tent.
They work great for keeping kitchen utensils, napkins, games, spices and all kinds of other camping supplies you may have.
Keychain Toiletries:
Carrying large shampoo, body wash, conditioners, and other toiletries items to the campsite showers can be a pain. Grab some travel keychain bottles and fill them with your large bottles before you leave home.
Then simply clip them all onto a lanyard using a carabiner clip and you are ready to head to the showers with free hands!
Frozen Jugs Of Water:
When you are tent camping you do not have a fridge. So you have to pack a cooler to keep things cold. If you freeze bottles of water or even jugs you can use it as ice in the cooler.
As the ice melts over the first few days, then you can use as drinking water after it has thawed.
That way it plays double duty. You may have to remove just a little water from the bottles before you freeze. As they will expand when frozen.
I am sure I could come up with even more hacks. But I may have to save those for another time. Do you have any tent camping hacks that you use that I did not cover here? I would love to hear them in the comments below.
If you found these tent camping hacks helpful, be sure to check out my post on Camping Hacks That Really Work as it is loaded with more tips.