Ever wondered what some of the best plants for hanging baskets are? There are so many beautiful flowers to choose from but not all work well for hanging baskets.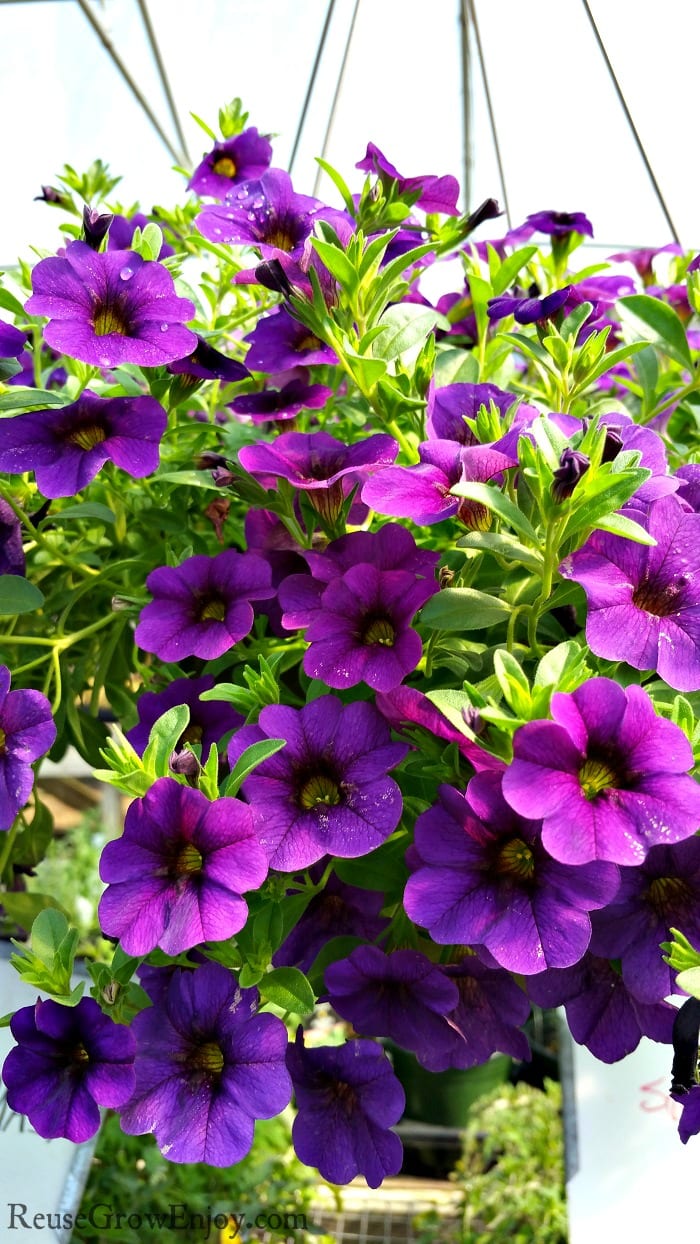 Top 8 Plants for Hanging Baskets
Hanging baskets are a beautiful way to add color to your yard, and are ideal for gardeners with little space for planting. While you can buy pre-made hanging flower baskets, the truth is making your own can cost you less.
Look below as I share the top 8 plants for hanging baskets, and see which plants should be on your shopping list for making your own baskets!
Petunias:
Petunias is the top of my list of favorites for hanging baskets. I try to have a few baskets of these on my front and back deck each year.
The nice thing about petunias is they bloom all season long so you get a good bloom for your buck. They will gently trail and hang out of the baskets as they grow.
As long as you deadhead the dead blooms you will have lots of success. If you are not sure what deadhead is, it is easy to do. Simply pull off the old droopy flowers that have finished being bright and pretty. Just be sure not to pull the whole stem, just pull the flower.
Petunias come in lots of colors such as white, pink, yellow, purple, blue, and even magenta! They also have different types. Some with a single bloom or others that have a double bloom flower.
Impatiens:
If you live in an area with lots of shade, then impatiens are your best bet! They make ideal filler flowers so if you have small spots to fill in, impatiens can handle it.
Colors you can choose from often include pink, white, red, and swirl combos.
These do not get as tall or expand out from the pot as much as some others but are still a nice option.
Begonias:
Begonias are another option if your yard has a great deal of shade. They offer colorful red foliage that really stands out, and they will bloom all season as long as you deadhead the faded blooms.
They come in shades of red, white, and pink.
Fuschia:
Not only does fuschia do well in shade, but the colors are so gorgeous! Choose from bright pinks, magenta, and even fabulous shades or purple.
The drooping blooms will trail down your baskets creating some nice visual effect. Plus, they smell great and attract hummingbirds!
Geraniums:
If you want a basket with some height to it, geraniums can help. Geraniums will spike up in your baskets offering shades of pink or red.
They do prefer full sun, so only use them in baskets that get a good 6 hours of sun per day.
Often you will see these planted in the center of a basket with other flowers that will hang over the sides planted at the edges. That way you get both the height of flowers and the hanging over look from the other flowers too.
Succulents:
Succulents are ideal for baskets in areas with lots of sun and dry climates. You can choose from dozens of succulent varieties in many colors.
Plus, the shape of succulents varies from spikes to trailing vines, to cacti like shapes. You have so many options!
When you mix a few different types it really makes for a nice visual appeal.
Vincas:
You can not only plant annual vincas in baskets but feel free to add vinca vines for a long trailing effect. This is a fun way to add additional color and texture to the basket without a great deal of fuss.
Trailing Pansy:
If you need some plants for hanging baskets in the early spring, fall and even winter in some areas, pansy may be a good option for you.
They can handle cold weather pretty well. They do like the sun but do not survive well in hot weather. That makes them a great option for colder seasons.
They come in an assortment of colors.
Are you ready to create the perfect hanging flower basket? While there are lots more plants that you could use, these 8 plants for hanging baskets is a nice place to get started.
Oh, if you want another option for your baskets, think herbs. It is not one of the top eight, but such a great option.
Herbs:
While not all herbs are flowering, they are so practical. Try adding some herbs such as oregano, mint, basil, and chives to your hanging baskets.
They will come in handy when you are cooking, and this is a great way to grow herbs in limited space.
If you found this helpful, here are some other posts to check out.