Top 8 Reasons Why Disney's Animal Kingdom Is Perfect
Fun For The Family & Learning
Finding good places to go as a family that you and the kids can enjoy is not always easy. But they can be so enjoyable when you find the right place. Have you ever thought about taking the family to Disney's Animal Kingdom?
Disney World in Orlando, Florida is known for being one of the top places in the United States to visit on vacation. With their four theme parks, Disney Springs area and many hotels to visit, it's no wonder. But what if you could take your kids there and actually get some education in as well as the fun? It can totally be done!
All the parks have many great things to do with your kids and Epcot is easily one that can be said to be very educational. But Animal Kingdom is the one you probably hear the least about and is really wonderful.
Here Are The Top 8 Reasons Why
Disney's Animal Kingdom Is Perfect Fun For The Family & Learning:
1. Different Countries:
There are different sections to the Animal Kingdom park that are done in themes. Several of them are in specific countries like Asia and Africa. They do a fantastic job of creating the atmosphere the way Disney is so well known for, making all the structures, restaurants, décor and more be completely in that theme.
When you sit and take it in, it is very impressive. Each section has animals that are from that area and the foods you can try. Plus of course, rides that tie it all in together to make it fun.
For example, in Asia, you can ride a river rapids ride and the awesome Everest roller coaster that is like no other.
2. The Food:
As I just mentioned, there are places to eat in each area, and there are several of them all over the park. They range in price too. So you can do smaller snack type items or mid-range priced foods. You walk up to a counter and order, and then snack on the go or the more expensive ones also have sit-down places.
You can try all sorts of different cuisine, including American. There are also much more ethnic types and they are really great about any food allergy issues you may be dealing with, so just ask.
If you know in advance that you'll be going to Animal Kingdom, try to teach your kids some things about those countries ahead of time. Then let them try some foods they never have before to make it really have more of an impact.
Also, one tip before you go to Animal Kingdom. Get the Disney app and you can book places ahead of time and view the menus very easily.
3. Wilderness Explorers:
This is probably one of the best things they offer for kids. It is like the club in the movie "UP" that Russell is a part of. When you go into the park you can visit the first stand that is located right before the Tree of Life. They will walk you through the process but the gist of it is that your kids will get their own explorers booklet that has several activities in it. All educational and all different from each other.
They go around the Animal Kingdom park, looking for the symbols and then once they complete the activities, they get sticker "badges" for their booklets. They will get them from an employee who is wearing the WE gear. It's really well done and very cool. They learn things about many animals, exchanging currency, telescopes…and much more.
4. The Tree of Life:
This tree is a true phenomenon the first time you see it. It looks so real, in the trunk and large roots that are working themselves every which way. All over it, there are tons of animals carved into it and the more you look, the more you see.
Your kids will, of course, realize it's not real, but they will be enamored with how awesome it is. They will just keep going and pointing out all they can see on it. It's a must to go all the way around and under it. There is even a section on the left side with a cave that has an aquarium of fish and turtles, and all over it, it's just full of surprises.
Also, at night, the last hour or so before closing, there is a light show that happens right on the trunk that is really cool. A great way to end your Animal Kingdom visit.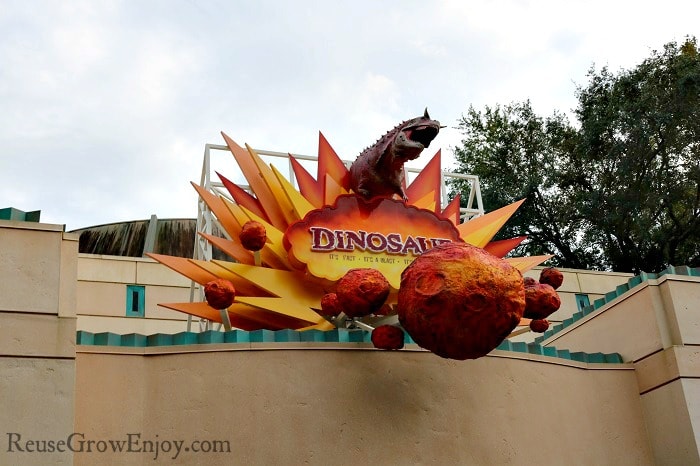 5. Dinosaur Section:
This is a great section for kids and there are some really neat things for them to see. From large dino bones to a great fossil activity where they interact with an employee and can earn a badge in the WE book. If you have kids who get a bang out of dinosaurs, don't miss this section.
There are a few really cool stores, one is right where the main dino ride comes out and the other is more of a retro feel and is closer to a large area that is set up like a cool carnival would be. It has games and rides and a few spots to eat in.
6. Safari Ride:
This ride alone is a great education. It's in the Africa section and you must do it if you can. They take a group of you out all together in this large vehicle and it's a bumpy ride that has a very authentic feel to it, but aside from that, there are tons of animals to see.
There are similar rides at other parks, and this easily tops them all. The animals roam and so you don't totally know where some of them will be and how many you'll get to see, you won't be let down. You'll see rhinos, elephants, crocodiles, lions, hyenas and more.
7. Animals:
One thing about this Animal Kingdom park that makes it different from the other Disney parks is the animals. They are everywhere in the park, and they are in great environments that feel right on with where they came from.
In Asia, there is a great section with tigers that are so gorgeous and very close to the viewing area. There is also a huge are with bats and a large aviary as well.
There are many monkeys in lots of varieties and some have huge climbing areas and seem to be showing off for you.
8. Costumes, Parades and Music:
All over the park, you will not be lacking to find shows to watch, music to listen to and fun costumes to see. They have music acts several times a day in the different sections so your kids can hear some great music from other countries and see it performed in the appropriate costumes.
There's a great parade that happens mid-day with colorful costumes. You can follow them as they dance through the streets and then they stop and perform.
There are individual performers in several areas of the park too, and those draw a crowd but it's not as big of a crowd and easier for kids to handle if they are smaller and intimidated by bigger noise.
So, do a little research before you go, and prep your kids some. Then you will truly get a lot out of this park for your whole family. It is not only a ton of fun but a great learning experience that they won't forget.
Ways To Save To Make Animal Kingdom
Enjoyable And Budget Friendly
So after reading these top eight reasons why Disney's Animal Kingdom is a great place to take the family and to learn, you may be thinking but what about the cost?
Well, there are a few ways you can still have fun and enjoy family time at Animal Kingdom without breaking the bank.
Hotels:
If you live around the park then this is not an area you have to worry about. But if you are out of state like many of use, the hotel can eat up a large part of the budget.
A few tips to avoid paying top dollar for a hotel are to look for deals and book ahead. Never just go without booking your stay first. You will always pay double if not triple if you do that. Look for deals on hotels at places like Groupon, Travelocity, LivingSocial and Hotels.com. You will be pretty shocked at how big of a discount you can get.
Park Tickets:
Another way to save on a trip to Animal Kingdom is to get discounted tickets to the park. It is not often you find ticket deals but they do pop up from time to time at places like Travelocity, Groupon and LivingSocial.
Flights:
If you will be making a trip to Animal Kingdom, for larger families it will almost always be cheaper to drive. If that is not for you, there are ways to save on flights. Just like hotels, you need to book ahead to get the best deals. Also, you can normally find cheaper flights if you look on a Wed and even early morning. Discounted airfare can be found at places like Travelocity.