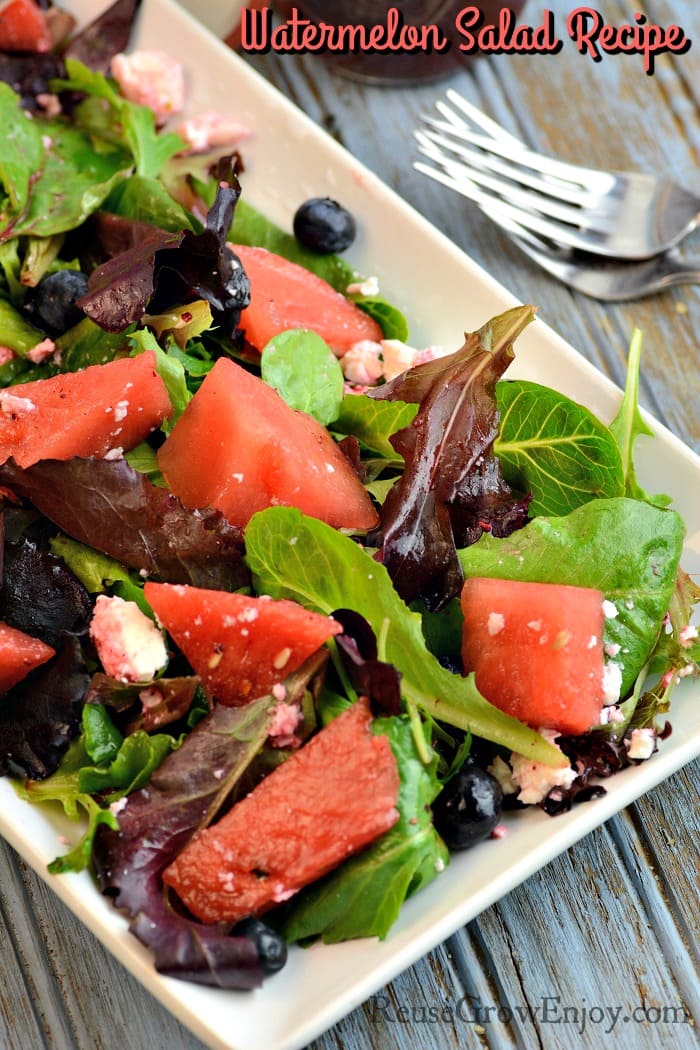 Watermelon Salad Recipe
Are you like me and spend most of the summer enjoying one salad after another? For me, something about the hot temperatures makes me just want easy and simple foods and not big hot meals.  Anyways, if that sounds like you too, I have a nice one for you to try. It is a watermelon salad recipe! The other plus side to salads in the summer, is you don't have to worry about heating up the house to make your meal.
I know some may be thinking, watermelon salad?? I am telling you it is super good! There was a day I would have never thought about adding watermelon to a salad. I would have said that sounds like it would taste funny. But now? Well now,  now I am telling you that you have to try it! You will be totally missing out on one amazing salad if you don't give it a try. Who knows, after you try a watermelon salad, you may never go back to the old boring salads you had before.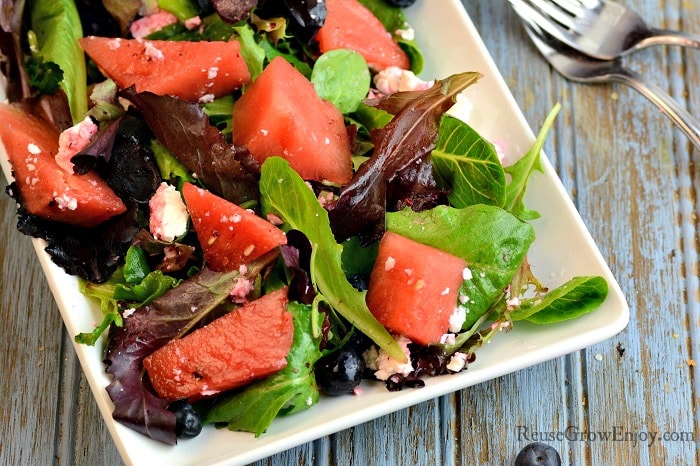 If you are wondering what kind of dressing will work with a watermelon salad, I have an answer for that too. It pairs really nicely with my Strawberry Vinaigrette Dressing Recipe. Both the dressing and the recipe for the watermelon salad are super easy to make. You do not need to be a pro in the kitchen to make them.
If you enjoyed this recipe and are wanting something new to try for Dessert, check out this Popsicle Recipe: Pineapple Cherry Yogurt Pops! They are another one that is sure to be a hit this summer! Do you have a favorite summer recipe you turn to every summer? I would love to hear them in the comments below.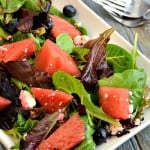 Watermelon Salad Recipe
Ingredients
4

Cups

Spring Mix Salad

2

Cups

Cubed Watermelon

1/2

Cup

Blueberries

4

oz

Feta Cheese
Instructions
In a large bowl mix together salad mix, cubed watermelon, and blueberries.

Divide to two plates

Top with feta cheese