Are you someone that loves to enjoy a nice salad? Are you open to trying new dressing recipes? Have you ever had strawberry vinaigrette dressing?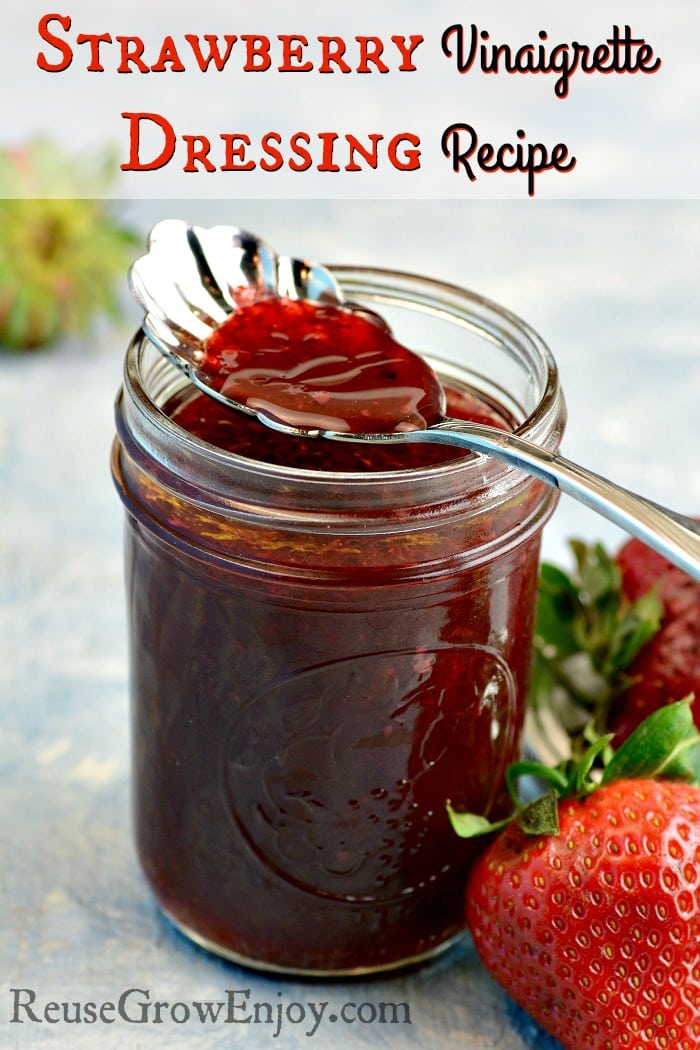 If not, you are really missing out! It adds such an extra pop of flavor to your salad. Plus how can you go wrong with making your own strawberry vinaigrette from fresh strawberries??
This time of year is strawberry season. If you grow your own strawberries, you probably already have or are getting ready to harvest them.
If you don't grow them, I am sure you have been seeing tons of sales/deals on in-season strawberries in the grocery store. Either way, you go, you should use some of your next batch of fresh strawberries to make this yummy strawberry vinaigrette salad dressing!
Just be sure that after you make the dressing, you store it in an airtight container and place it in the fridge. For a container, if you don't have a vinegar or dressing cruet, a nice glass mason jar with a lid works just as well. You can keep it in the fridge for about a week to a week and a half.
A great salad to use this dressing on is a Watermelon Salad. Oh my, the two flavors together are just outstanding! A strawberry spinach salad is also a perfect salad to use this homemade vinaigrette on.
If you have extra strawberries that you don't know what to do with you may want to check out these posts,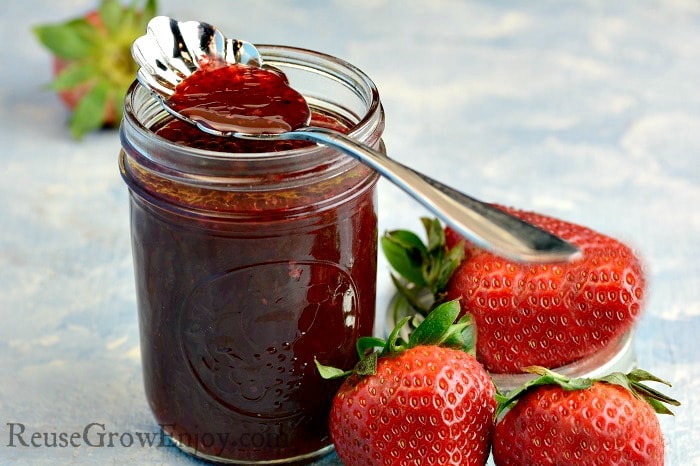 Frequently Asked Homemade Dressing Questions:
Q. Is there a way to spice up this homemade salad dressing?
A. There sure is! If you like things a little on the spicy side, add a few crushed red chili flakes (aka red pepper flakes) to the dressing and allow it to rest for about 30 minutes before using.
Q. What do you do if your strawberries are not that sweet?
A. If you got a batch that is a little underripe and just not as sweet as you would like, add a tablespoon of honey or agave syrup to the dressing.
Q. Do you have to use balsamic vinegar?
A. For the best results we really do recommend using it. However, if you do not have any and still want to make this fresh strawberry vinaigrette recipe, there are a few other options you can use in a pinch. Such as apple cider vinegar or red wine vinegar.
Q. If I don't have fresh strawberries, can I use frozen ones?
A. You sure can! If you use frozen, you just need to let them thaw and drain before making the dressing.
Q. Could I use a different type of oil?
A. While the two best options of oil are listed in the ingredients list, there are others you could use in a pinch. Such as flaxseed oil, grapeseed oil, or even vegetable oil.
Ways To Use Strawberry Vinaigrette:
Other than pouring this dressing over leafy greens or salad recipes, there are many other ways that you can use it too. Another perfect way to use it is to drizzle it over a fruit salad.
It also makes a perfect addition to a turkey or chicken sandwich. For other delicious options to use this easy strawberry vinaigrette recipe consider using it as a marinade for things like chicken, drizzling it over appetizers, or even as a dip for chicken nuggets.
Strawberry Dressing Ingredients:
1/2 Pint Fresh Sweet Strawberries
1 Cup Light Olive Oil or Avocado Oil
1/2 Cup Balsamic Vinegar
1 Tsp Salt
How To Make Homemade Strawberry Vinaigrette:
This strawberry salad dressing recipe is made with just a few simple ingredients and is super easy to make.
The first thing you want to do is wash the strawberries. Then remove the tops and leaves of the strawberries.
Add the fresh fruit to the bowl of a food processor or blender. Blend strawberries until smooth. Or if you like your dressing chunky, you can leave a few chunks.
Now add in oil, vinegar, and salt. Blend until smooth.
Pour over Salad.
Store the unused homemade strawberry vinaigrette recipe in an air-tight container in the fridge.
Strawberry Vinaigrette Dressing Recipe
Ingredients
1/2

Pint

Fresh Strawberries

1

Cup

Light Olive Oil

1/2

Cup

Balsamic Vinegar

1

Tbs

Salt
Instructions
Remove strawberry leaves

In food processor or blender place strawberries and blend until smooth.

Mix in oil, vinegar, and salt. Blend until smooth.

Pour over Salad.