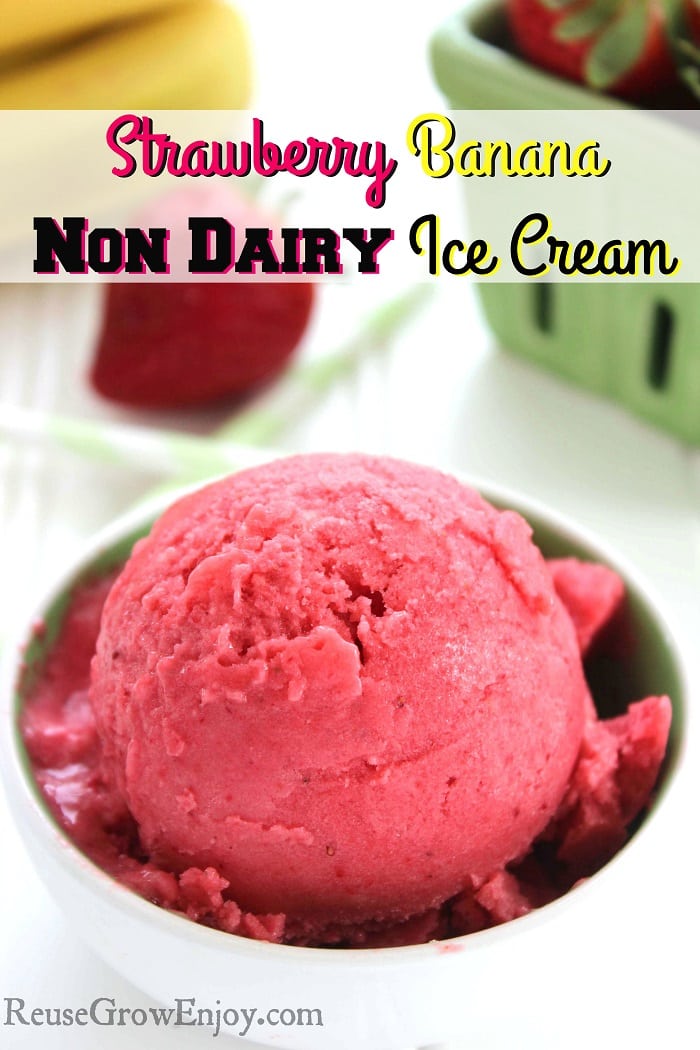 Non Dairy Ice Cream Strawberry Banana Flavor
Are you like me and love having frozen treats in the summer? But can not always handle all the milk? If you are looking for a non dairy ice cream to try, I have one for you to check out. I am always on the lookout for a more healthy way to have my treats, and not throw all caution out the window. That is why this recipe for Non Dairy Ice Cream Strawberry Banana Flavor is a perfect combination.
In this non dairy ice cream recipe, it calls for raw organic sugar because I have been trying to eat more natural and organic. If that is something you do nott have or if you need to make it sugar-free, you can adjust the recipe to fit your needs. Plus if the fruit is pretty ripe, you may not even need a sweetener, depending on how sweet you have to have your treats.
This recipe is pretty simple. The longest part is just waiting for the fruit to freeze. You do not even need to have an ice cream maker. This is simply made in a food processor or blender, depending on what you have. Plus it is a recipe that you can change up and use other fruits if you wanted. You really just can not go wrong with this one.
If you liked this recipe for non dairy ice cream, be sure to check out Popsicle Recipe: Pineapple Cherry Yogurt Pops or Healthy Peach Frozen Yogurt In Just 5 Minutes.
Non Dairy Ice Cream Strawberry Banana Flavor
Total Time
3
hours
5
minutes
Ingredients
1

lb

Fresh or Pre-Frozen Strawberries

You Can See How To Freeze Strawberries Here

2

Tbsp

Raw Organic Sugar

4

Small Bananas
Instructions
Peel bananas and slice them into chunks and place in the freezer on a cookie sheet.

Cut tops off strawberries and slice into chunks and place on cookie sheet in the freezer.

After fruit is frozen 2-3 hours, place frozen fruit and sugar in food processor or blender and pulse blend until it is an ice cream texture.

Serve or place back in freezer in airtight container.