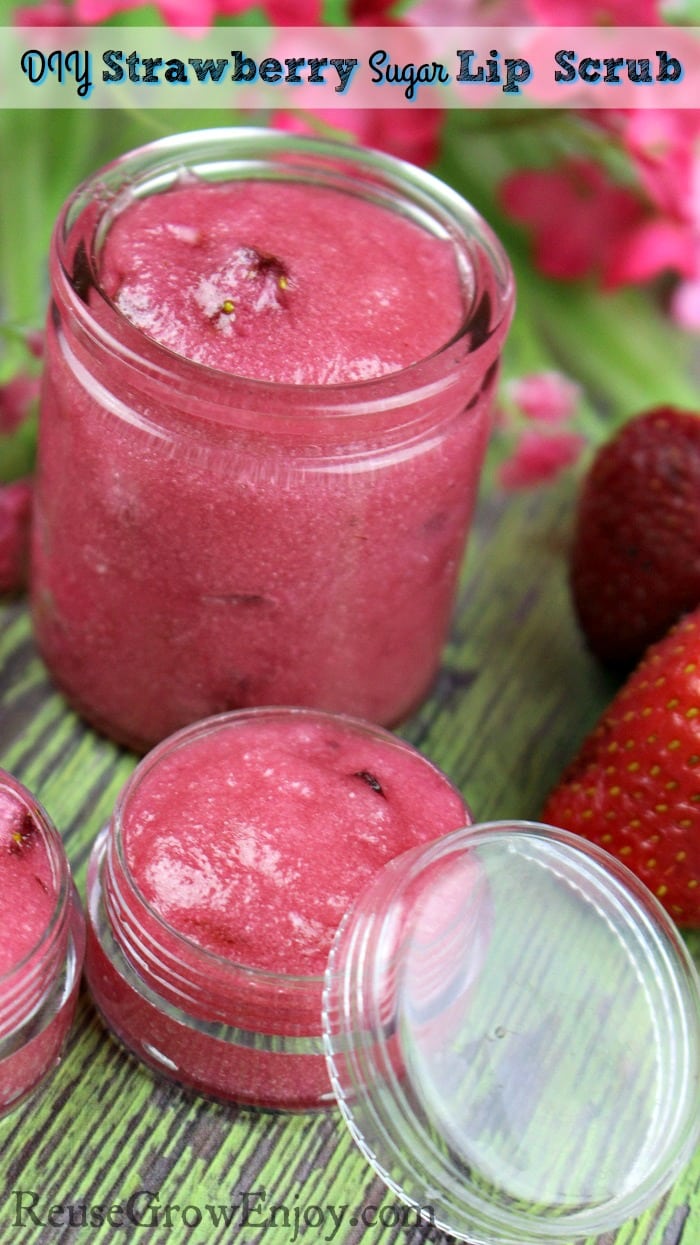 DIY Strawberry Lip Scrub
Have you been wanting to try to make your own lip scrub? If so I have a nice recipe for you to try for a DIY Strawberry Lip Scrub. It is another great way to use fresh strawberries into your beauty products. You only have to have six ingredients to make it too! Plus it is always great to make your own beauty products because you know what is in it.
This scrub in pictured in a beauty container, but you can put it in any airtight container. However if you want to give it as a gift or something, you can get the beauty containers online at places like Amazon.
This recipe will make enough strawberry sugar lip scrub to fill 2 small lip balm containers.
Ingredients: 
6 Tablespoons Granulated Sugar
3 Tablespoons Olive Oil
1 Strawberry – Puréed
1/8 Teaspoon Lemon Juice
1/2 Teaspoon Honey
2 Drops Vitamin E Oil
Directions:
First, you want to purée the strawberry with the lemon juice and set aside. You can use a food processor or blender to do that. In a little mixing bowl, combine the sugar and olive oil. Stir until well blended. Add in the puréed strawberry and honey and mix well. Add the vitamin E oil and mix until well incorporated. Transfer to an airtight container(s) and store in the refrigerator up to one week.
How To Use:
Wet lips with warm water. Generously apply strawberry lip scrub to lips. Rub in a round motion to so the sugar can exfoliate and the oil can moisturize. Wash with warm water. Pat your lips dry with a towel. Then you can apply your favorite lip balm if you would like.
If you like this post, you may also want to check out Strawberry Lemon Foot Scrub, Tips for Buying Chemical Free Makeup or DIY Cucumber Yogurt Mask.