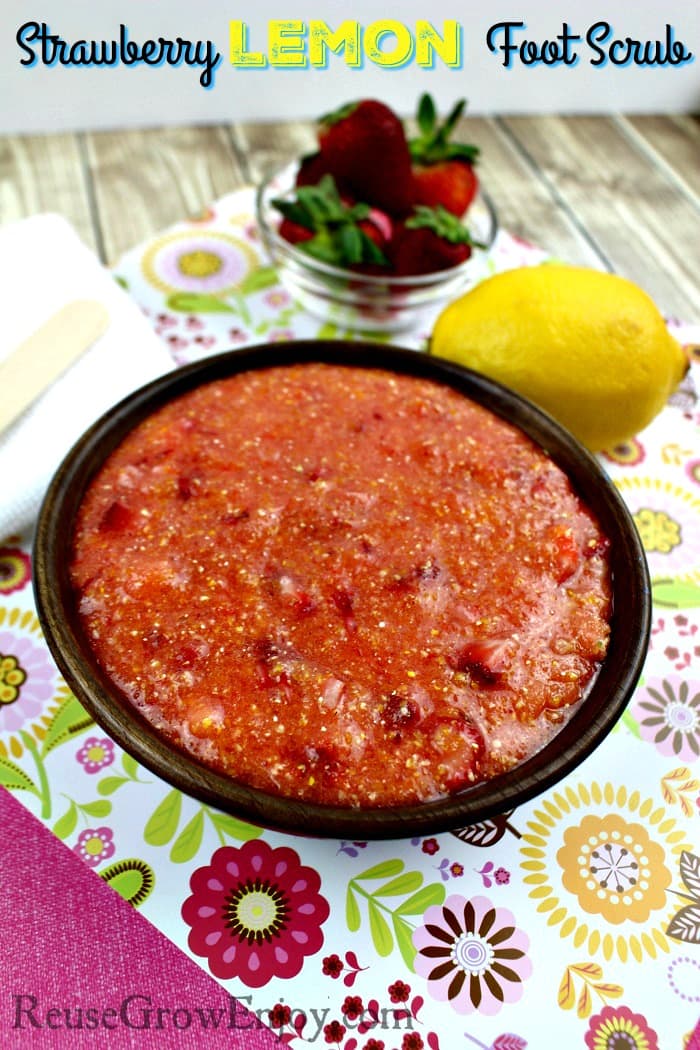 Strawberry Lemon Foot Scrub
With it being strawberry season, do you find yourself with lots of extra strawberries? If you have finished with all the freezing, drying, canning, and eating, how about using them for relaxing? When you have extra leftover strawberries, you may want to check out this awesome Strawberry Lemon Foot Scrub.
Not only is this scrub relaxing and great for exfoliating, it is super easy to make! Most of the ingredients you may already have on hand. You could even give it in a nice container as a gift. You can keep it in an airtight container in the fridge for up to one week.
Ingredients:
Directions:
Cut off the strawberry stems. Then wash and rinse the strawberries and pat dry with a paper towel. Purée strawberries in a blender or food processor. Pour puréed strawberries in a small mixing bowl. Add the sugar, salt, cornmeal and olive oil and stir until well blended. Add the lemon juice, lemon essential oil and strawberry extract (optional) and stir until well incorporated. Do not forget that if not using right away, transfer to an airtight container, preferably glass, and refrigerate up to one week.
How To Use:
Wet feet in the shower and generously apply the strawberry lemon foot scrub. Rub feet in a circular motion to allow the sugar granules to exfoliate. Keep the scrub on for a few minutes to let the olive oil moisturize. Rinse with warm water. Pat dry with towel. Apply your favorite foot cream/moisturizer.
If you like this post, you may also want to check out Oil Pulling 101 or Homemade Bug Spray.