Whole30 Ketchup Easy & Homemade
Are you doing the Whole30 diet? I am giving it a try this month and it is going well! Have not been missing a lot of foods, but have been missing ketchup! How about you? Have you been missing ketchup too? If so I have a recipe you should give a try. It is a recipe for Whole30 Ketchup that is very easy and homemade.
Yes, there are ones that you can buy at the store that are Whole30 approved, but finding them can be hard. When you can find them, they are really high priced. You can also find it on Amazon like the Tessemae's All Natural Ketchup, but when you add shipping, it too is high. This recipe is very low priced to make and only uses a few ingredients, un like some other recipes I have seen. I hate when I find a recipe that I have to buy 15 things to make it, and most of the items I will never use before they go bad.
If you are new to Whole30 and not sure what it is, you can read about it on the Whole30 site. There are also a few great books you can get on Amazon, like The 30-Day Guide to Total Health and Food Freedom or It Starts With Food.
This recipe for Whole30 ketchup is not going to be as sweet as you make have had in the past. That is because we are not allowed to use sweeteners on Whole30. But I think you will find it will do the trick for putting on your burger or dipping your baked potato wedges in.
Anyways, you ready to get to the recipe? It only takes about 5 minutes to cook. If you want a little thicker ketchup, you can cook it a little longer. After you try this recipe, you may also want to check out my Whole30 Meal Plan For A Week.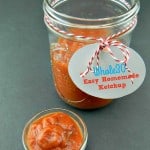 Whole30 Ketchup Easy & Homemade!
Ingredients
1 6 oz Can Tomato Paste

1

Cup

Water

1

& 1/2 Tsp Apple Cider Vinegar

1/2

Tsp

Salt

1

& 1/2 Tsp Onion Powder
Instructions
In medium sauce pan add all ingredients. Heat on medium heat and stir well. Let it cook for about 5 minutes, while you keep stirring. If you want it a little thicker, you can cook a little longer.