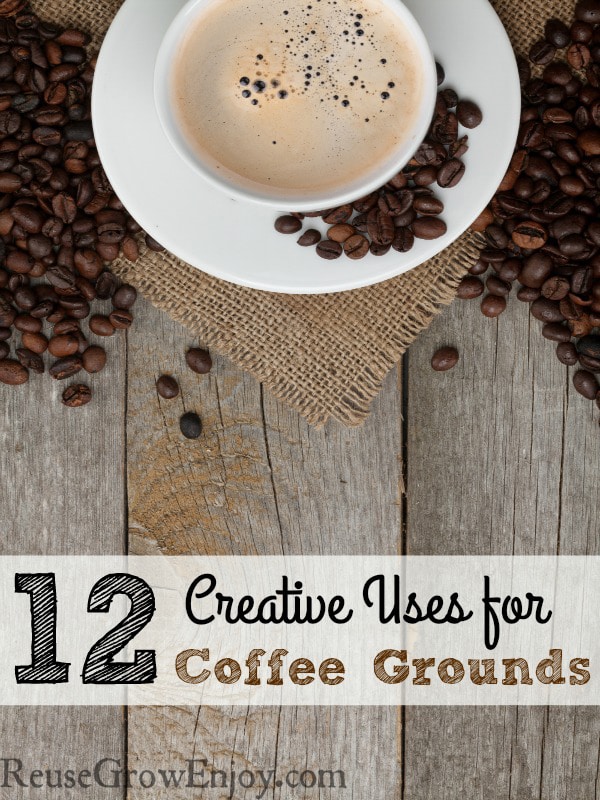 12 Creative Uses for Coffee Grounds
You may love the smell of coffee, you may love the taste of coffee. And while you would never waste a precious drop of it, how often do you just toss away those used coffee grounds when done brewing a pot? Many people do, but after you check out these 12 creative uses for coffee grounds, you never will again! Take a look below at 12 creative uses for coffee grounds that you need to try the next time you brew a cup of joe.
1. Get rid of stinky hands.
When your hands stink from cutting onions or other pungent foods, rub some coffee grounds on them and rinse. The grounds will neutralize the odor.
2. Scrub your pots and pans clean.
Place a spoonful of grounds on the pan and use a cloth or sponge to scrub clean. Coffee grounds make a wonderful scrubbing solution.
3. Give desserts a pop of flavor (and caffeine)
Add some coffee grounds to your brownie, cake, and cupcake mixes. It will add some coffee flavor to the mix and also give the dessert a pop of caffeine.
4. Scrub your sink.
Pour coffee grounds into the sink and scrub with a sponge and hot water. They will neutralize odor and help break up grease and grime.
5. Make your flowers bloom in various colors.
Mix some coffee grounds into the soil and it will alter the ph balance of it. This change will also affect the blooms, and cause them to change color. This is especially effective when you try it with hydrangeas.
6. Get rid of garden pests.
Place coffee grounds around your garden plants and slugs won't dare come near. You will also find that slugs are deterred by coffee grounds, so don't be afraid to pile them on.
7. Age wood and paper.
Mix some coffee grounds with water to create a stain that is perfect for aging wood and paper. Brush it on and see how quickly the item gets a darkened, aged look. You can even use this mixture to dye fabric.
8. Reduce puffiness.
Coffee grounds are perfect for reducing puffiness in the skin. You can add grounds to your body scrubs and shower scrubs and they will get to work right in the shower. You can also dab some under the eyes to reduce swelling and tired eyes.
9. Season meat.
You can use coffee grounds to add unique flavor to meat. Just add some to your marinades and see what a difference it makes. Before you toss the meat on the grill, you can even use coffee grounds to help scrub the grates clean.
10. Boost your hair color.
If you have dark hair, you can try rinsing your hair with coffee grounds to help give it some natural color. Coffee grounds make an excellent, natural dye and can even help enrich your hair in the process.
11. Make your garden plants happy.
Tomatoes and carrots both love coffee grounds, so it is suggested you use the grounds in place of fertilizer or mulch. Simply place the grounds around the base of the plant and they will feed the plants generously.
12. Add it to your face masks.
Coffee grounds make a natural exfoliate while also addressing inflammation in the skin. Add coffee grounds to your face masks to give them a natural yet effective boost.
Coffee grounds can be quite beneficial in all areas of your home, so give these tips a try and see if you don't start looking at coffee grounds in a whole new light.
If you are getting your grounds from K-cups, you may want to check out my tips for reusing k-cups as plant starters.