Are you a coffee drinker? Do you use k-cups? Have you ever wondered what type of k-cup uses you could reuse them on? I myself am a big coffee drinker and do use k-cups.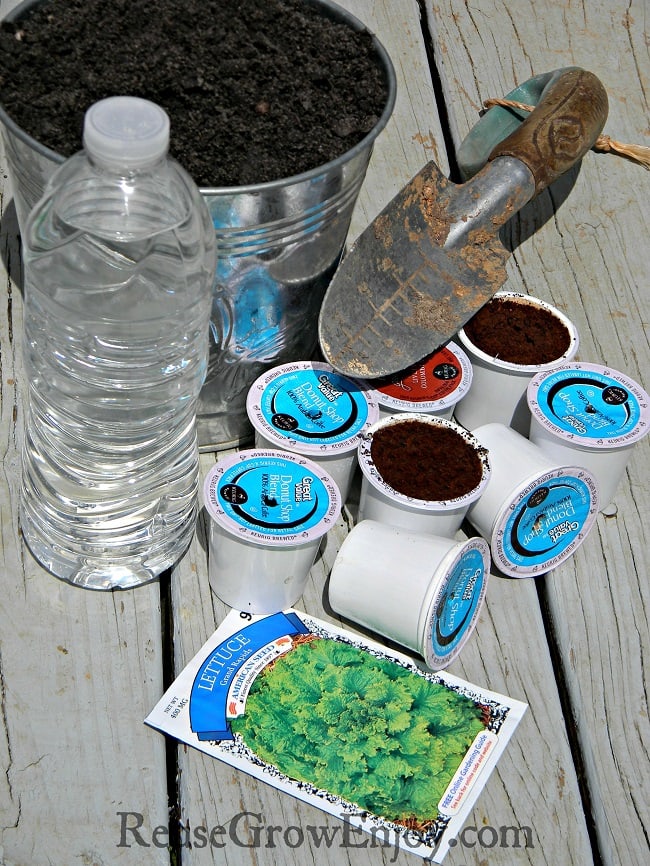 K-cup Uses DIY Plant Starters
While I do try to use reusable k-cups when I can, I do also use regular k-cups. When I do, I try to figure out ways to reuse them so I don't just have to toss it in the trash.
One way I have found for k-cup uses is to use them as seed starters. Not only can you reuse the k-cup you can even reuse the coffee grounds and the filter too!
If you are looking for even more ways to reuse k-cups, here are a few posts to also check out.
Below you will find super easy directions for k-cup seed starters.
Supplies:
Water
Potting Soil
Used K-cups
Seeds
Garden Tool
Plant Starter Directions: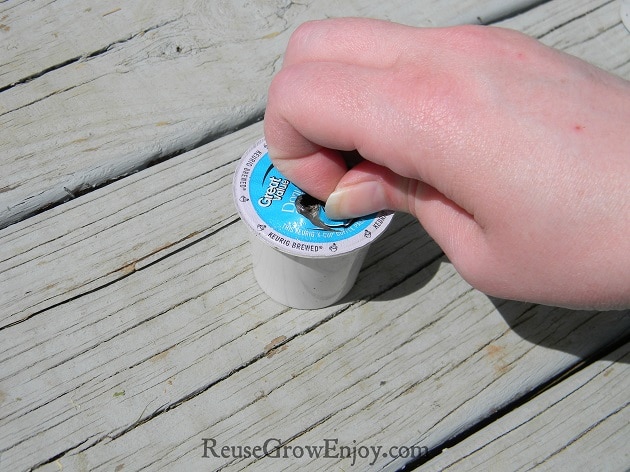 First, pull off the foil top. This part you will need to toss in the trash as it is not reusable or recyclable.
Then dump the used coffee grounds into the potting soil mix. Be sure that it is mixed in well.
If you will be doing a lot of them you will need to dump some in the garden or compost pile. You don't want your soil to be unbalanced by having mostly coffee grounds.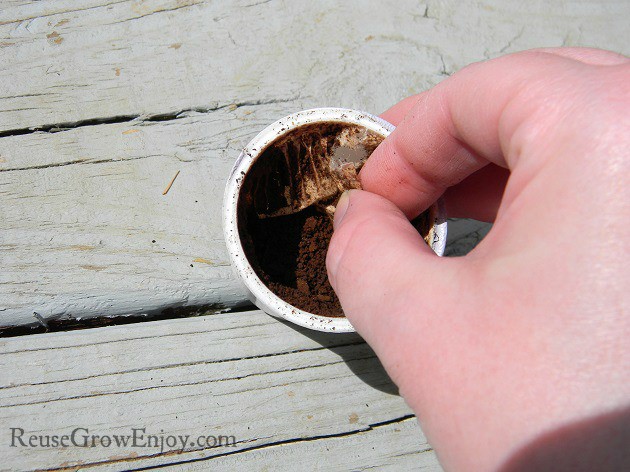 Now pull out the filter from the k-cup. This can also be tossed into your compost. Or in your worm compost.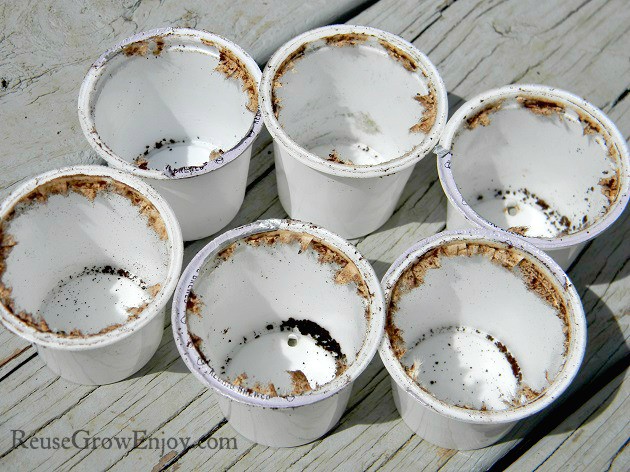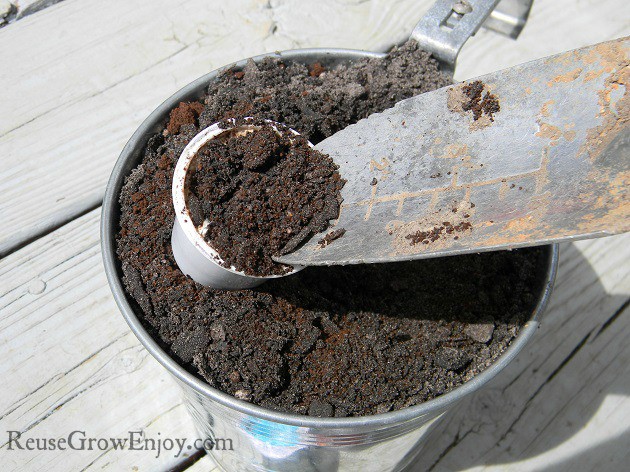 Fill each cup with the potting soil and coffee grounds mixture. You don't have to worry about making drain holes as there is already one at the bottom of each cup from the coffee coming out.
Planting The Seeds: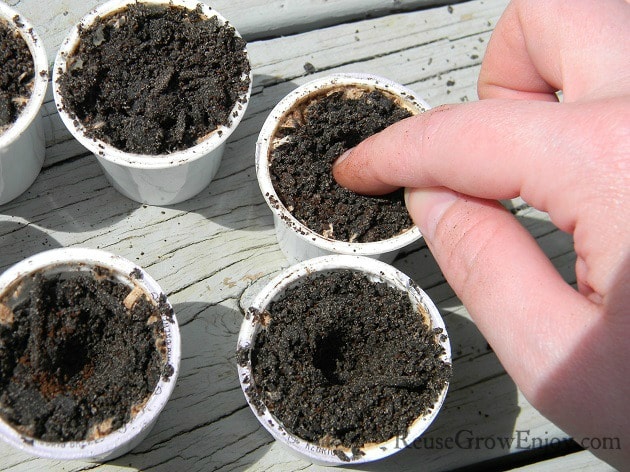 Now with your finger, make a hole in the center of each cup. It only needs to be about 1/4 inch deep.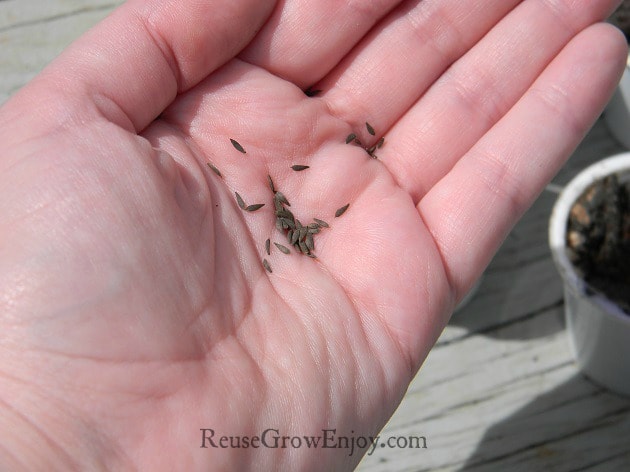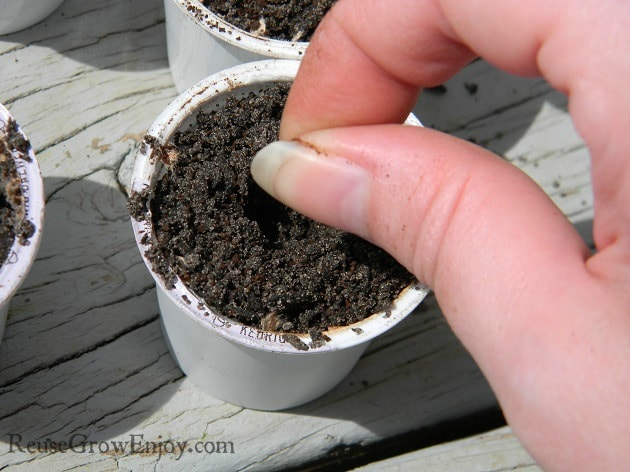 Place 2-3 seeds in each cup. I am planting lettuce in my cups. If you have really good germinating seeds you will only need to plant 1-2 seeds in each cup.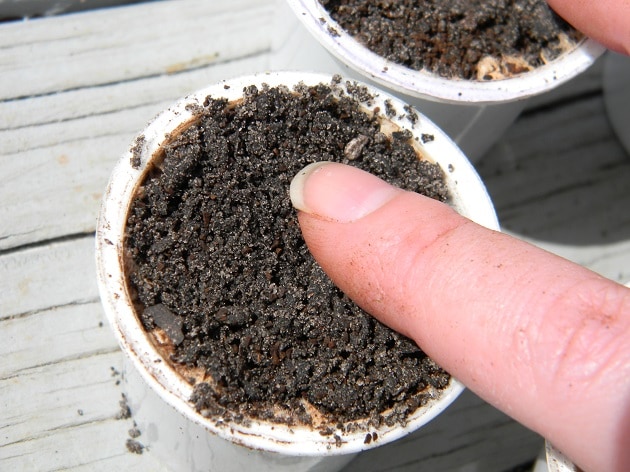 Using your finger, cover over each hole with the soil from around the hole.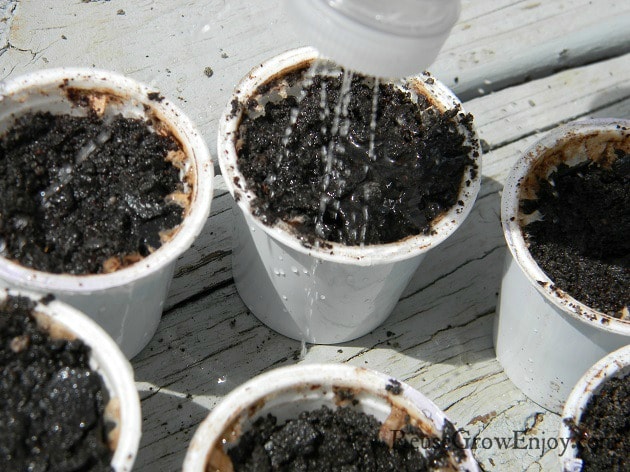 Now lightly water each cup, so that they are moist. To do this, I use a water bottle that I poked holes in the top with a stick pin. It works as a small watering can. You could also use a spray bottle to mist the soil.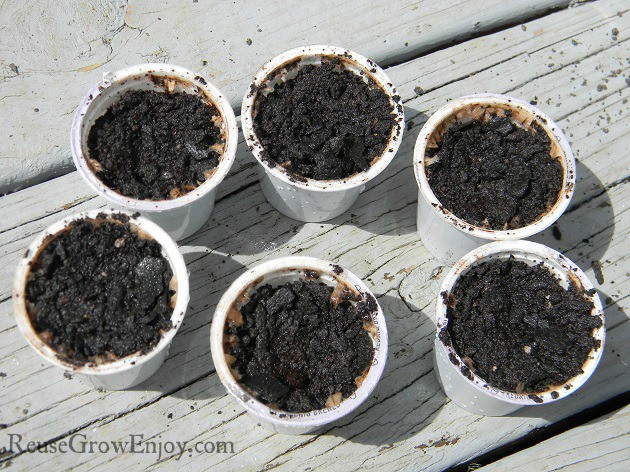 Every two to three days give them another light watering. Make sure you place the cups somewhere that is warm for faster sprouting.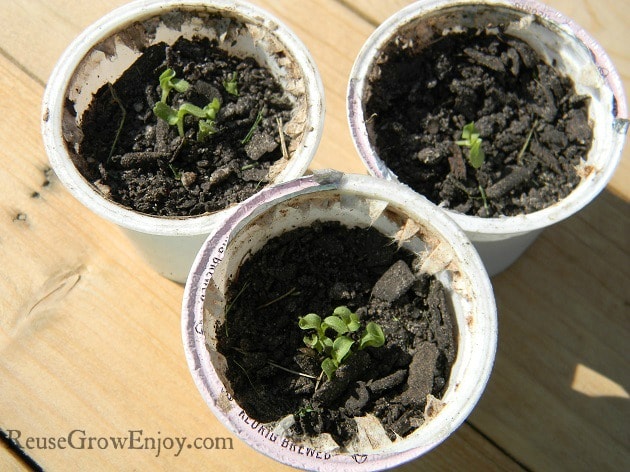 Depending on what type of seeds you plant, they should pop up in 2-3 weeks. When this happens you will want them to be somewhere they can get sun or be under a grow light.
Then in about 4-6 weeks, you can move them to your garden or pots.
You will have to remove the plant from the k-cup before you plant it. Unlike when you use egg cartons or tp tubes seed starters, you can't just plant it right in the ground with the plant.
However, if you are careful about taking the plant out, you should be able to reuse it at least a few times for starting your seeds.
Do you have other k-cup uses that you use? I would love to hear them in the comments.