Finished with your coffee and wondering what to do with the used K-cups? There are many different ways to reuse a K-cup and I'm going to share a few.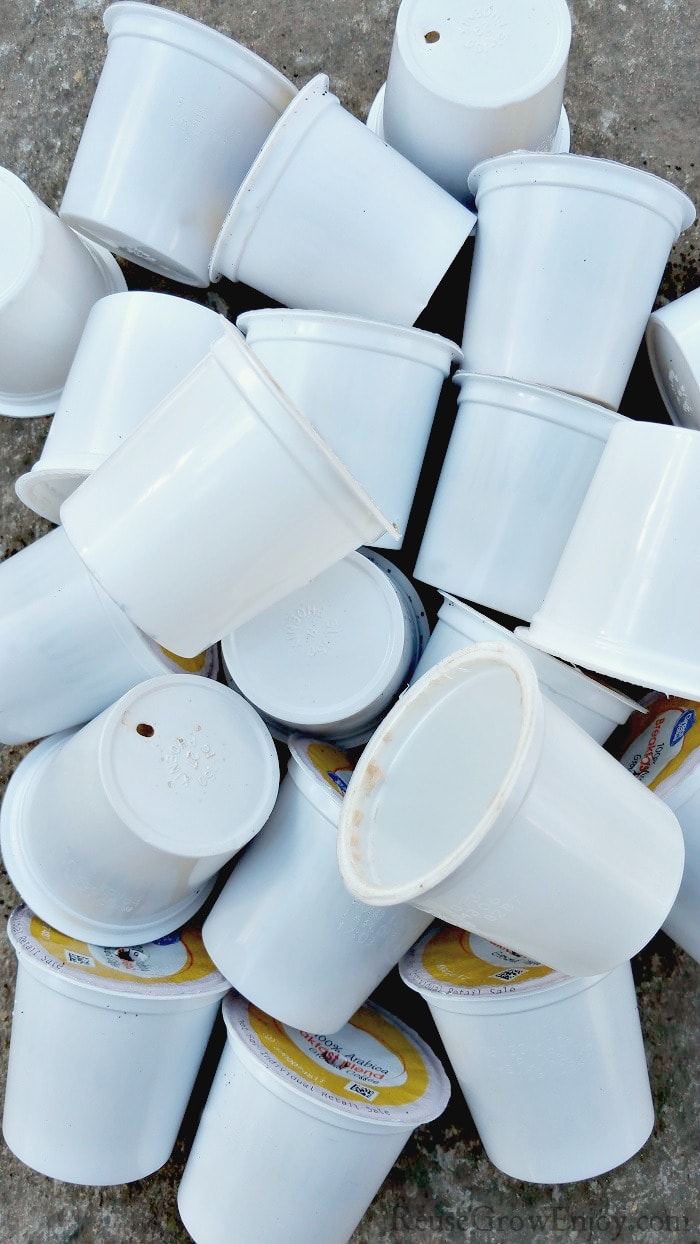 Reuse A K-cup – Ways To Reuse & Upcycle Used K-cups
When the came out with single-use coffee makers it was a wonderful thing in the way that you could have a fresh hot cup of coffee in seconds. However, it also started another use of k-cups in the landfill. If you think outside the box there are many different ways to reuse a K-cup. You just have to get a little creative!
To help you get started, I have put together this list of different ways you can reuse a K-cup. So the next time you make a cup of coffee, think about saving the cup so you can reuse it!
If you don't want to spend time finding ways to reuse them, then maybe try a reusable K-cup to cut down on waste.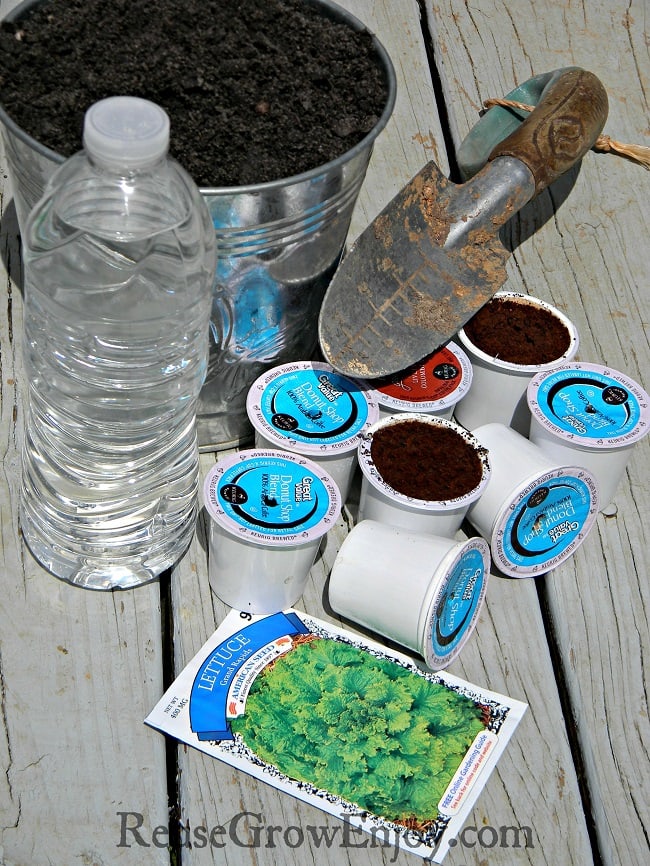 K-cups make wonderful plant/seed starters! You simply clean them out fill with dirt and put the seeds in and wait for the plants to grow. Then just transplant them when they have outgrown the k-cup.
Hanging Light Ball:
Many have done this using plastic cups but it can also be done using K-cups. Clean out the k-cups really well. Then put a larger hole in the bottom. Push a led string light bulb through the hole, making sure to put a cup on each bulb.
Then start attaching the cups to each other with a dot of hot glue or a stapler. You want to keep attaching them until you have formed a ball shape kinda like a disco ball.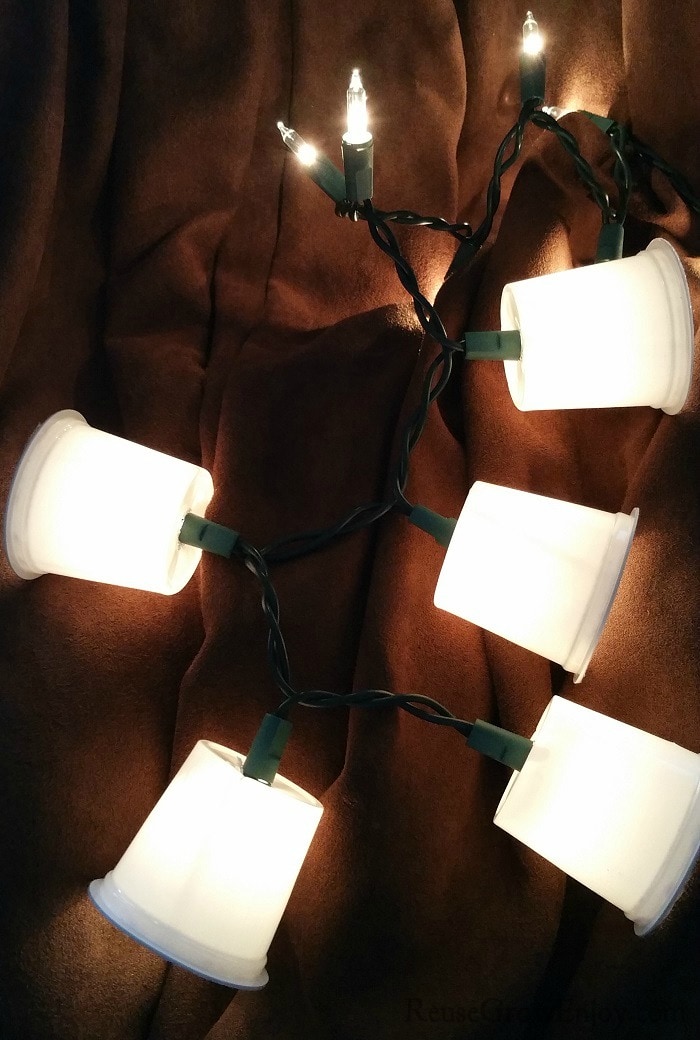 Patio Light Covers:
Get a thing of mini led string lights and before you hang them on the patio, you can add k-cups to them. Start with clean empty k-cups. Put a hole in the bottom that is just big enough to push the light through.
If they pull out too easy, use a dab of hot glue to hold in place. Just be sure the setting is on low heat as you do not want to risk melting the wire coating.
Supply Holders:
You can reuse a k-cup to hold things like craft or office supplies. Clean the cups out place them back into a K-cup carousel holder. Then fill it with things like paperclips, tacks, beads, rubber bands and anything that is small enough to fit into the cups to be organized.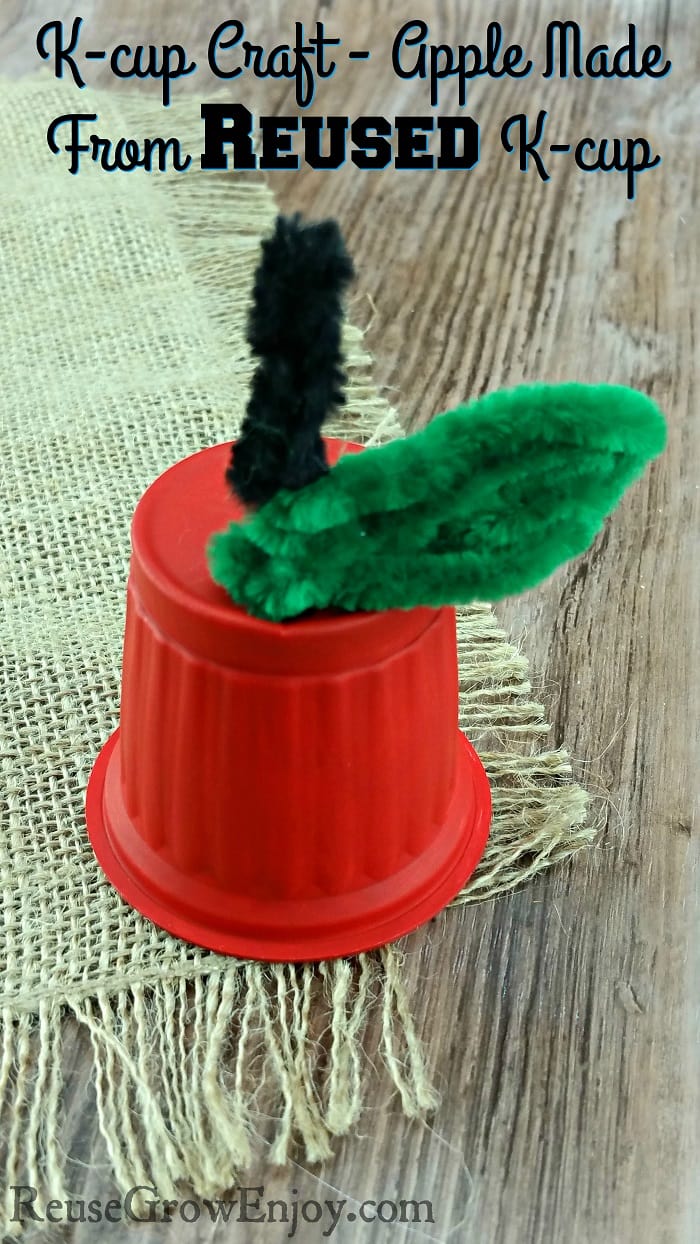 Apple K-cup Craft:
Here is a fun apple K-cup craft to do with the kids. You can reuse a K-cup to make it look like an apple. This would be an easy and fun fall craft to do with the kiddos. You can see step by step how I made the one pictured above here.
Small Plant/Air Plant Hanging Holder:
Not only can you start planters in K-cups, but they also work great for a small plant or air plant hanging holders too. Start with an empty clean K-cup. Make a small hole at the top of the cup on each side.
Then tie a little piece of string or twine through the hole and then again to the other hole. You want the string to be long enough to hang it from a hook in front of a window.
Then fill with a little dirt, plant your plant in it and hang it up. You could do a few different ones at a few different lengths to make it look artsier.
Graduation Caps:
If you know someone that will be graduating, start saving your K-cups! You can make them into little graduation caps that can be used as cupcake toppers, in flower arrangements, table decorations or string them up to make a banner.
Simply clan out the cups really well. Flip them over and then on the bottom glue a little square of construction paper or cardstock paper in your school colors. Now grab a few pieces of embroidery floss to make a tassel and glue it in the center of the paper.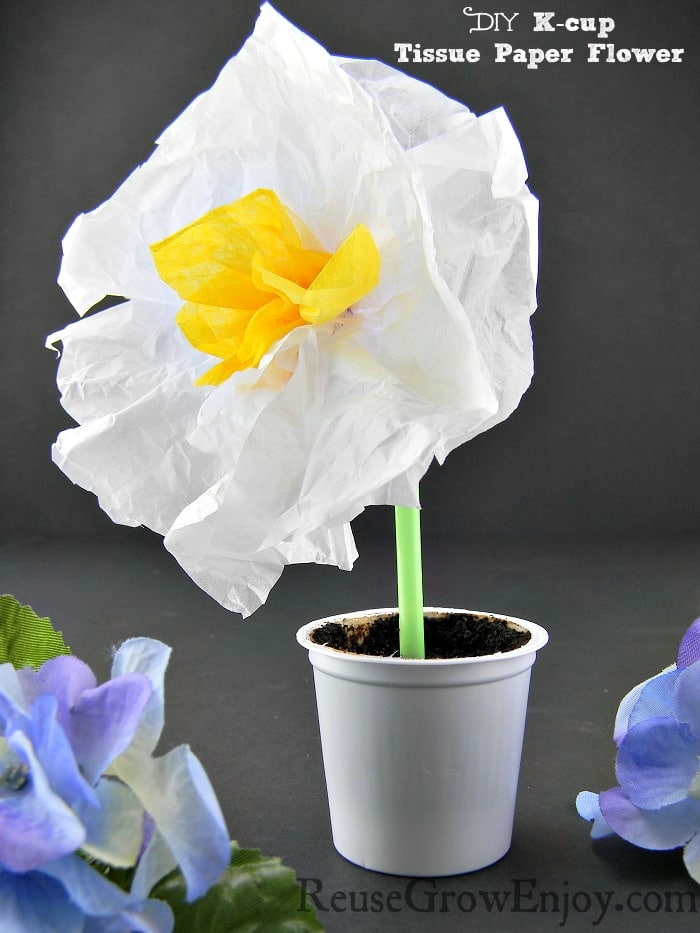 K-cup Tissue Paper Flower:
I think this may be one of the most adorable ways to reuse a K-cup! If you are looking for a fun and cute spring craft to do, be sure to check out how to make this DIY: K-cup Tissue Paper Flower! This craft even reuses the coffee grounds!
Countdown Calendar:
Have a special day coming up and want to count it down? You can make a countdown calendar with K-cups. Cut a piece of cardboard into the shape you want. Then glue empty cleaned out K-cups to it.
Put a little prize or treat in each up. Then glue a piece of tissue paper over the top. Now take a permanent marker and write the day on the outside of the tissue paper.
Now on each day leading up to your special day, you can punch a hole in that day's tissue paper and get the treat. Another twist for this would be to put an activity to do inside each one and not a treat.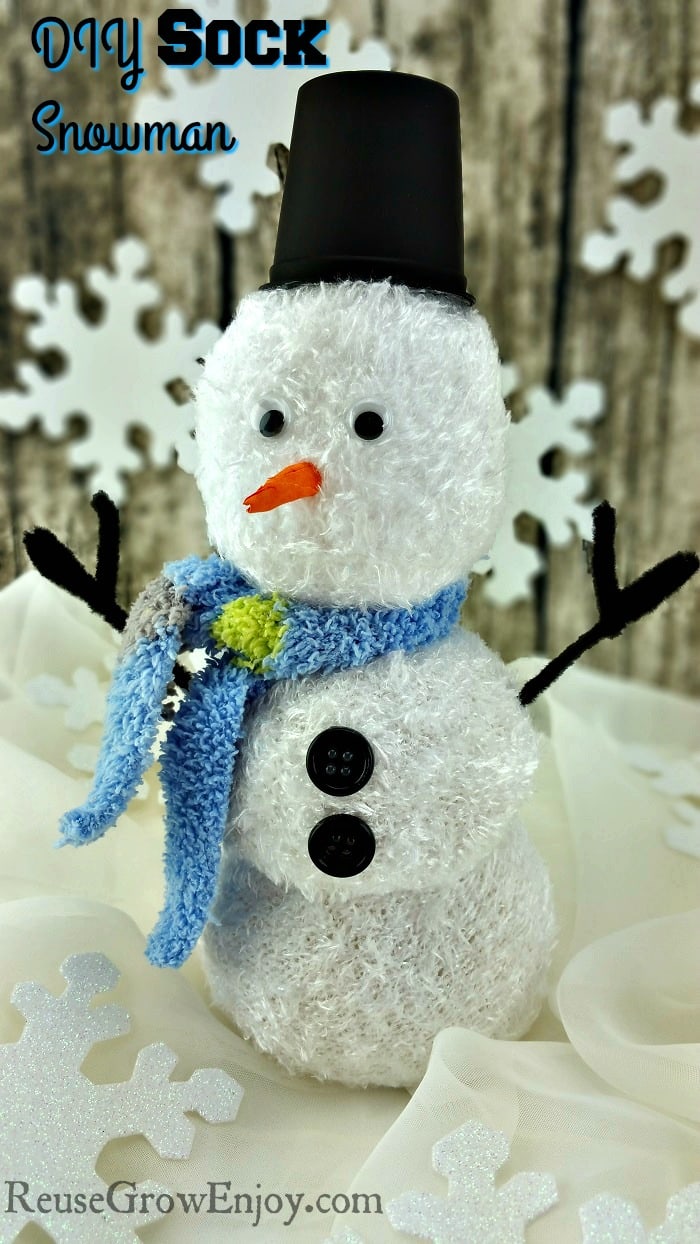 Snowman Hat:
K-cups make wonderful hats for all kinds of crafts and play. I reused a K-cup as a hat when I made this cute fuzzy sock snowman. Simply clean and wash out the K-cup and then use as is or paint it to the color you want the hat to be.
Marquee Style Light/Sign:
You can reuse a K-cup to make a marquee-style sign. Get a piece of board or cardboard and cut it to the shape you want. Then using clean washed K-cups glue them to the board in the shape you want. You could spell out a word, make a shape such as a heart or whatever you want.
Next, drill a hole through the board and through the center of each k-cup. Then push a LED light through each hole. Lean it up on a table or dresser and plug it in. Now you have a cute new light/sign!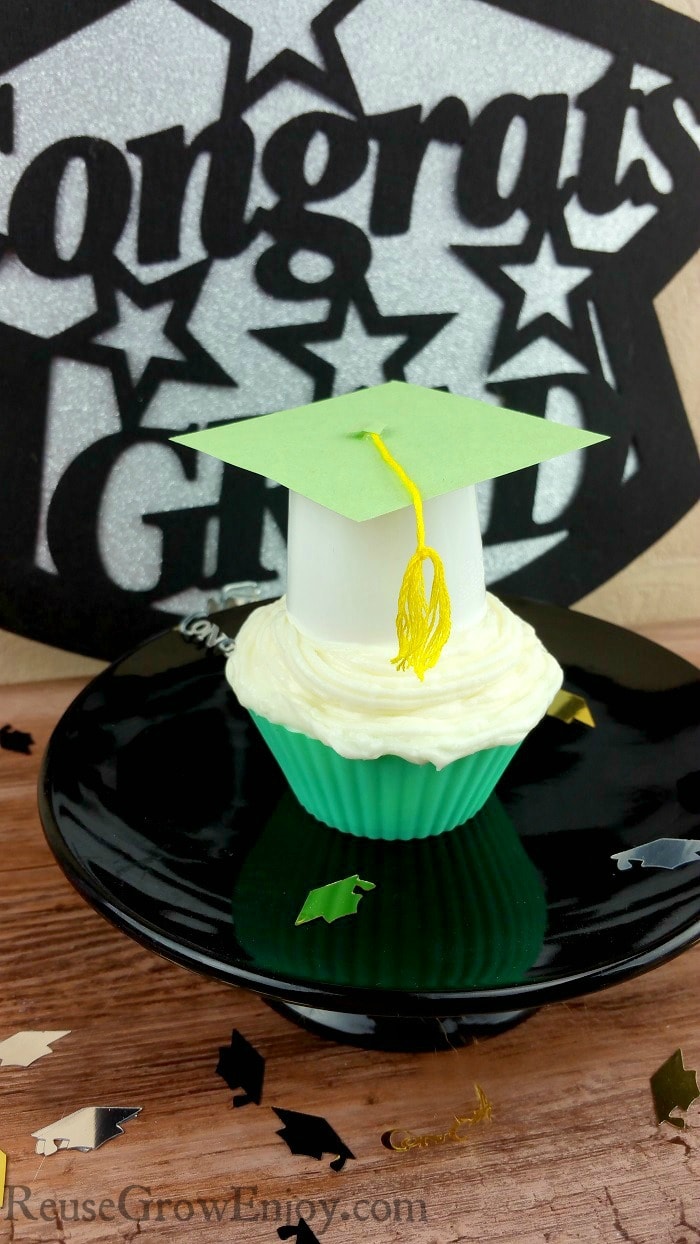 Graduation Cupcake Toppers:
You can make cute and super easy graduation cupcake toppers in just a few minutes. You just need some paper, string, hot glue and k-cups. I have a full step by step how to if you want to check it out.
Now that I have shared just a few different ways to reuse a K-cup, which will you try first? Have another way you like to reuse your K-cups? I would love to hear it in the comment section below!
Here are some other great ways to reuse everyday items!