If you are looking for ways to reuse everyday items, this post is for you! I am going to share many different ways you can reuse things you normally trash!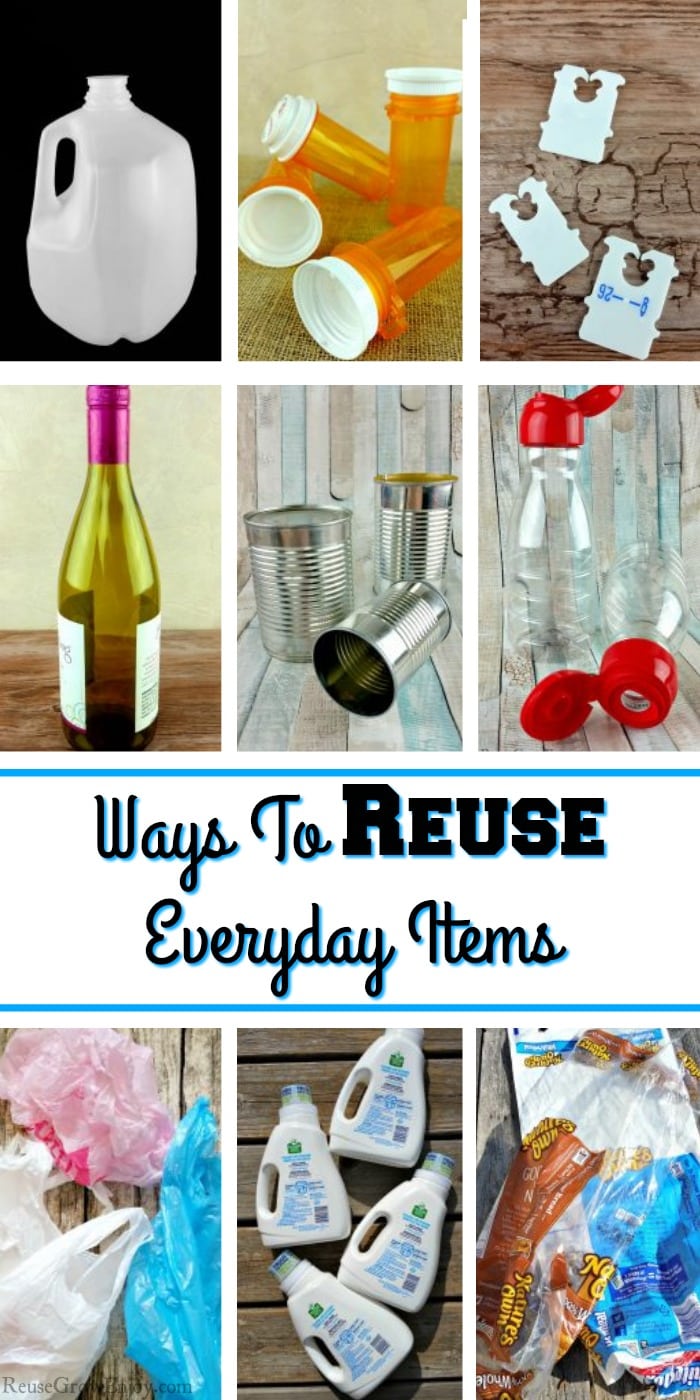 Ways To Reuse Everyday Items
It doesn't matter if you are someone just starting out on the recycle/upcycle idea or someone that has been doing it for years. Either way, you are sure to find some tips and ideas you may have never thought of before. There really are endless ways to reuse everyday items.
Have an item you don't see covered here that you would like to get some ideas for? I would love to hear it! It may be something I have many ideas on how to reuse and just have not gotten around to posting it yet, so give me a push!
Same goes for if you have an idea for something that I have not included in this list. Feel free to leave comments on how you like to reuse an item. I am sure others would love to hear it as well as much as I would!
Below you will find a clickable image of each item. That image (or the text link below the images) will take you to a page full of ideas to reuse just that item.
I will be updating this list with other ideas as I get to them. So feel free to bookmark this page or pin it on Pinterest and check back to see what new ideas have been added.
Many Different Ways To Reuse Everyday Items
Did you know there are so many different ways to reuse?
As you can see, there really are not too many things that you can not reuse in some way or another. And We have only hit on a few of the everyday items in the house, there are so many more!
If there really is no way you can reuse it, at least try to recycle it. If that fails, then maybe try and make a different choice the next time you are shopping.
Try to get things you know you will be able to reuse or at least recycle. One by one, if we all help out, we can make the earth a little cleaner and healthier. After all, we do have to live here, well unless they really do figure out a way for us to move to space 😉
Remember, if you have an idea or a way you like to reuse an item, please leave it in the comments below. We want to hear everyone's ideas!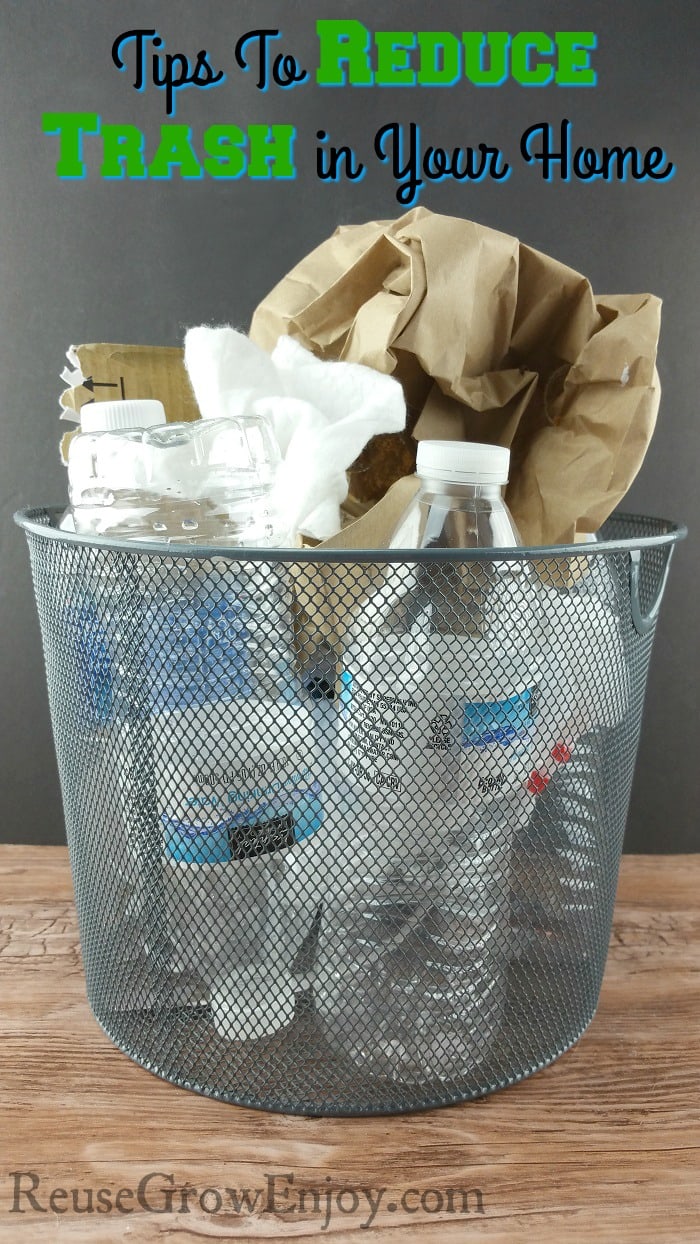 Tips To Reduce Trash in Your Home
There is a woman in New York who can fit all the trash she has from the last 2 years in a 16 oz mason jar. This is a pretty extreme case though and it isn't easy to achieve.
But that doesn't mean that you can't reduce the amount of trash in your home. There are a few simple things you can do to reduce the trash in your home and put you on the path of a 16 oz trash can if that's your goal.
Buy Packaging Free:
Most foods these days come in some kind of packaging either a box or wrapped in plastic. But there are some stores where this isn't the case. You can buy in bulk, using your own reusable bags instead of the thin plastic ones the store provides.
Bring your own containers and shop at meat counters or butchers. In some places, you can even find milk and juice in glass bottles that you can return. Buy fresh bread that is wrapped in paper or straight from a baker with no wrapping at all.
For non-food items try to eliminate packaging completely or, if you can't avoid it try for compostable rather than plastic.
You can also bring your own reusable shopping bags to the store. That way you do not have to worry about having a bunch of plastic shopping bags kicking around.
I have tried a bunch of different ones and LOVE the ones with zippers on them. Keeps things from coming out of the bag in the car.
Make Your Own Individual Sized Foods:
Now you might be wondering about those individually packed yogurts or your favorite snack bars. For yogurt, buy a large container. They use less plastic than the individually sized containers and you can reuse them around the house.
If you still want to bring yogurt with you to school or work get a small reusable container with a screw on lid. Small glass mason jars work well too.
For those snack bars, check online for a copycat recipe. There are dozens of sites dedicated to remaking every delicious treat you can think of. By making them at home you remove wrappers and you get to adjust the recipe any way you want.
Banish Straws or Buy Reusable:
Straws are one of the most harmful plastic items you can throw away. They're one of the most common things found in the stomachs of dead sea animals. Because they're one-time use, not to mention flimsy you will end up throwing away a lot of them in your lifetime.
If you need to have straws, you can buy stainless steel straws. The straws, if properly maintained, can last you…well…as long as a spoon might. Be sure when you buy your stainless-steel straw that you also get a straw brush. This will help you keep it clean and bacteria free.
Request Zero Plastic Packaging When You Order Online:
You order a shirt online and it comes in a box. Inside that box is your shirt in a plastic sleeve. Of course, you aren't going to do anything with that sleeve now. It's just trash.
Or even worse, packaging fillers. Some companies use Styrofoam, some use plastic pockets filled with air. Both just end up in your trash can.
So, when you order something online request they skip the unnecessary packaging. They may not do it, but if enough people request it often enough then these vendors might get on board.
If you can not get it removed from your order, try to find some way to reuse it to reduce trash and keep it out of the landfills. There really are endless ways to reuse things such as the ideas linked above in this article.
Move Your Bills Online:
One place you can reduce trash from your home is with your monthly bills. Every month you might get up to a dozen envelopes, all of them with those plastic windows. But if you move your bills online the letters will stop.
Connecting them with your bank account and doing everything digitally removes all those bills. You'll still get statements from your bank from time to time but that isn't really a bad thing.
There you have it! Just a few ways to reduce the trash in your home that are not difficult to do. Though they may require a bit of research before you go out shopping.
Eliminating trash is not only good for your state of mind but also the environment. So, what are you waiting for? Put together a plan that works for your family and get out there!
If you can't reduce the trash in your home, then try and use a few of the ideas above for ways to reuse the items and packaging you do end up with.