Once upon a time, a mother would have never thrown away a baby food jar. These little glass jars have so many uses, that getting them with your baby food is like an added bonus!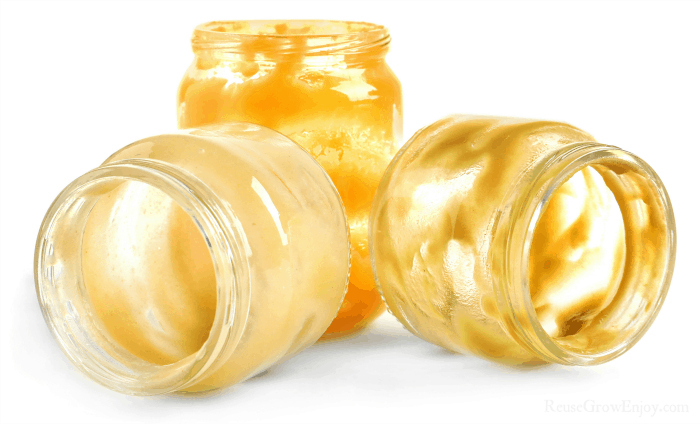 8+ Creative Uses For Baby Food Jars
Perhaps in the past, you have just opted to recycle them or toss them in the trash. But the truth is they have so many uses they are worth hanging onto.
Take a look at these 8+ creative uses for them. This list will get you started but there really are tons of ways you can reuse these handy little jars. You will see why you should never toss one of these jars again!
Store Small Snacks:
If you like taking snacks on the go, using plastic baggies is costly as well as wasteful. Instead, baby food jars are great for holding small snacks such as nuts, raisins, and goldfish crackers!
The best part is when the jar is empty, you can simply wash and reuse it.
Keep Jewelry Safe:
Small jewelry pieces can be hard to keep organized and safe. Use baby food jars to keep jewelry organized. You can label the jars and sort them according to type such as earrings, earring backings, rings, etc.
When traveling, these small jars are ideal for keeping jewelry pieces safe.
Baby Food Jars Are Great Water Jars For Painting:
Do you have kiddos who love to get crafty? Baby food jars are excellent for painting projects. Fill them with water and just add brushes.
When children use watercolor trays, they will like having the water jars to rinse their brushes in.
Store Finger Paints and Slime:
If you make your own finger paints and slime, these jars are great for holding them. The lids will help keep the air out so the paint or slime stays fresh.
Baby food jars are great for other homemade projects such as fluffy slime, obleck, gak, floam, and more!
Store Homemade Sugar Scrubs:
Do you love a good DIY sugar scrub? A baby food jar is a great way to store and even gift these scrubs. The lids will help keep the scrub fresh, and the jar can easily be dressed up with a label and ribbon for gift giving!
Store Small Crafting Pieces:
Do you have a hard time keeping your craft supplies organized?
Use baby food jars! Baby food jars are ideal for holding those small crafting pieces such as googly eyes, beads, pom poms, ribbons, pins, and so much more. Just add labels and you have instant organization.
Store Your Hardware:
Don't you hate it when you can't find nails, screws, nuts, and bolts? Use these handy little jars to keep these items organized.
Simply sort by type and add labels and you are all set. The jars are a great way to keep these small items off the floor and at your fingertips.
Create Your Own Spice Jars:
If you grow your own herbs, hang onto glass food jars so you can use them to store the dried, crushed herbs. Baby food jars make amazing spice jars.
All you need to do is dry and crush your fresh herbs. Then, add them to the jar. Add a simple label and in no time you will have a set of spice jars ready for use!
Snow Globe:
If you like to make your own little snow globe these little jars work great for that! You can simply glue what you want to the underside of the lid, fill the jar with oil and a little glitter. Then glue the lid in place!
While I did not use a baby jar to make this Lego Snow Globe, you can still use the same steps to get an idea.
How To Clean Baby Food Jars:
Cleaning baby food jars so that you can use them again is a simple process. Soak them in hot, soapy water for an hour or so to remove the label and any label residue.
Then simply rinse. You can also wash them in the dishwasher, just remove the label prior. Don't place metal lids in the dishwasher as they will rust. Instead, wash and dry these by hand.
If you have trouble getting the label off you can use white vinegar or GooGone and it will come right off.
As you can see, there are so many ways to put these little glass jars to use long after the baby food is gone! Consider these 8 creative uses for baby food jars, and see why hanging onto these jars is always a great idea!
Do you have a way that you like to reuse these handy little jars? We would love to hear it in the comments below.
Looking for even more ways to reuse the items you normally toss in the trash? Be sure to check out my post on Ways To Reuse Everyday Items. It is packed with tons of great ideas!