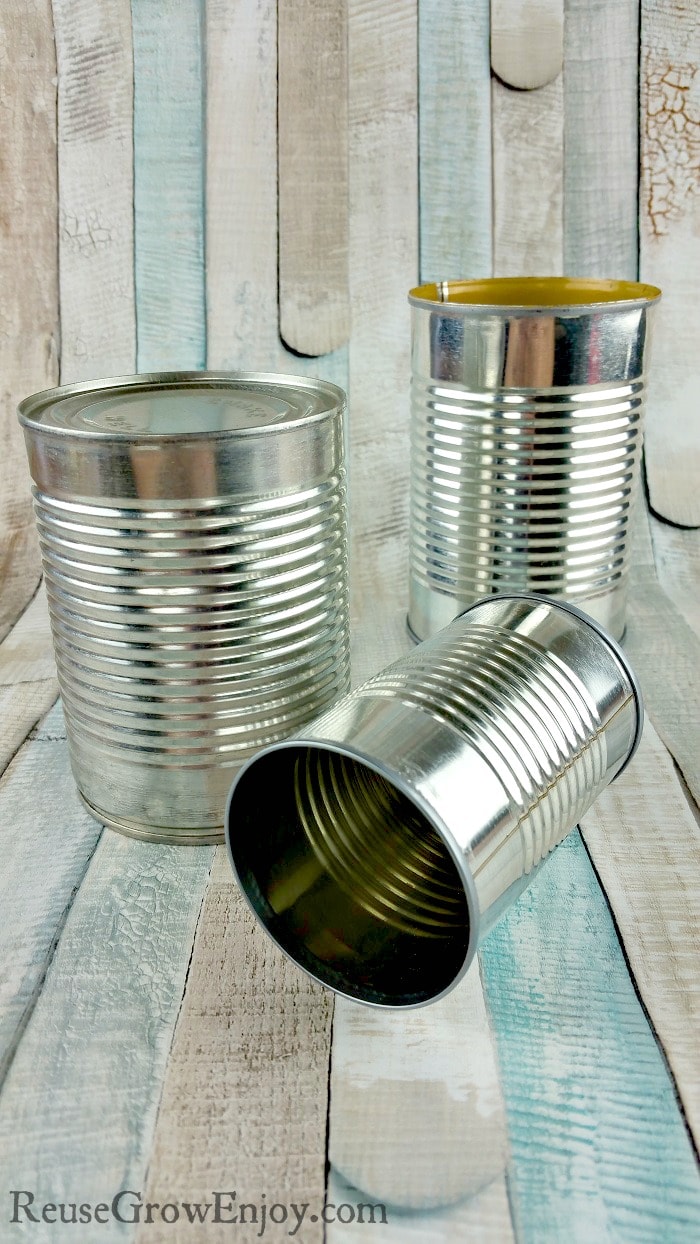 11+ Ways To Reuse A Tin Can
Do you reuse a tin can when you are finished with it? With our many trips per month to grab some groceries, we can accumulate quite a bit of trash. When we pick up can goods, it is usually food that can keep for a much longer time than fresh from the produce section.
However, when we use our cans, for most of us, they are just discarded. Your average can has many other uses well after we first open them. I am going to share with you a few ideas on how you can reuse a tin can and keep it out of the trash.
Caddy:
I love this idea to reuse a tin can. You can take 6 washed cans, and screw 3 to each side of a small board. Then add a handle at the top of the board to make a small caddy. Feel free to give it a nice coat of paint if you like. These work great for carrying cutlery, craft supplies and so much more.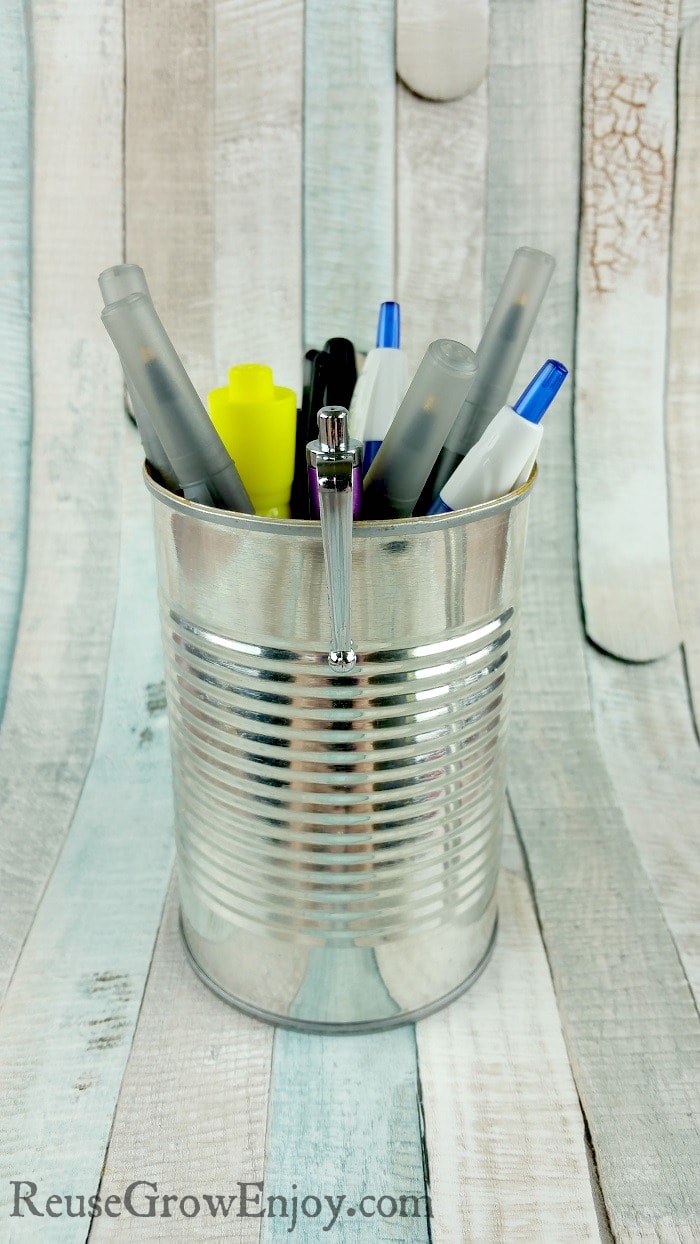 Pen & Pencil Holder:
One such use is a pencil or pen holder. A clean dry can will store a decent amount of writing materials for any project you need. If you want a more personal look, use some paint, scrap fabric or whatever you have on had to decorate them.
Candle Holder:
With a little creativity, your cans can be used as a makeshift candle holder. Put a small candle in the bottom, light it and there you go. Leave it the way it is if you want indirect lighting, or cut a hole in the side for a much wider light pattern.
Candle:
You can also use a tin can to make your own candles. Simply fill the can with your choice of wax and put a wick in the center. You can buy the wax and wick at any craft store or online at places like Amazon.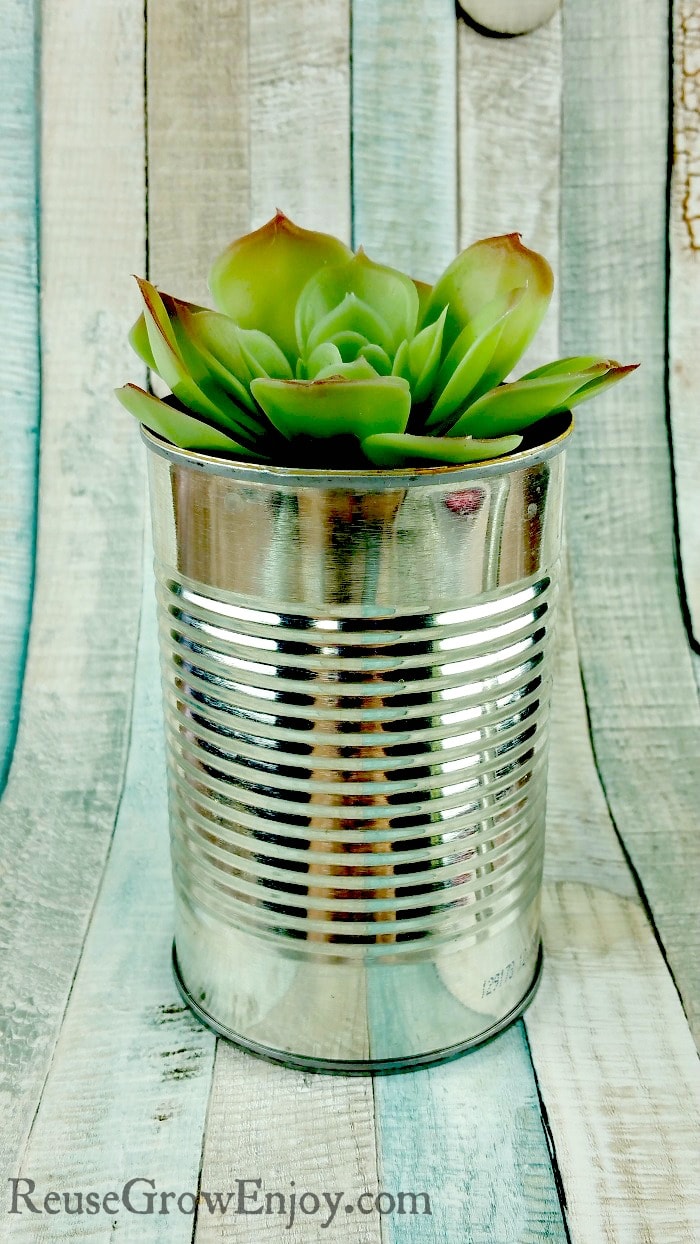 Planter:
Use your old cans to make a flower pot. You can even start your seeds in small cans without the need for buying expensive starter kits. Sometimes a simple flower can brighten up a room without breaking your wallet.
If you want to dress it up a little, check out my post on Easy Country Tin Can Planter!
Wine Rack:
If you buy those large cans to feed a group of people, or maybe your coffee comes in a can, they work great for a wine rack. Simply wash out the cans and remove the label. Then using a smooth edge can opener, remove both ends. Then use some industrial glue to glue the sides of the cans together stacking them into a pyramid shape. Set aside and allow to dry. Then you can paint if you choose.
Pet Food Storage Container:
If you are traveling and bringing your pet along, you can use a larger can, perhaps an empty coffee can for dog or cat food. When you fill up a large tin can, you should have enough food for your pet without the need of bringing a whole bag that can get moist or wet on your trip. Great for camping.
Vase:
You can display pretty cut or fake flowers in a can. Give it some style by decorating it or you can just leave it as is. One great way to dress it up is to wrap it with some string or twine like I did with this plastic bottle here.
Bank:
Another such use for that old tin can is a personalized piggy bank. Take all of that extra change after going shopping and drop it in. You would be surprised after a few months how much change will accumulate for your vacation or even for that gift you want to give yourself, but can't normally afford.
Wifi Antenna:
Some people, convert their old cans into a nice wifi antenna. There are instructions all over the web of how to do this. It takes a few small parts you can pick up at a radio shack. But it's worth it if you are in an area with lousy or no wifi.
Lamps:
You can use a clean tin can to make a small lamp or even as a light cover to hang from the ceiling. Cut a hole in the one end and then insert a small clip bulb light.
Garden Markers: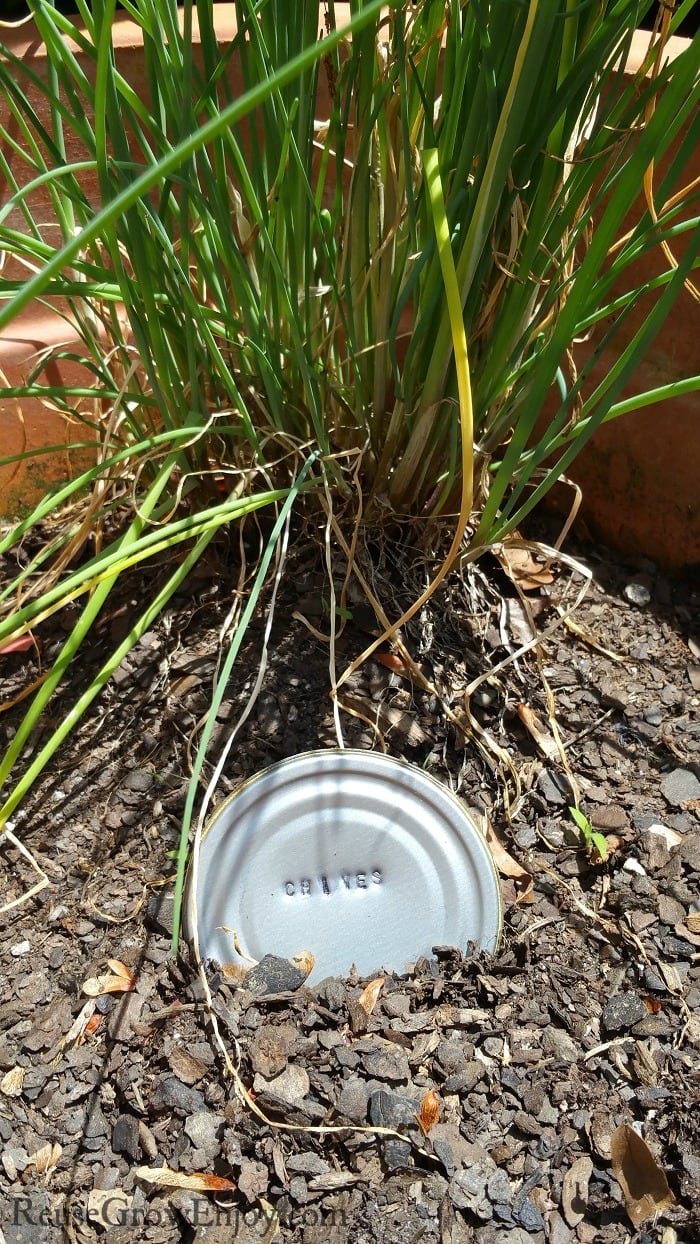 You can use the can tops and the can bottom as garden markers. You can do this by hand stamping them with letters. To see a step by step how it is done, check out my post on Upcycled Hand Stamped Can Top Garden Markers.
Cans are an object that doesn't take as long to breakdown in your average landfill as plastics but does still take years. By being a little creative you can reuse that tin can for projects in many areas all around your home.
If you found this post helpful, here are a few other ways to reuse items.