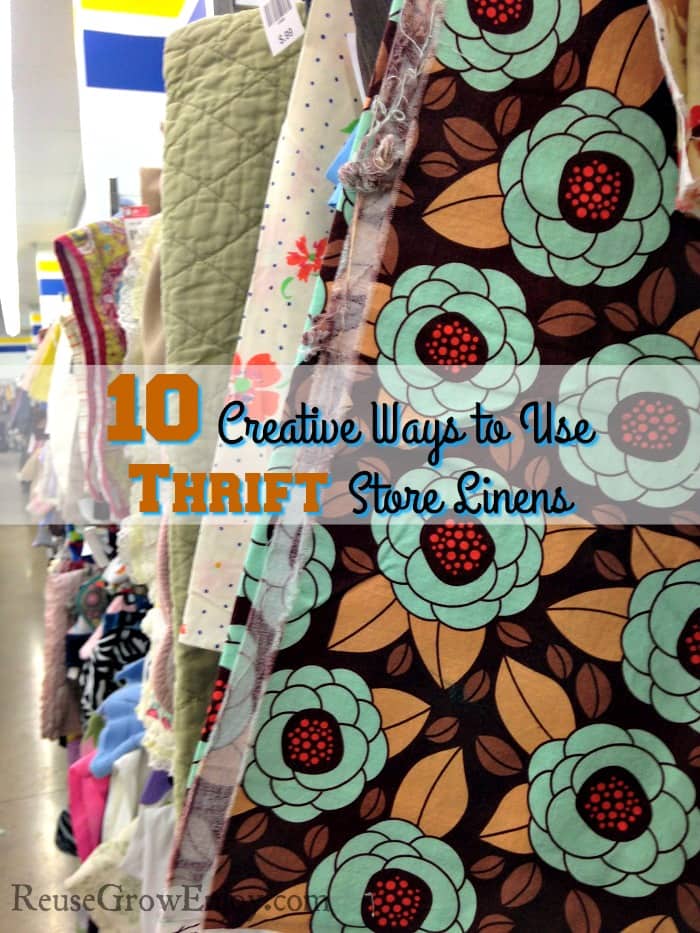 10 Ways to Use Thrift Store Linens
Did you know there are many different ways to use thrift store linens? You may have noticed row after row of linens at your local thrift store. It seems as though linens is one of those items thrift stores are never short on. Whether it be sheets or pillowcases, hand towels or beach towels, you can usually snag a piece or two for a $1 or less.
Even better is the fact that you can do so much with second hand linens so they are worth stocking up on. Take a look below at 10 ways to use thrift store linens so you can put these bargain threads to good use and really get your dollars worth.
1. Make beach bags:
You can find lots of tutorials online for how to turn a towel into a beach bag. You can even fin no sew examples that are super simple. Buy beach and bath towels in colorful motifs and transform them into a beach bag you can use this summer.
2. Use them to catch paint drips:
When painting an item, use old sheets and towels under the item to catch paint drips. Keep a stash of old towels and sheets on hand for all of your DIY projects so you can enjoy quick and easy clean up and keep spills off the ground.
3. Keep furniture from fading:
If you are going on a trip and want to leave your curtains open, use large sheets and tablecloths to cover the furniture. It will form a protective layer that will keep the sun off the fabric which can result in fading and discoloration.
4. Make sore muscle packs:
Find colorful fabric scraps to sew into sore muscle packs. Simply stitch a square of fabric together leaving a small hole to add rice. Add any essential oils you wish and stitch closed. Toss into the microwave for 30 seconds to heat and you have the perfect sore muscle pack.
5. Use them to wrap valuables:
Whether you are moving or putting items in storage, use old towels to wrap valuables. They will provide protection to breakable items and are easier to use than dirty newspaper. Plus they will be absorbent should moisture get into any of the boxes.
6. Use pillowcases for storage bags:
Pillowcases make great storage bags for sleepover items, stuffed animals, even toys. Find some colorful pillowcases and use them as storage bags. You can even use fabric glue and add ribbon for easy carrying.
7. Make dog beds or use them to line pet crates:
You can never have enough towels and blankets on hand when you have a dog! Use thrift store linens to make your own dog beds or to line dog crates. You can also use thrift store towels under cat boxes. It is always worth having a sheet on hand as well when you take your dog in the car so you can line the seat.
8. Recover old and worn out seats:
Do you have chairs that need new cushions? Find some colorful and durable scrap fabric and use it to recover the seat. All you need is a staple gun and some good fabric and your chair will look like new.
9. Use them to cover and protect books:
There are many tutorials online for how to use fabric to make your own book covers. The process is quite easy and it is a great way to protect that valuable school textbooks.
10. Make draft protectors:
If you have a drafty door, take a piece of scrap fabric and sew it into a long rectangle. Fill it with rice and stitch it shut. Place it at the bottom of any drafty door to keep the cold air out and warm air in.
Can you believe all of these fantastic and creative uses for thrift store linens? Give these 10 creative uses for thrift store linens a try and see how valuable they can be.
If you like this post on 10 Ways to Use Thrift Store Linens, here are a few others to check out.