Have you ever wondered if you can upcycle wine bottles? Or any glass bottles for that matter? You can and we are going to show you a few of the best ways to do so.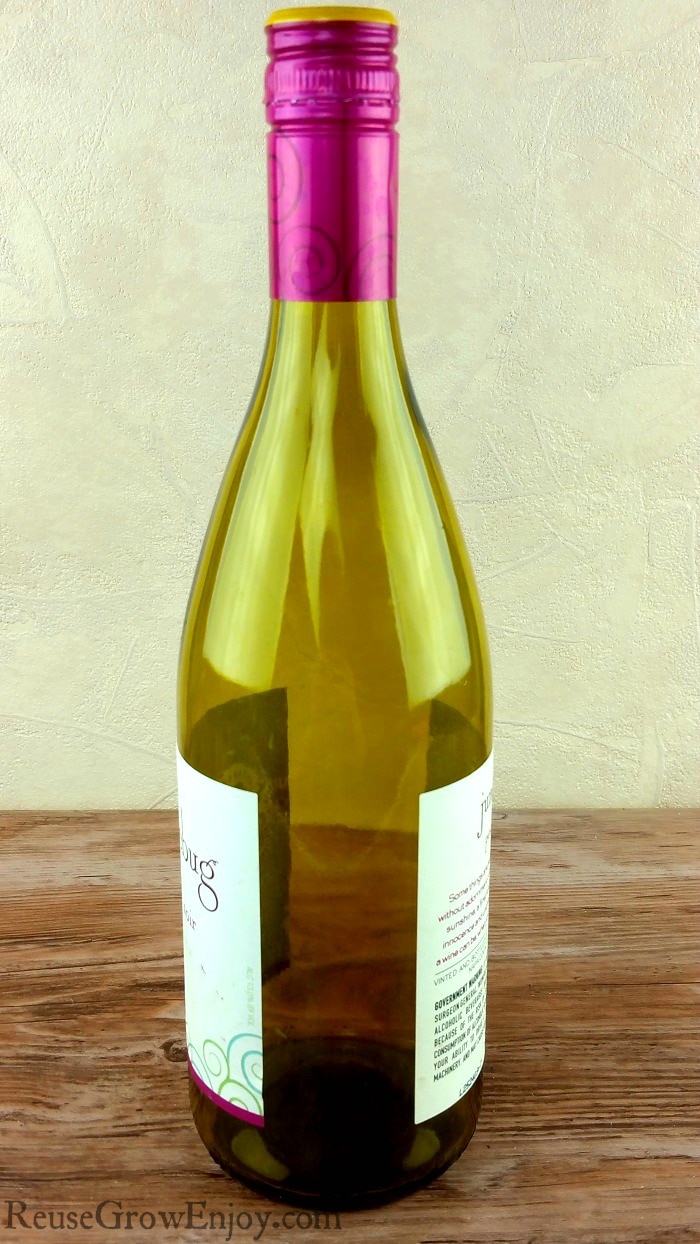 With our landfills constantly filling up fast, we need to recycle as much as we can. For those of us who enjoy a glass of wine with dinner or as an evening refreshment (pretty much all of us are a wine lover right??), we can generate a decent amount of empty wine bottles.
Most of these would be thrown out eventually. You can toss them in your recycling bin OR these bottles can be reused for many other purposes!
Below we will share ideas for different ways to upcycle wine bottles. Do you have a way that you love to repurpose wine bottles that are not on our list? Feel free to leave it in the comments below.
While we are sharing ideas to upcycle wine bottles, most of these ideas can be done with any glass bottle. Such as olive oil bottles, beer bottles, liquor bottles, champagne bottles, and glass cocktail mixers.
Wine Bottle Candle Globe:
This use requires you to use a glass bottle cutter. Cut the bottom of the bottle off. Then place the bottomless bottle over an ordinary small candle to have an elegant look.
Different colors of the bottles will actually give you different lighting effects. You can also add color to the glass or decorations for added appeal.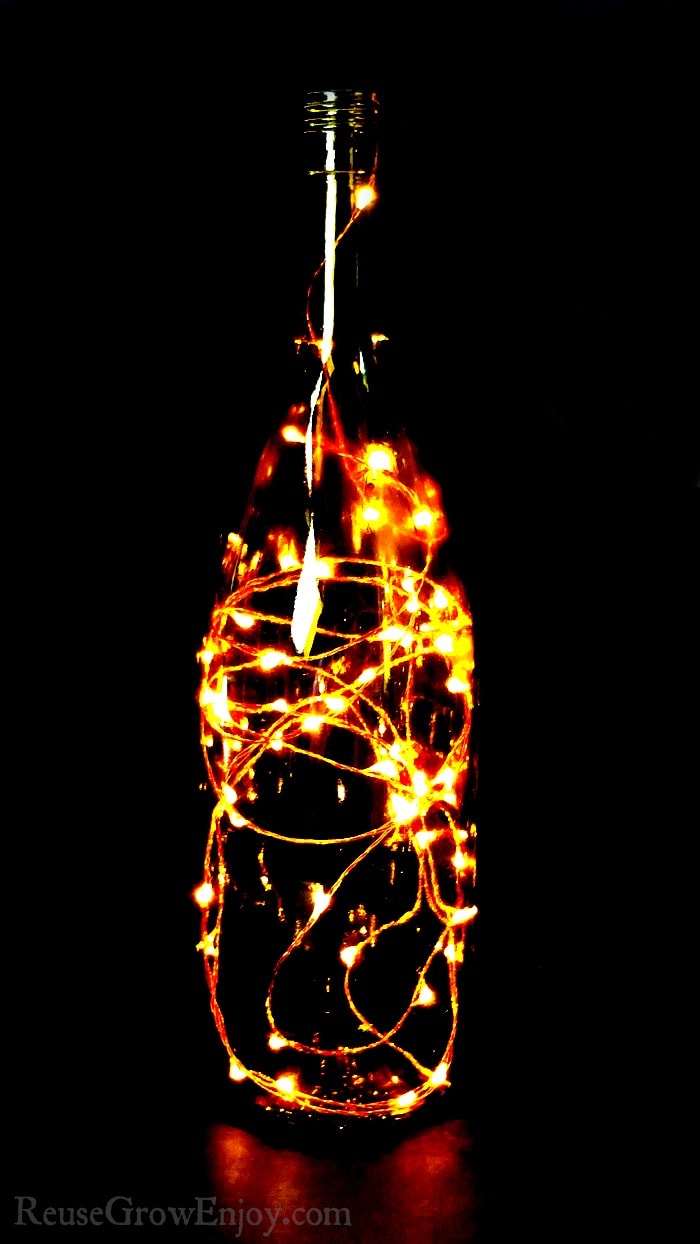 Wine Bottle Light Decor:
Another DIY craft lighting project involves small battery powered lights also called twinkle lights. Take a string of lights and place them in the bottle.
Usually, you can run the wire out the top of the bottle neck. The battery pack can be affixed to the back.
If you really want to step it up, you could cut a small hole in the bottom side of the bottle and run the lights in through there so you don't see wires coming out of the top.
Oil or Vinegar Dispensers:
You can also use empty bottles in the kitchen. Perhaps with an attached cork or pour spout. Fill it with oil or vinegar.
They will be able to handle a decent amount of these condiments and will look nice on your table too.
This also works for things like simple syrup mixes.
Soap Dispenser:
Next to your sink, you can fill a wine bottle with dish soap. Wine bottle soap dispenser is a better-looking dispenser than cheap plastic bottles.
Using an attached spout will allow you to get just the right amount of soap for your cleaning needs.
Keep in mind what type of top your bottle has as it will depend on what type of spout you will need. Some will be push in if your bottle had a cork and others will be screw on if your bottle had a twist cap.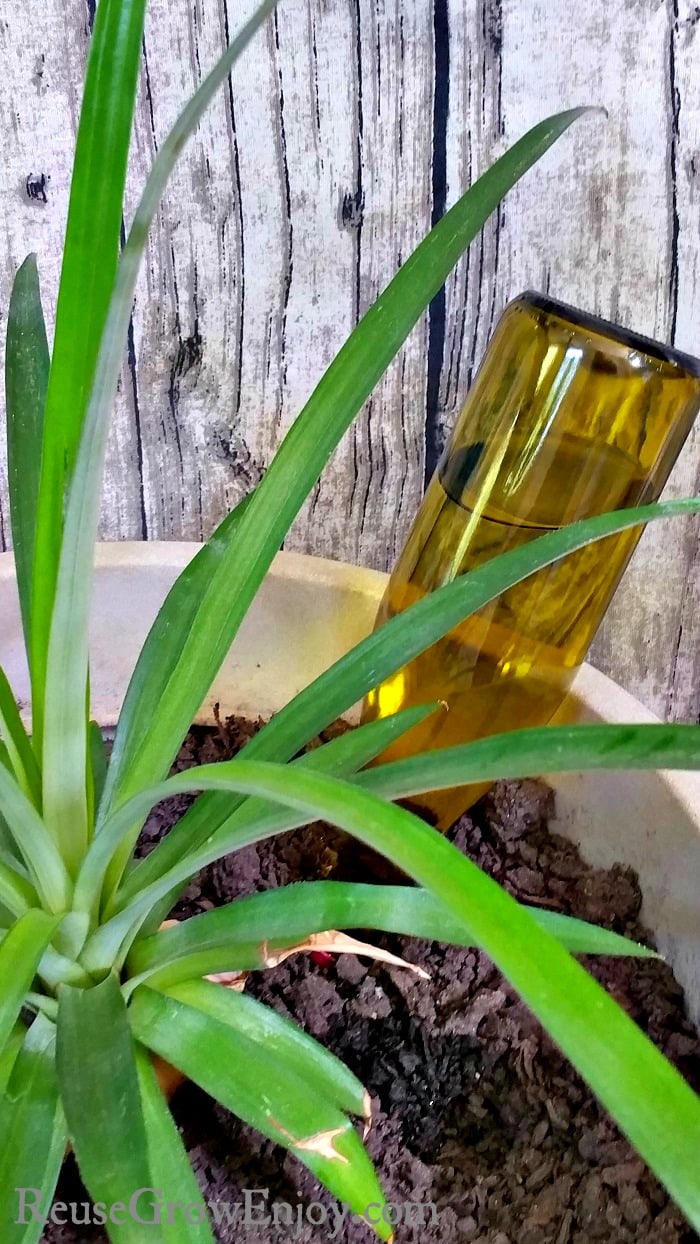 Plant Waterer:
One way to use an upcycled wine bottle is as a plant waterer. Make sure your bottle is clean. Then fill with water.
Put a small hole in the cap or cork. Then turn it upside down and quickly push it into the soil near your plant. It will slowly release water into the soil to moisten it as needed.
This is a really great option if you will be away for a few days and not be able to water your plants. If your plant is in a large pot you can add a few bottles to the pot.
Dry Food Storage:
You may need a container for your dry food. Fill a clean dry wine bottle with either flour, sugar, salt, or whatever you need to keep more of a dry organized kitchen for your cooking supplies.
Souvenir Holder:
Have you recently gone to the beach but can't afford expensive souvenirs for yourself? Take clear bottles and fill them full of sand and even small shells from your favorite beach.
You can even layer it just the way you want. It beats buying a bottle from a gift shop and paying for something made not even close to where you actually vacationed. Did you know that most gift shops sell souvenirs that are not even from the area?
Flower Vase:
Another idea is a make-shift flower or plant vase. This makes a nice centerpiece for your kitchen with fresh flowers on your table.
Great for longer stem roses or carnations. Just provide the flowers, water and you are done.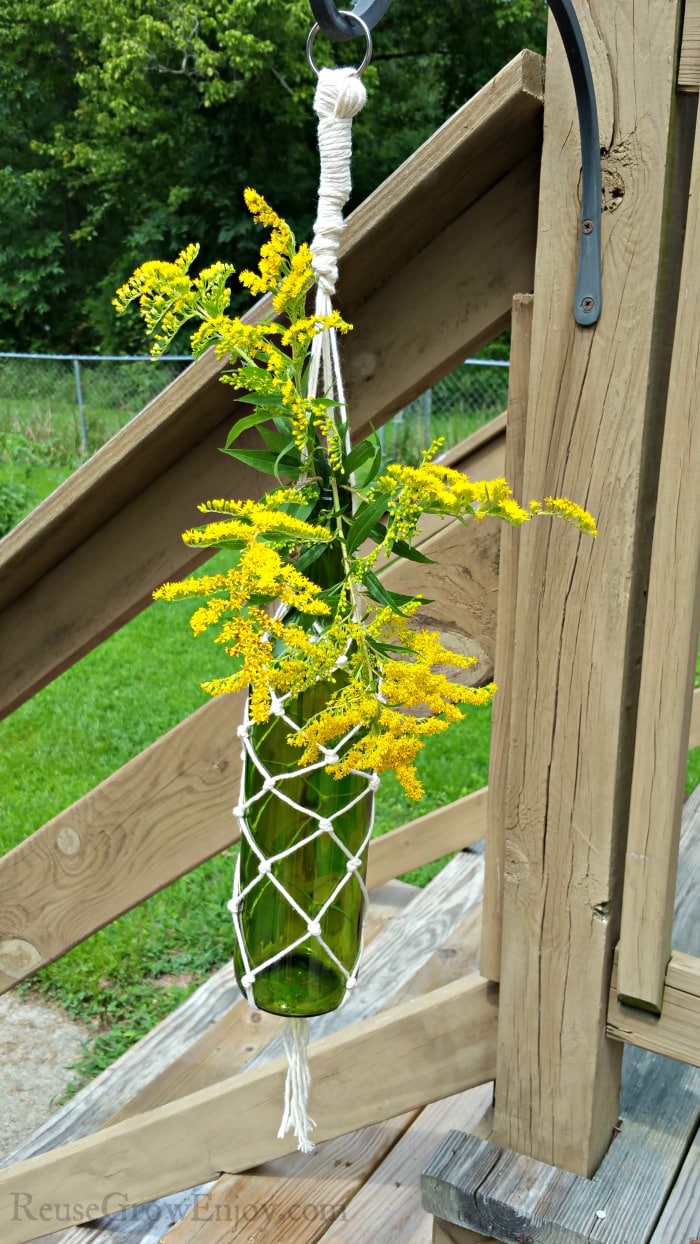 Hanging Vase:
You can also use the bottles as hanging vases as well. You can use twine or string to make a hanger to hold the bottle. Be sure to check out my post on Hanging Wine Bottle Vase to see step-by-step DIY instructions.
Animal Baby Bottle:
If you have large animals around that you have to hand raise from time to time, wine bottles work really well for baby bottles.
Just give it a good wash, fill it with your milk supplement and place a screw on nipple or a slide on.
I love using wine bottles for this as they hold more than beer bottles and work really well for larger baby animals.
Candle Holders:
We shared above that you could use the bottles to make a candle globe cover, but you can also use it as a candle holder.
You can put stick candles in the opening of the bottle. This is really handy when the power is out and you have to have a bunch of candles all at one time.
Candle Container:
You can also cut the bottle in half using a glass cutter. Then make your own DIY soy candle or candle of choice by filling the bottom half of the bottle with your wax and wick.
The best part is when the wax runs out, you can simply reuse it again to make another candle.

Wine Bottle Bird Feeder:
Depending on the type of bottle you have there are a few different ways to turn it into a bird feeder. You can either buy a screw-on base if your bottle was a screw top. Then simply hang it upside down from a tree after you fill it will bird seeds. This also works for hummingbird feeders.
Another way is to make or buy a wood base to have the seed spill out into.

Bottle Tree:
Another great way to use those old bottles is to turn them into a treat. This can be done by making your own tree trunk and branches from wood sticks or metal if weld.
You can also buy the premade tree frame. Then turn leftover wine bottles upside down over the branches to make a tree. This makes for a great decorative piece in the yard or garden or any outdoor space.
Hanging Light:
Turning your bottles into a pendant light is another good use for the bottles. They sell kits so you can turn your bottle into a hanging light. You will need to cut wine bottles at the bottom so you will also be able to use a glass cuter for this easy DIY.

Torch:
Another fun idea is to turn your bottles into tiki torches! These work really well in the backyard or on the porch when you are having those summer cookouts. You can simply buy a torch kit that easily converts your bottle into a torch. Then simply sit on tables, hang on fences or get stakes to stick them around the yard.
Lamp:
Give that bottle a second life by turning it into a wine bottle lamp. While there are a variety of ways to do this, the easiest way is to buy a lamp kit. These also make a perfect gift for the wine lover in your life.
Water Bottle:
Trying to drink more water? Why pay extra money for a glass water bottle? You can simply give your bottle a good wash and remove any stickers.
Then simply fill with water and put the cap back on or a push cork and carry it around the house with you to get your water in for the day.
Conclusion:
There are countless creative ways and projects you can come up with. Just take a little time and imagination, and your old wine bottles can be reused to add a lot of beauty and practical uses to your home.
Your old wine bottles can be reused as decoration pieces in your home or garden. For example, turn them into a bird feeder, a candle holder, a candle globe, a tree or just add some decorative touch to your garden or porch.
Wine bottle projects even make for a great gift for the wine lover in your life!
Remember, these ideas are just the tip of the iceberg! There are many more ways to repurpose wine bottles. So what are you waiting for? Start recycling those old bottles today and get creative with the rest of them!
Here are a few other posts to check out on ways to reuse items.