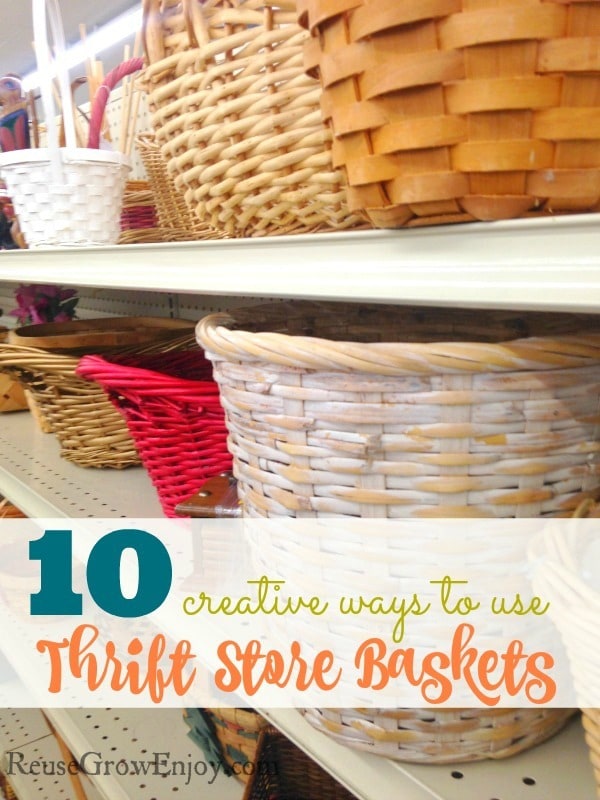 10 Ways to Reuse Thrift Store Baskets
It seems as though there is no shortage of basket donations at thrift stores, as most shops tend to have row after row of baskets in every shape and size. You might pass this row of baskets not giving them much thought, but the truth is those inexpensive baskets can really come in handy! Take a look below at 10 ways to reuse thrift store baskets to bring organization and character to your space. You may never pass up the basket aisle again.
1. Make mini trash cans:
Add a plastic bag liner to the basket to create a decorative mini trash can. This mini trash can is perfect for a bathroom, bedroom, office, or even your car. Just replace the bag as needed.
2. Organize books and magazines:
If you have lots of books and magazines and nowhere to put them, a basket can help. Use baskets to keep reading materials organize and all in one place. A basket looks much nicer than a box or the books just sliding all over the place.
3. Keep diapers and wipes within reach:
Keep diapers and baby wipes in a handled basket so you can take it with you from room to room. This way no matter where you are in the house you will have a diaper at your fingertips when you need one.
4. Make your own gift baskets:
One of the other great ways to reuse thrift store baskets is for gift baskets. Whether you are prepping for a fundraiser or a party, consider thrift store baskets to display items in.
Choose large and sturdy baskets, add filler, and then add the items inside. Use cellophane to complete the basket and hold all of the contents together.
5. Keep pet supplies organized:
If your pet has a lot of toys and supplies, designate a basket to keep them in. A decorative basket is perfect for keeping all of their supplies in one easy to grab space.
6. Use them to carry groceries in:
You can take a small handles basket to the local farmer's markets and other small grocery stores like Aldi. You can also keep large baskets in your trunk to assemble grocery bags and carry them in with just one trip.
7. Create a decorative storage solution for toilet paper:
Do you hate just having your toilet paper sit out in the bathroom? Arrange all of the rolls in a decorative basket so guests can easily grab more when the roll is out.
You can also use smaller baskets to hold bathroom toiletries. If you other ways to reuse thrift store baskets, add a basket to the hallway closet for soiled bathroom towels.
8. Use them to hold or sort laundry:
Larger baskets make perfect hampers. You can also use smaller baskets to sort small items such as socks and underwear. You can put a small basket in each child's room so they can easily toss soiled clothes in instead of tossing them on the floor.
9. They work great on beach trips:
Handled baskets are great for taking supplies to the beach, for beach toys, or even for carrying your lunch. Any outing, in fact, can be made better with a sturdy picnic basket.
10. Use them as serving pieces:
A basket lined with a napkin or linen is perfect for serving bread or crackers at your table. If hosting any type of buffet baskets can also be used to hold napkins and silverware.
See how many ways there are to utilize thrift store baskets? Give these 10 ways to reuse thrift store baskets your consideration and see how valuable the basket aisle can be. For typically a buck or less, this is an investment worth making!
If you found this helpful, here are a few others to check out.