After you have finished a detergent bottle what do you do with it? You can recycle, but I am going to show you 13 ways to reuse a laundry detergent bottle.
13 Ways To Reuse Laundry Detergent Bottle
When you finish the last drop of laundry detergent most households just toss the detergent bottle in the trash. But did you know that bottles like these can stay in the landfill for 450 years? Most bottles these days can be recycled and only take a few minutes to do. However, there are also many, many different ways you can reuse or upcycle a laundry detergent bottle.
Bird House:
Start with a clean empty bottle. There are many different ways you can turn a bottle into a birdhouse. One way is to leave the cap on and simply cut a small 2 to 3-inch hole in the side of the bottle. Then hang it from a tree by the handle.
You can also dress it up a little if you wanted with some decorations on the outside of the bottle. One way to do that would be by gluing small pebbles to the outside of the bottle so it looked like a little stone house.
Dollhouse:
If you have kiddos with tiny toys such as Little Pet shop or Squinkies, you can make them a little house out of the bottle. Just cut one side off the bottle and then use markers, stickers or whatever you have on hand to dress it up to look like a room or house.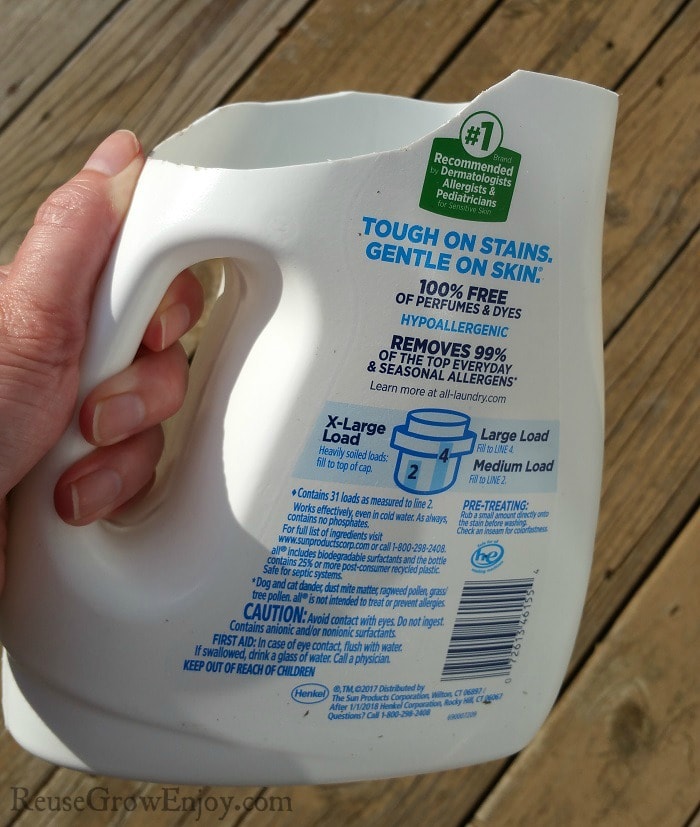 Scoop:
You can very easily turn a laundry detergent bottle into a scoop. After the bottle is empty give it a good rinse out. Then cut the part of a top of the bottle leaving the handle in place. If you want you can even angle the cut a little to give you more of that scoop feel. After you have it cut to your liking, be sure to give it another wash to make sure all the detergent is off.
These scoops work great for things like spreading salt in the winter, scooping out potting soil and so on.
Magazine/Shelf Organizers:
Need a way to organize papers and magazines? No need to buy special magazine holders. You can make one out of a laundry detergent bottle in just minutes!
Water Station For Washing Hands:
If you use the larger size bottles that sit on their side, they work great for washing hands. You can use them when you go camping or for times when the power is out and you do not have running water.
Simply clean the bottle really well when it is empty. Then fill it with clean water and lay it on the edge of a table. Put a little bottle of soap beside it and a towel and you have a washing hand station. You can also put a five-gallon bucket or tote under the area where the water will be running off so you do not end up with puddles.
Refill With Homemade Detergent:
Thinking about starting to make your own homemade detergent? Keep your old bottles and use them to hold your homemade detergent. That way it will be easy to dispense.
Baby Bed Bag:
I remember my mom making these for us as a kid. Such a cute way to reuse a detergent bottle. Cut the bottle in half about 4 inches from the bottom. Then take the bottom half of the bottle and use a hole punch to make holes around the top area you just cut. You only want the holes to be about 1/4 inch away from each other. Next use yarn or plarn to crochet around the bottle attaching at the holes. Keep going around until you are about 4 inches up.
Now you need to weave a piece of yarn through the end of your crochet to make a drawstring for a handle. They can put their little baby inside to carry it around or fold the crochet area down over the bottle to for a bassinet looking bed.
Small Purse:
Pretty much follow the same directions as you wood for the baby bed bag. But the purse you will want to make the crochet are a little longer than 4 inches. Well, that is if you want a bigger bag, if you are just looking for something small then you could stick with the same size.
Wind Hanging Art:
This type of plastic is very bendable. You can cut the bottle into strips (set aside the top section) heat it slightly using a lighter or heat gun and then bend it into twirly pieces. You want to make them different shapes and lengths. After you are done shaping them, you can paint or use markers to color.
Then take the top section and punch a few holes around it. Use some fishing twine to attach your molded strips to the top. After you are done you can hang it from a tree or deck and enjoy a pretty piece of wind hanging art.
Weights:
Ever need to keep something from blowing away? Maybe to keep a cover or tarp over the pool? You can fill empty bottles with water and then attach them around whatever you are trying to weigh down.
Planter:
If you are like me you are always growing something. No need to spend money on pots and planters when you can just reuse a detergent bottle. There are a few different ways you can do this. One way would be just to cut the bottle about half way to 3/4 of the way of the bottle. Then use the bottom half just like you would a pot. If you will be planting something that needs good drainage, be sure to poke a hole in the bottom.
Another way is to make hanging planters. You do this by cutting like you would for a scoop. That would be to cut the top off and then cut slightly down the front. Then you can use the handle on the back to hang on a wall or run a bar through a few and use it to hang them in place.
Bank:
I love saving up change and then using it when we take a trip or go on vacation. If you need something to collect your change in you can use a detergent bottle. Wash it out well and let it dry, then cut a slight in the top to put your change through and start filling it up!
Storage Bins:
If you are trying to keep things organized in places like the laundry room or garage, these bottles are super handy to use as storage bottles. Cut the top and the front section of the bottle off. Then fill it with nuts, bolts, seeds or anything you need to store. You can use a marker to label the back of the bottle so you know what it is and then put it on the shelf.
Who knew there could be so many different ways to reuse a laundry detergent bottle! The options really are endless when you get a little creative. Do you have a favorite way you like to reuse or upcycle them? We would love to hear your thoughts and ideas in the comments below.
If you liked these ideas for ways to reuse a detergent bottle, here are some other items to reuse.