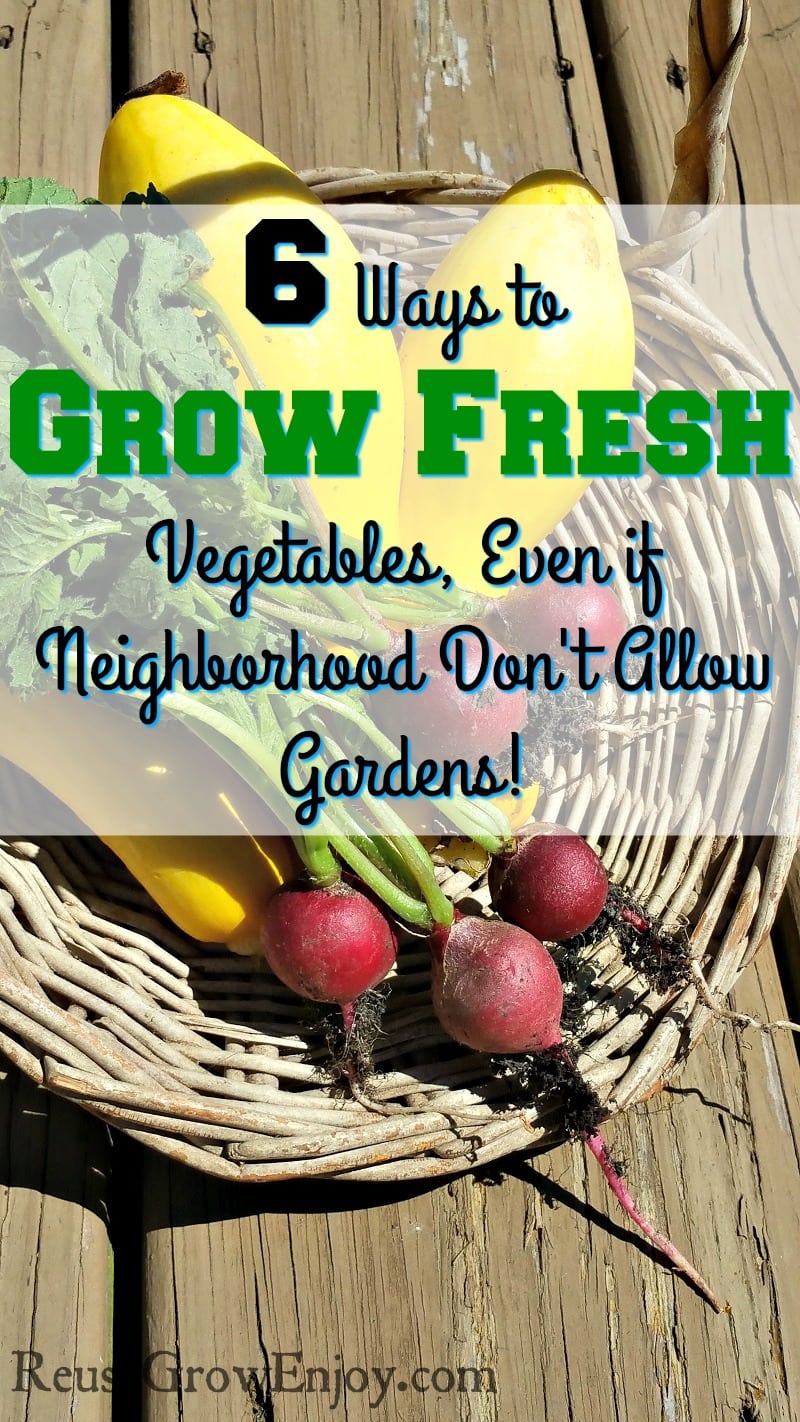 6 Ways to Grow Fresh Vegetables Even if
Your Neighborhood Association Doesn't Allow Gardens
A garden is one of the most wonderful ways to grow fresh fruits and vegetables, plus even the smallest of spaces can save you money on your weekly grocery bill.
But what if you live in a neighborhood that doesn't allow gardens? Many modern neighborhood associations don't allow garden plots on the properties, so you are left to get a little creative.
If you live in one of these areas and want to enjoy a garden, look below at 6 ways to grow fresh vegetables even if your neighborhood association doesn't allow gardens. With a little creativity, you can grow fresh produce and still stay within guidelines.
1. Try a window sill garden.
There are some fresh produce varieties that can be grown in your kitchen window sill garden. Small pots lining a bright and sunny window are perfect for growing dill, rosemary, mint, lettuce and lettuce varieties. This is a perfect way to have fresh greens at your fingertips.
2. Give container gardening a try.
Also many produce varieties such as tomatoes, peppers, lettuce, kale, and swiss chard can be grown in large containers. Use decorative containers on your porch and patio and load them up with produce seedlings. This way you can get the taste of a garden without ever digging a plot.
3. A vertical garden may be an option for you.
Vertical gardens are becoming increasingly popular. You can use an old wooden pallet as a planter for produce seedlings, and lean the pallet or hang it from a patio or the side of the home. This is a great way to make a gardening space when your space is limited or restricted.
4. Purchase an indoor growing station.
Another great way to grow is by using one of many growing stations that can be used year round. These growing stations often consist of a growing light that can help aid in the growth of herbs, lettuce, even small tomato varieties. You may want to consider an indoor growing station and see if it will work for you!
5. Tuck small vegetable plants into your flower beds.
Try adding cabbage, lettuce, swiss chard, and other leafy green varieties are perfect for growing amongst your flower beds. They typically look quite decorative and yet you can still harvest from them on a regular basis, allowing you to enjoy fresh salads as you wish.
6. Invest in a gardening co-op.
You can find a gardening co-op in your town and sign up to be involved. When you join the co-op you can help care for a garden located in the city and reap the benefits when harvest time hits. This is a great way to practice your love for gardening without having one in your own backyard.
Are you ready to enjoy fresh garden produce without having to maintain a garden plot on your land? Consider these tips for ways to grow and see how simple it can be to get your gardening on!
If you liked these tips on ways to grow, here are some other garden posts to check out.