Did you plant some pretty roses and now maybe you are wondering why you have dying roses? We are going to cover 7 reasons why that might be happening.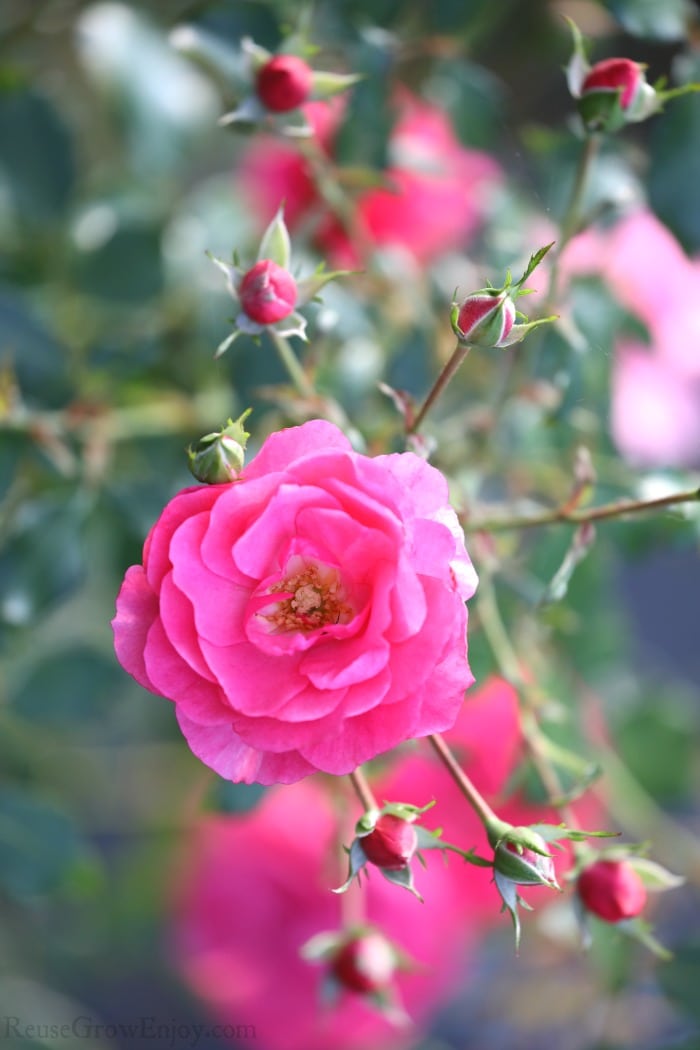 7 Reasons Why You May Have Dying Roses
Roses are gorgeous perennials, and with a little work and know-how, can be the most beautiful blooms on the block! Unlike other perennials that you can just plant and let go, they do require greater care.
If you find that your green thumb turns brown when it comes to roses, there are a few secrets you should know. Look below at 7 reasons why you may have dying roses and see if you can't figure out what changes you need to make in order to have success with your roses.
1. Root rot.
A healthy rose bush starts at the roots. You have to make sure you are using a nutrient-rich, sandy soil that the roots can stretch out in. Proper drainage is key, which is why most rose bushes will not do well if planted in tight spaces or pots.
Dig down to find a segment of roots and see if they are soft and mushy. If so, drainage may be an issue. You can attempt to move the roses to an area that offers better drainage, allowing the roots some air circulation and dry out time before doing so.
2. Powdery mildew.
Powdery mildew looks exactly like its name, it is a white powdery substance that covers the plant and prevents healthy growth.
There are a few other lesser-known mildew/fungus diseases that can invade roses, which is why it is important to keep your eyes out for discoloration and growths on the plant.
Most of these fungus issues can be treated with remedies such as Neem Oil that is sold at your local greenhouse or gardening supply store. You may also need to prune away affected areas to prevent the disease from spreading.
3. Aphids.
Aphids are tiny, sticky bugs that love to dine on flower foliage. They can quickly take over your rose bushes and eat their way through them without a thought.
The best way to keep aphids off your roses is to Get Rid Of Aphids via a natural pest repellent.
Some gardeners swear by Dawn dish soap mixed with water, sprayed liberally on the plants. You can also invest in over the counter remedies offered at your local home and garden store.
If you see pests in your garden, start by removing them by hand. Then, follow up with a natural pest solution.
4. Damaged roots.
Always take care when you are planting your roses, as root damage can occur during the planting process. If the shovel knicks or slices the roots, the roses may have a hard time recovering.
You will know if root damage has occurred if shoots start to grow out of the base of the rose bush. These shoots will be green but will have different shaped foliage. Damaged roots can be hard to mend, but pruning these shoots may help.
5. Cold climate.
Roses don't necessarily need a tropical climate to thrive, but they do prefer warm air. If your region has had an especially long, wet, cold season, your roses may have a hard time recovering.
While roses will do well in most growing regions, any unusual, lengthy change in weather that results in extended cooler temps could pose an issue to that year's blooms.
You can always try using layers of mulch around the base of the plants to protect the roots from the cold. Wood mulch or even layers of dry leaves may help offer some insulation.
6. Improper pruning.
Pruning roses is more than just snipping and shaping the foliage. Before you get out the pruning shears, watch some YouTube videos on proper rose pruning.
It is easy to improperly prune, which could have adverse effects on your roses. When pruning it is always important to use sharp, clean shears that have been disinfected in between uses.
This will help keep fungus and disease in check and will result in a cleaner pruning process.
7. Pesticides.
If you use chemical pesticides in your yard, you could be doing more harm than good. Pesticides can have an adverse effect on roses and cause wilt, rot, lack of blooms, and promote disease.
Opt for natural pest control solutions around your roses. Not only will these solutions help keep the bugs at bay, but they are healthier for your roses, and you!
Could one of these reasons be what is keeping you from success? Consider these 7 reasons why you may have dying roses and see how easy it can be to rectify the situation!